Posted Wednesday, June 17, 2009
Please Note:
The following review was written prior to Dusmesh's management changeover in 2013. The original staff that had made Dusmesh so great can now be found at
Swad Indian
in North College Hill.
With the closing of our favorite Indian restaurant, India Hyde Park, we've spent the last nine months dining at our runner-up favorite, Baba India. The food there is fine, but it's often too crowded and the service tends to suffer at times. There was something slightly more special about India Hyde Park that really captured our attention. We're happy to report that another Indian restaurant shares that ineffable quality.
Dusmesh Indian Restaurant is located in Clifton, near the Cincinnati State college campus. Drive past the other popular Indian mainstays on Ludlow Avenue, past Apna, Ambar and Amol. Continue for another mile and Dusmesh is on the right.
The brick building looks like it was once a large home or a small apartment building. There's an ample parking lot and an entrance via an addition near the back. We arrived on a Saturday evening prior to the dinner rush. During the brief lull, a few of the cooks were hanging out back while the waitresses congregated at a counter near the entrance.
We were greeted to the sound of hiccups from our giggling hostess. She apologized profusely while we followed her to our table. As she distributed the menus and filled our water glasses, the hostess hiccuped again, leading to more giggles from all of us. As she walked away, the sound of distant hiccuping and laughter echoed through the room.
The menus were a bit more overwhelming than what we're used to from other area Indian restaurants. There were several items I'd never seen before and I hoped I'd be back to try each and every one. Today, I concluded that the best way to compare Dusmesh with other Indian fare was to order my usual: Lamb Vindaloo.
Dusmesh's 1-6 spice scale is the same as most other Indian restaurants. Being a spicy dish, Vindaloo is typically an automatic five on the heat scale, so I chose that when asked. My girlfriend chose level four for her lamb Rogan Josh. We each placed an order of Nan: she ordered the plain while I chose the "hot and spicy" Nan, a version I had only previously seen available at India Hyde Park.
The food arrived quite promptly, especially considering there were already several other tables of diners in the room and outside on the front deck. The bowls of Indian goodness appeared almost electrified in bright color, from the striking turmeric yellow of the Rogan Josh to the bright red Vindaloo. The Nan was properly thin, crispy-yet-chewy and piping hot.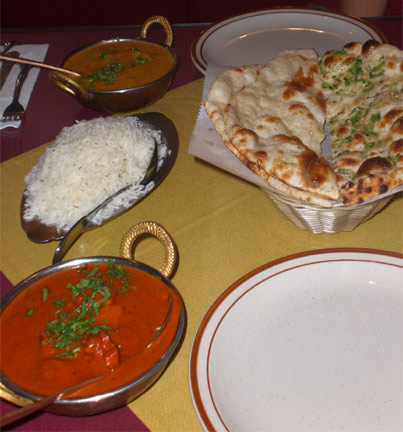 Of all the Vindaloo I've had over the years, Dusmesh is my favorite. Their version seemed more tomatoey but with a richer, more complex flavor than what I'm used to. Most other places focus mainly on the heat factor, while Dusmesh uses the spiciness as merely one component of its recipe.
I particularly enjoyed my girlfriend's Rogan Josh entree. The yogurt base lent a hearty creaminess to the dish. The hot and spicy Nan could have been a tad spicier, given that it was topped with small bits of peppers. Still, it was quite tasty. Our waitress generously refilled the rice container, ignoring the mess we'd made from spilling some of it on the table (an Indian restaurant tradition of ours).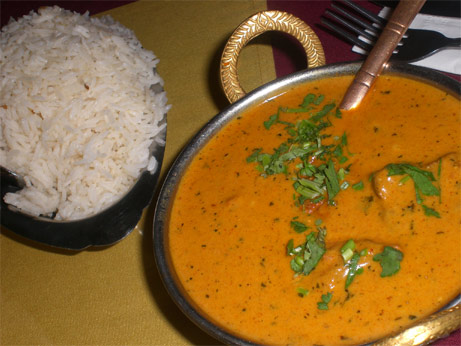 The dinner was capped off with a dessert of Kheer, a refreshing rice pudding that helps to cool the spice of the previous entrees. The server offered my girlfriend a single Gulab Jamun "on the house," as she had not ordered dessert for herself. She enjoyed the soft, cooked ball of dough swimming in a shallow pool of sugar syrup.
Dusmesh quickly won us over with its great food, fast and friendly service and unique menu items. It's now our favorite Indian restaurant in Cincinnati.
Dusmesh Indian Restaurant
Price: Moderately Expensive ($11 - $16 per person)
Service: Good
Rating: 4.0 out of 4

Cincinnati Bites