Posted Thursday, January 4, 2018
Quite a number of food impressions struck us during our first visit to Hawaii a couple years ago: Luaus today are mostly touristy mass feasts that allow vacationers to sample a fairly wide range of delicacies while catching a show; Hawaiian sticky rice is amazing; plate lunches are wonderfully cheap and tasty; Loco Moco is essential gravy-covered comfort food; and fresh poke is about as close to living the life of the natives as one can get.
Poke is a Hawaiian salad made from sushi-grade, raw, marinated ahi tuna cut into cubes and mixed with green onions, soy sauce, ginger, garlic, dashes of sesame oil, sesame seeds and often served in a bowl with a scoop of white rice and garnished with sliced radish, cilantro and a variety of other optional ingredients. It's fresh, it's wholesome, it's uniquely Hawaiian in presentation, and it's super delicious.
The Hawaiian staple must have made an impression on the creators of Poke Hut, a new restaurant in Over-the-Rhine located about a half block north of Taft Ale House. They are apparently the first to open such an eatery in the Cincinnati area. But it's not just about Poke: they offer cooked proteins as well, such as chicken, pork, beef and tofu.
Poke Hut is a fast-casual kind of place serving two different sizes of poke bowls. A small bowl (2 scoops) is $9.50 while a large bowl (3 scoops) goes for $11. They also serve a "pokirrito," a burrito-style concoction made with sushi rice and seaweed wraps. Asian varieties of milk tea are also available to drink in either cold or hot form.
I stopped by a couple times for lunch over the course of the last month, braving the unseasonably icy weather for a 2-1/2 mile round trip walk from my downtown office. The interior is spacious, with tables easily accommodating more than a dozen diners and a row of bar stools along the front window seating a half dozen or so more. A fetching wall mural of the Cincinnati skyline completes the warm, airy ambience.
Diners can build their own custom bowl choosing from a variety of available ingredients, or make it much, much easier on themselves by choosing from one of the six prearranged "signature" poke bowls, each of which cater to a specific type of diner. For seafood lovers, there's the classic Maui and Kilauea bowls, featuring either ahi tuna or salmon along with miso crab; there's the tofu and veggie-filled Honolulu bowl; a pork and egg-infused Luau bowl; the Kauai topped with chicken and shrimp; and the Paniola, with beef and tofu.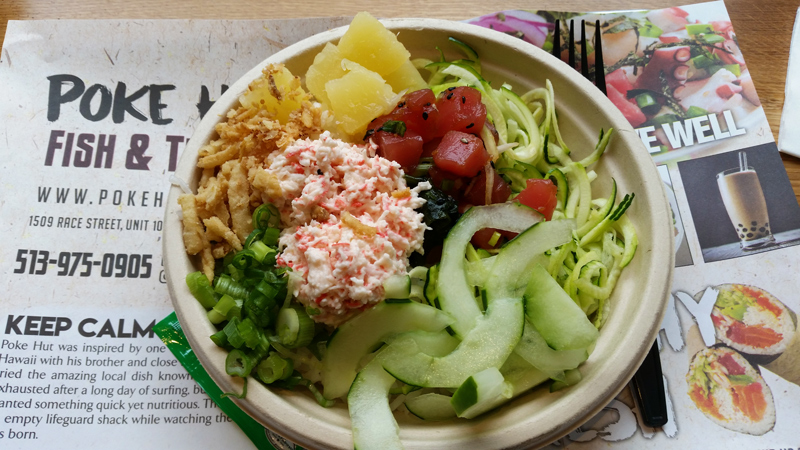 Maui poke bowl
On my first visit, I chose the Maui ($9.50) along with an "old-fashioned" milk tea ($3.75). Combined with the drink, my lunch was a tad pricier than I usually budget for, but it seemed like a wise choice. Still, getting a wholesome poke bowl to go for under ten bucks is quite a bargain given we live in a landlocked state.
The bowls are filled to the brim with a variety of fresh ingredients. In addition to the tuna and crab, my Maui came with chunks of pineapple, sliced cucumber, green onion and those yummy fried onions you find in green bean casserole. I chose a half-and-half mixture of white rice and zucchini noodles as a base, which made the dish feel remarkably filling. The milk tea was a strong black tea variant with full-fat milk, which was intense and refreshing. Soy milk is also available.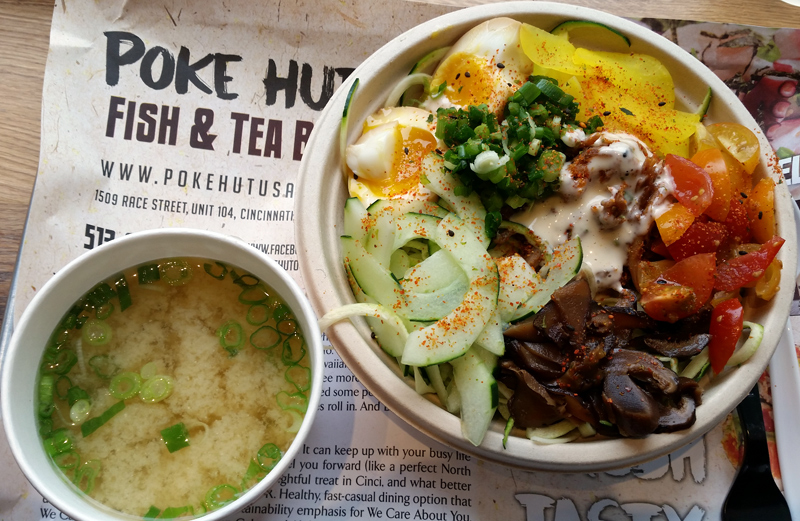 Luau poke bowl with miso soup
On my second visit, I chose the Luau bowl ($9.50), with marinated pork, two boiled egg halves, shiitake mushrooms, cucumber, tomatoes, green onions, a rich, mayonnaisey "house" sauce and a spicy "togarashi" chili pepper seasoning, all on a bed of zucchini noodles, along with a side of miso soup ($2.50).
The Luau bowl also delivered in abundant, rib-sticking goodness, with the rich pork and egg complimenting the side of warm, slightly salty miso soup. It was a great combination to have on such a chilly day.
Poke Hut is a healthy, satisfying and affordable alternative to Chipotle and other similar fast-casual restaurants. It evoked pleasant memories of our vacation and offers Cincinnatians a little taste of what makes Hawaii great.
Poke Hut
Price: Cheap (under $11 per person)
Service: Good
Rating: 3.5 out of 4
Cincinnati Bites