Posted Tuesday, December 19, 2017
Wild Eggs is a ragingly popular regional breakfast/brunch chain based in Louisville. As of this writing, the company has 15 locations across four states, including the tri-state area and Tennessee. We first stumbled upon them during a weekend in Louisville. Now they have three locations in Cincinnati: downtown at the Great American tower complex; at the new Oakley Station development; and in a Kenwood strip mall.
Given that Cincinnati already has solid breakfast options like Sleepy Bee Cafe, First Watch, Mokka, Sugar n' Spice, Sports Page, Parkside Cafe, Hathaway's and many others, you'd think Cincinnati needed another breakfast restaurant like it needs another stadium tax. But Wild Eggs' successful business ethic may prove naysayers wrong.
We've tried both the downtown and Kenwood locations over the last several months, and we're particularly pleased with the Kenwood location, which we've returned to for breakfast several times. I've generally been turned off by the big brunch restaurants in town because the wait times are often so long, but fortunately we've never waited more than 10 minutes for a seat here.
Wild Eggs' menu is as comprehensive and wholesome as it is quirky, with goofy entree names like "Hoosier Bennie," "Mr. Potato Head Casserole," "Batman and Reuben," and many more. Pancakes, crepes, waffles, French toast, inventive eggy skillet concoctions , omelets, sandwiches, salads and soups are all highlighted here. There are many gluten free options for a 79-cent upcharge, with the caveat that the food is prepared in a kitchen that serves wheat products.
The wait staff at Wild Eggs are incredibly friendly and helpful, and when you ask for coffee, they keep mugs filled even while leaving on the table your own pot of it. Most entree components can be swapped out with other substitutions, which they cheerfully accommodate.
On our latest visit, I chose the "Surfer Girl" omelet ($10.49), which features four jumbo eggs, spinach, wild mushrooms, tomatoes, cream cheese and onion, topped with diced avocado, pico de gallo, sour cream and alfalfa sprouts. Entrees come with a choice of either an "Everything" muffin or a blueberry muffin, as well as a choice of skillet potatoes, plain grits or the "grits of the day," which usually involves additional meat or cheese. I chose the blueberry muffin and the special cheddar cheese and sausage grits.
My girlfriend selected the "Zax I Am Fried Eggs and..." entree ($8.79), which comes by default with two fried eggs, skillet potatoes and an Everything muffin, as well as a choice among six meat options: ham, bacon, sausage, Canadian bacon, turkey sausage or chorizo. She chose turkey sausage, swapped out the Everything muffin with a blueberry muffin, and had her eggs over easy instead of fried because, well, high maintenance.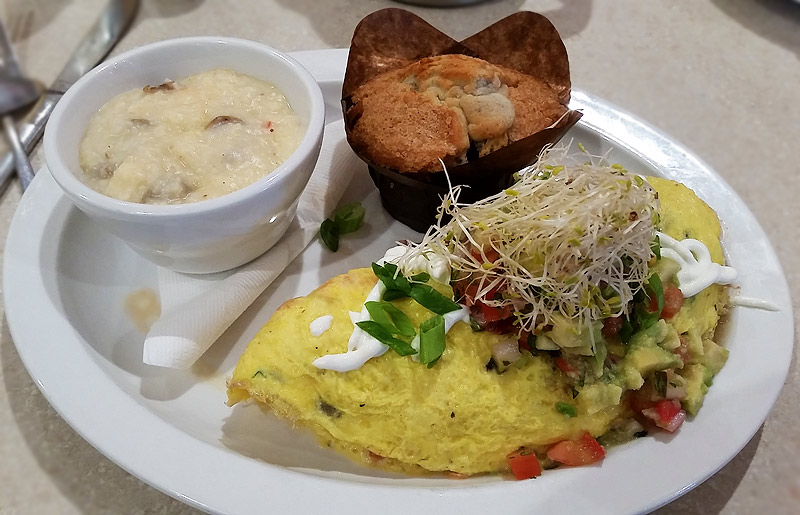 "Surfer Girl" omelet w/ blueberry muffin and cheesy sausage grits
As we awaited our orders, we hummed some of the fetching 80s tunes piping through the sound system. The bright pastel colors of the dining room give Wild Eggs a kind of 80s kids playroom vibe, but it was the music that really set the tone, and perhaps influences the age demographic they're targeting. This might be why every time I think of Wild Eggs, I hear the song, "Wild Boys," from Duran Duran.
The food is nicely presented; the flavors are bright and seasonings are often assertive, from the spicy sausage, to the sharp, acid bite of pico de gallo, to the cheddar cheesiness in the grits. The sugar-encrusted blueberry muffins enjoy a high blueberry-to-bread ratio, with plump fruit bursting throughout. There's something about the first meal of the day setting the tone for everything after, and whenever we exit Wild Eggs, filled with eggs and coffee and muffins, we find an extra spring to our step on the way back to the car.
Wild Eggs is a welcome addition to the Cincinnati breakfast scene that won't break the bank.
Wild Eggs
Price: Moderately Expensive ($11 - $16 per person)
Service: Excellent
Rating: 3.0 out of 4

Cincinnati Bites