Posted Sunday, December 14, 2014
Note: the following review is for a restaurant that has since closed. Packhouse Meats closed effective April 1, 2017. However, they will continue to operate their food truck.
2014 was the "Year of The Meatball" in Cincinnati. Two area restaurants open since January devote their menus to the delicious orbs: Meatball Kitchen, located in Short Vine, and Packhouse Meats, located in Newport, Kentucky.
Meatballs are a wondrous invention. If my conscience were more accommodating, I'd eat meatball subs every other day of the week. Instead, the round delicacies, often soaked in a pool of rich tomato sauce, only serve to mock me.
"You're six-foot-one and weigh 214 pounds, fatass," they sing and wiggle in cheerful unison, "eat us, if you dare!" The guilt usually gets the better of me and I end up ordering something less satisfying and boring, like a turkey sandwich.
We had enjoyed our first taste of Meatball Kitchen a number of months ago, and were eager to experience what Packhouse Meats had to offer. Packhouse is located on Monmouth Street near the 10th Street intersection, serving as the southern-most bookend to the many restaurants on the street, including Mad Mike's, La Mexicana, Pepper Pod and Mokka.
Meatballs are called "packs" here, as in "hand-packed meats." There are at least six varieties to choose from, including one or two vegetarian options. Packs can be ordered on sub sandwiches, in a bowl or served individually as sliders. They can even be topped on one of six chopped salads. Ice cream, fresh-baked cookies and floats are also available.
We admired the residual old-timey charm of the vintage building, with exposed brick, a rickety old wooden floor and high, tin ceilings. Many of the walls are covered with blackboard sporting various customer shout-outs and promotions scrawled in chalk, as well as the latest menu specials and beer lists. A garage door opens up the main dining room to the air outside during warmer seasons.
The menu itself is a bit confusing for first-timers. Armed with an erasable marker and a menu card, patrons complete a three-step process, which includes picking a packed meat, selecting from one of six gravies, then choosing to enjoy the meatballs in a bowl, on a salad or as a sandwich/slider. There are subcategories of choices depending on what is chosen in step three: bowls can include sides of pasta, polenta, mashed potatoes, spinach and several other vegetables. Sandwiches can be an 8-inch baguette, open faced focaccia or sliders. An additional grid for ordering multiple sliders of various types and meats makes the process even more dizzying.
The wait staff are well-versed in guiding inexperienced customers through the process, though I can't help but wonder if Packhouse would be better off abandoning the whole "pick everything" idea and sticking with popular, pre-selected menu options. Sometimes it's just easier on the brain to point to a numbered item and say, "I want this one."
Another curious aspect of Packhouse is their "no-tipping" policy. Customers are treated to full table service, yet they are discouraged from leaving tips. Instead, the company pays the staff $10 an hour, or 20% of their sales, whichever is higher. This is marketed as a win-win, encouraging the staff to sell more while improving business. Customers pay slightly more for their food up front instead of leaving a tip. The idea seems compelling, though I felt a bit awkward not leaving something.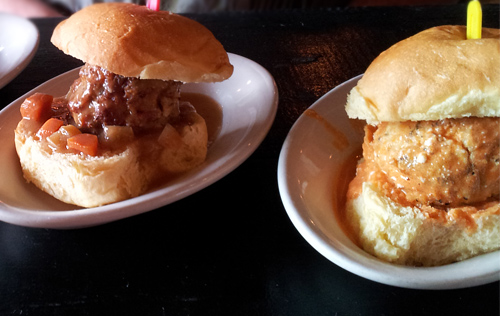 Beef meatball slider with hunter gravy and buffalo chicken slider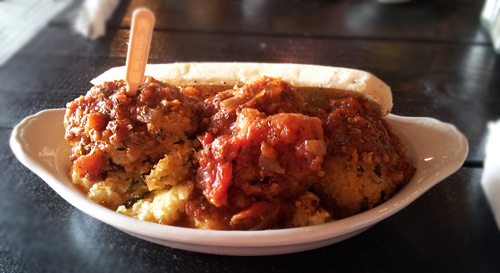 Quinoa meatball bowl with polenta and marinara
My girlfriend ordered the Quinoa and Vegetable Pack bowl: three vegetarian meatballs served atop a side of creamy polenta and smothered in marinara "gravy." I chose three sliders: the buffalo chicken; the beef topped with hunter gravy; and a pork slider topped with marinara.
The quinoa/vegetable "meatball" exhibited a pleasingly toasty, outer crunchiness with a soft core, a textural quality we found particularly enjoyable paired with the polenta. The house marinara was assertive but not overly spicy. The accompanying breadstick in my girlfriend's dish was excessive and ignored.
While my sliders were all satisfying, the beef with hunter gravy was the clear stand-out. What is hunter gravy? It's a rich, meaty brown sauce with bits of mirepoix: onions, celery and carrots. The flavor seemed to draw from all the high points of Thanksgiving, infused in one gravy. The pork slider with marinara was passable, but I would have liked the mild pork meatball to be more akin to a spicy sausage. The buffalo sauce with bits of blue cheese hit all its hallmark notes, and the chicken meatball was not dry as feared. The slider buns were soft and pillowy, but didn't stand up well to some of the looser sauces.
Despite some minor shortcomings, Packhouse Meats showcases some inventive, versatile uses of the meatball and is a tasty addition to a Newport street teeming with popular restaurants.
Packhouse Meats
Price: Moderately Expensive ($11 - $16 per person)
Service: Good
Rating: 3.0 out of 4

Cincinnati Bites