Posted Sunday, May 17, 2015
Utter the word, "Thunderdome," and its easy to evoke 80s visions of Tina Turner or a one-armed Charlize Theron in her new Mad Max: Fury Road vehicle. But for Cincinnatians, the name should bring to mind itty-bitty street tacos, busy burrito chains, fried chicken and house made sausages.
Not the same Thunderdome...
Thunderdome Restaurant Group is headed by three thirty-somethings seemingly flush with unlimited mounds of investment capital. They're responsible for the likes of Bakersfield OTR, The Eagle, the Currito chain/Chipotle rip-off and now Krueger's Tavern, another Over-the-Rhine success story housed in the former location of Lavomatic. Thunderdome has made regional chains out of two of those restaurants, with multiple Bakersfield and Currito joints spread out over several Northeastern states.
Joe and John Lanni, who make up 2/3 of Thunderdome, obviously owe a lot to their father, Nicola Lanni, who'd started his Great Steak & Potato company back in 1982 and fully immersed these handsome, enviable little fuckers deep into the culinary world, molding them into shrewd entrepreneurs. So far, all their ventures have enjoyed a super-hyped mythos that would make even a gold-tipped Midas jealous.
We stopped by for a couple lunches at Krueger's Tavern, their latest venture, to see how it compared to other Thunderdome favorites. The restaurant pays homage to the greatest European taverns of the past, armed with a menu amalgamating a variety of cultures, with a slight emphasis on German influences via a lineup of plump, house made sausages.
The name, Krueger, is an apparent nod to the Gottfried Krueger Brewing Company, a long-gone New Jersey-based brewery that was the first to produce beer in cans. To further this tribute, Krueger's 60+ beer lineup is exclusively in this format, offering such canned fare as the ubiquitous Mad Tree and Rhinegeist, along with many others, including Stiegl, Fat Tire and the White-trash venerated Miller Lite (blessed be thy name).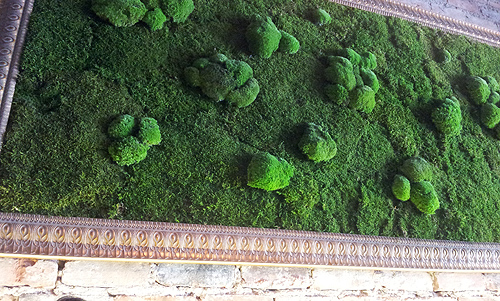 A Living Moss Wall
Krueger's menu is a feast for carnivores, vegetarians and gluten-sensitive folks alike, offering fresh kale and mixed-green salads; a creative assortment of side dishes; six mouth-watering burgers; three giant sandwiches; and four varieties of sausages served on beds of lentils, braised red cabbage, polenta or colcannon, an Irish dish of chunky mashed potatoes mixed with kale.
Krueger's looks the part of an old Euro-vehicle: gone is the old washing machine from Lavomatic's past; there's a lot of polished brass and brick and some very peculiar but very striking living moss art hanging on the walls, like a 20-foot Chia-pet experiment gone wild.
My eyes gravitated immediately to the $9 sausage section; preliminary jokes of the pending "sausage-fest" left me with little desire to do otherwise. Four sausages take the diner on a jaunt around the globe: there's the Merguez, a North African lamb sausage served with Moroccan lentils; the Jagerwurst, a German hunter's sausage resting on riesling-braised red cabbage with grainy mustard; the Italian, a Sicilian sausage served with a polenta cake, olives, parmesan and braised fennel, and my personal fave, the Lincolnshire: an herbed British banger sausage on a bed of colcannon, topped with onions braised in Guinness beer.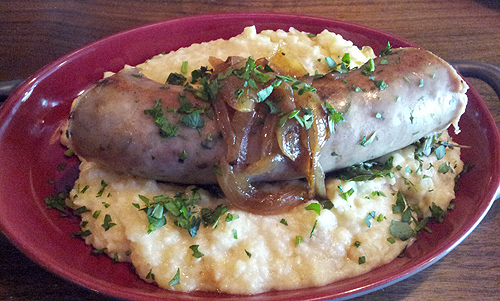 Lincolnshire Sausage with Colcannon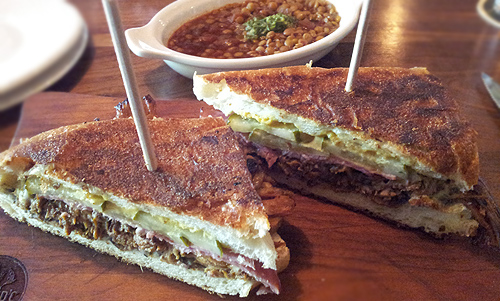 The Cuban Sandwich
My girlfriend opted for the Cuban sandwich ($10): braised pork shoulder topped with ham, gruyere cheese, house made pickles, dijon mustard and a black bean puree pressed firmly in a Cuban roll. We also ordered a side of spicy Moroccan lentils ($4).
Whether you're a guy or a gal, there's a very primal appeal to tube-shaped anything. And when my Lincolnshire dish finally arrived, I had to pause for a moment to appreciate the perfection in that simple shape set before me, fighting off the hunger generated by wafts of potato and Guinness and herbed meat.
The appropriately German Sigmund Freud might have made some profoundly obvious statements about how that tube shape fits into our psyche, why it's so important, why as men we want to devour it so as to make our own "tubes" larger; while women desire the same because in so doing, they can vicariously experience something that which by nature they can never truly have. Then again, maybe he'd just say: "sometimes, a sausage is just a sausage." And with that, I finally cut into mine.
The sausage was sensational; the rich, potatoey colcannon and acidic edge of the Guinness-braised onions together made for a perfect bite. Satisfied, I dived into the side of tender Moroccan lentils, enjoying their slightly assertive but strangely non-clashing spice; followed by a bite of my girlfriend's two-fold meaty Cuban sandwich with its slight mustard notes.
As we enjoyed our respective dishes, I felt a part of my heritage had been awakened, dusted off and refreshed; the Germanic, Irish and Scottish genes rising to the fore to offer memories of a past I never had. This was how food was, and this is how food should be. Simple, not overstated and fucking good.
Krueger's Tavern is fucking good.
Krueger\'s Tavern
Price: Moderately Expensive ($11 - $16 per person)
Service: Good
Rating: 3.5 out of 4
Cincinnati Bites