Posted Monday, September 7, 2015
It was all I could do to keep my jaw from dropping open as I overheard grumbling from a table of lawyers at Cuban Pete's, the latest shop to offer the classic Cuban sandwich of ham, pork, pickles, mustard and Swiss pressed between two slices of Cuban bread.
"His sandwich looks bigger than mine," one well-dressed lawyer huffed after the cashier had stopped by their table to ask how everyone liked the food. The friendly worker patiently explained that the pressed nature of the sandwich makes its size misleading, but he assured him it was the same amount of ingredients.
It irked me. Here were these lawyers, who obviously made two or three times an average person's salary, complaining about the size of a sandwich whose roots date back to harsher days in Havana, where it was conceived and prepared for decidedly poorer factory workers and, later, for Cuban expats who'd moved to Southern Florida to escape Fidel Castro's oppression. What cheek!
Make no mistake: Cuban Pete's sandwiches are big. If you can eat a whole one, which will cost you $7.95, then congratulations, fatty. Customers have a choice of a classic Cuban sandwich or a half dozen variants (including a Cincinnati-inspired version with Goetta), as well as several other sandwiches, salads, tacos and sides.
The restaurant is named for Pedro "Cuban Pete" Fonticiella, a Cuban baseball player who'd received his nickname from Americans playing winter baseball in Cuba during the major league off-season. Known more for his cooking skills than his baseball prowess, Pedro passed down his recipes to his son, Nelson, who in turn started the restaurant with Nelson Jr. and a third partner, Yvonne Henke.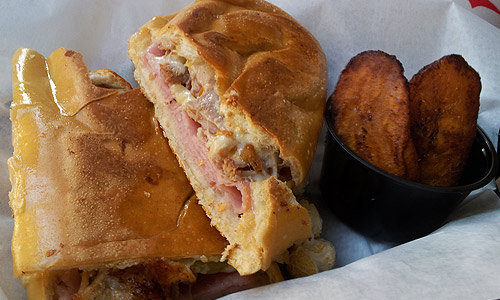 "El Cubano" sandwich with side of plantains
On my first visit, I went for the classic "El Cuban." The menu describes it as imported ham with slow roasted pork, Swiss cheese, pickles, mustard and mayo. Several side items looked intriguing, like the sweet plantains or the "croquetas," tiny fried missiles of minced ham and spices. I chose the sweet plantains with a fountain drink to accompany my sandwich ($9 altogether).
The basket soon arrived with the sandwich served atop a bed of kettle corn. It was an impressive-looking Cuban, reminding me of those served at Paula's Cafe (Paula lived in Miami) and the various Cuban-themed restaurants that have come and gone over the years. The crispy pressed bread added an appropriate crunch to the sandwich and the plantains offered a satisfyingly sweet finish.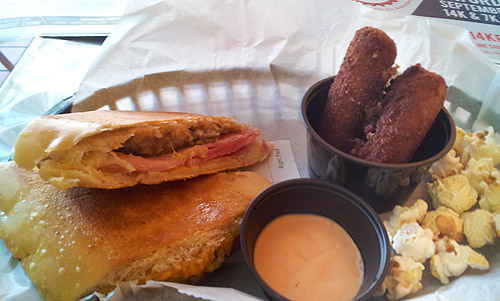 Cincy Cuban sandwich with side of croquetas
On a subsequent day, I tried half a Cincy Cuban, served with Goetta, ham, cheddar cheese, mustard and pickles along with a side of croquetas. The outer crispiness of the Goetta and its creamier core complimented the texture profile of the Cuban sandwich well, another interesting layer to a multi-faceted sandwich. The croquetas were heartier than anticipated, with a hefty ham filling and a substantial fried breading. A horseradish dipping sauce offered appropriate zing.
Cuban Pete's is a welcome addition to the downtown lunch scene. They also travel around town via food truck, so be sure to check their website for schedules.
Cuban Pete\'s
Price: Cheap (under $11 per person)
Service: Good
Rating: 3.5 out of 4
Cincinnati Bites