Posted Sunday, January 22, 2017
Most people in town are by now well-acquainted with a really great, authentic Italian pizzeria in Over-the-Rhine called A Tavola (Ahh TAH-voe-lah). But perhaps only some are aware of their second and arguably better location in Madeira. Why is it better? Two words: Roman style.
While my girlfriend and I have only visited Naples, Italy long enough to catch a plane back home, we did technically step foot in pizza's Italian birthplace, and it was from there that A Tavola's two serious O.G. ovens were shipped. These dome-shaped, tiled, wood-burning ovens are hot, glowing works of art in themselves. And when their fiery maws are filled with bubbling discs of doughy deliciousness? Glory, Hallelujah.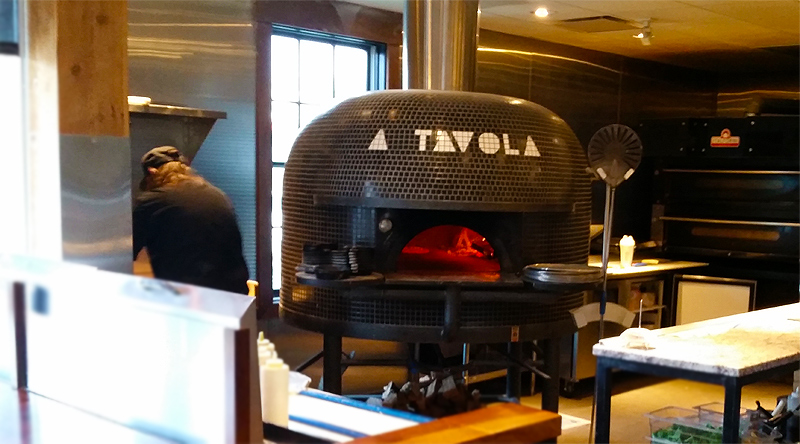 A Tavola Madeira's oven, shipped from Naples, Italy
A Tavola's Madeira location resides in the same corner building that once housed a Thai restaurant, near Kroger's and Depot Barbecue. The restaurant features great outdoor seating, where the wind catches and gently circulates wafts of baking pizza throughout the space. Inside is an intimate, yet reasonably spacious dining room of dark wood tavolas..er..tables, a small bar, and a grand view of the bustling open kitchen.
The menu at the Madeira location is very similar if not virtually identical to the OTR location. In addition to their signature pizzas, there are five pasta dishes, sandwiches, salads, delicious antipasti (oh, do try the stuffed, bacon-wrapped dates) and gelato for dessert. But there is one key, very important difference: only A Tavola Madeira offers an additional "Roman style" pizza crust option.
Roman style pizza crust is uniquely thin and crispy --almost cracker-like, that is made so using a unique baking technique that employs olive oil in the dough. For those of us who prefer thin-crust pizzas, this extra-thin variant is like a Holy Grail of pizza, allowing the toppings, not the bread, to dominate the palate. The only perceived down side to this technique is that A Tavola apparently does NOT use the wood-fired oven for Roman style pizzas, instead opting for a conventional one.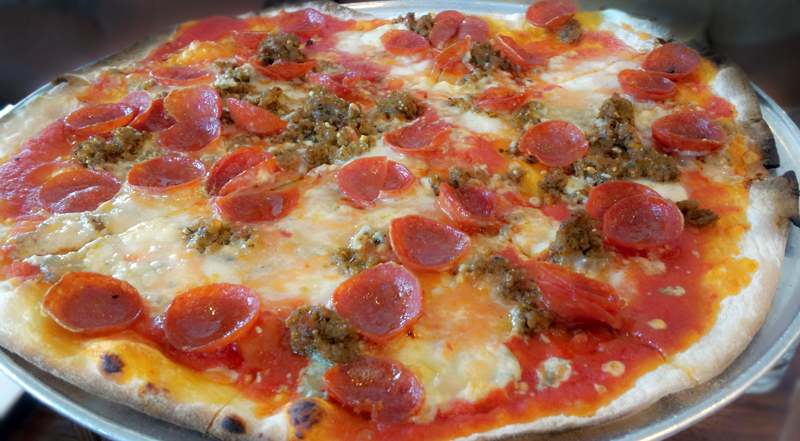 Gorgonzola pizza, Roman-style crust
On our most recent visit, we ordered the Gorgonzola ($17), which is easily our favorite signature pizza. It features a light, fresh tomato sauce topped with Gorgonzola cheese crumbles, mozzarella, house-made sausage, pepperoni and just a light dusting of cracked black pepper. The sharp, piquant tanginess of the Italian blue cheese variant is balanced nicely by the full-bodied meatiness of the sausage and spicy pepperoni, finished with the clean, refreshing flavor of the tomato sauce. It's the perfect vehicle for showcasing the unobtrusive Roman style crust.
My girlfriend and I rarely (if ever) attempt to visit A Tavola Madeira on a Friday or Saturday night --it's just too damn busy. But it's a perfect spot for a weekend lunch or a weeknight out, relaxing with a draft beer and devouring slice after slice of crispy, crackly, Roman-style pizza.
A Tavola Madeira is a must-try for any discerning "appassionato di Pizza."
Follow my blog with Bloglovin
A Tavola Madeira
Price: Moderately Expensive ($11 - $16 per person)
Service: Good
Rating: 3.5 out of 4
Cincinnati Bites