Posted Monday, March 14, 2016
When the popular Mount Lookout breakfast and brunch restaurant Annabel's closed up shop last year and owner Annabel Stolley retired, two former BrewRiver GastroPub employees decided it was time to take the space and fulfill their lifelong dream of opening El Camino, a Latin American restaurant emphasizing the best of the culture's street food.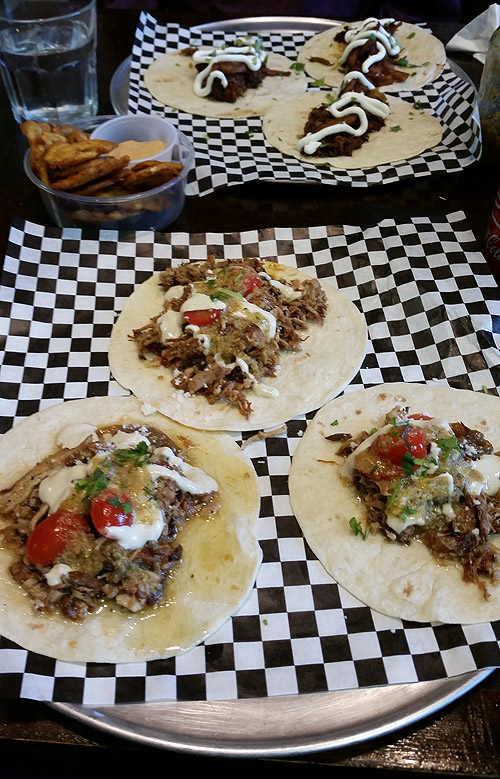 Tacos and Tostones
Owners Sean Morgan and Chef Brad Johnson offer a cozy, divey nook of an eatery that's able to squeeze in about 25 people. And while the place is often quite busy juggling both dine-in and takeout orders until the wee hours of the morning, its seat turnover rate is quick enough that diners shouldn't be too concerned about having to wait too long for a spare table.
We arrived on a Sunday evening and noted several seats available. A menu board above the counter displays El Camino's more stable menu items, while supplemental chalk boards behind the counter highlight the daily specials. The regular menu includes a number of sides, tapas, bocadillos (sandwiches) and tacos. Notable items are the Cubano, with braised pork shoulder, thin-sliced ham, Swiss cheese and house-made mustard and pickles on crispy, pressed, Sixteen Bricks bread; pulled pork, "El Jefe" tacos topped with pickled tomatoes, caramelized onions, sweet corn salsa and cilantro; and Caribbean-style empanadas.
Ordering at the counter, my girlfriend chose one of the daily specials: three Ropa Vieja tacos ($9.75), braised beef topped with seasoned black beans, sweet plantain fries, cilantro and drizzled with sour cream. I chose the El Jefe tacos ($9.75) along with a side of the tostones from the daily special menu ($4.75). Tostones are twice-fried, thin slices of crispy plantains served with a side of garlic mayo ketchup.
El Jefe taco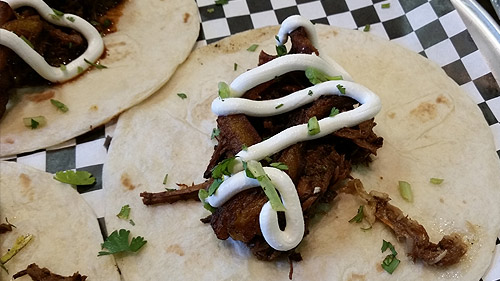 Ropa Vieja taco
The food arrived fairly quickly given how busy the place was, and I was pleased to see the workers keeping close watch on diners' water glasses, ensuring they were ever filled. When the tacos arrived, I was initially disappointed that they'd employed flour tortillas instead of corn, but given the saucy, juicy nature of the ingredients, it ultimately proved a wise choice: corn tortillas would never maintain their structural integrity under such conditions.
The El Jefe tacos were a celebration of rich, pork flavor, the meat's richness elevated with a smart, acidic pairing of delightfully tangy pickled cherry tomatoes. The surprise hit of the evening, however, was my girlfriend's Ropa Vieja tacos. The richly complex flavor of the braised beef offered deep, dark chocolate notes. The wisps of plaintain added another layer of heartiness to the tacos, cut nicely by the refreshing hit of sour cream.
The tostones were crispy, hot and pleasantly seasoned, starchy morsels of goodness amped up when dipped into the mildy spiced garlic mayo ketchup sauce.
We were quite pleased with our first El Camino experience and look forward to our next street food fix.
El Camino
Price: Cheap (under $11 per person)
Service: Good
Rating: 3.0 out of 4

Cincinnati Bites