Posted Thursday, November 30, 2017
As a lifelong carnivore, I often twitch at the sound of vegetarian or vegan phrases like, "grain bowl." What could a restaurant showcasing something like that possibly have that I, a hardcore meat eater, want? The Royal OTR, a recently opened eatery on the corner of 12th and Main St., answers that question rather thoroughly. For this is not just another flashy hipster hangout for garden gobblers and grass grazers: it's a flashy hipster hangout for flesh eaters, too.
The Royal OTR menu features an impressive lineup of items using mostly locally-sourced, seasonal ingredients. They offer nine sandwiches, only two of which are vegetarian-friendly. Ample salads, homemade soups and two chili dog variants made from either chorizo or andouille sausage are also listed. But the arguably, and surprisingly, biggest draw may be their prodigious grain bowls, in which one may choose from a variety of seasonal vegetables placed on a bed of farro grains for $8. Want dead flesh on top? Well, you're going to pay extra, planet-killer. Chicken or pork tack on $3, while there's a comparatively modest upcharge for goat cheese and avocado.
I stopped by a couple times for lunch to behold a freshly-remodeled space that seats about 25 people. It's bright, sleek and minimalist, all aspects I appreciate having long ago escaped from a household of egregious hoarders. There were at least four people on duty behind the bar; they were young, polite, tattooed, pierced, coiffed and bearded --all the things a prejudiced person ignorantly assumes hipsters look like until they see one in person and realize that...yep, that's all fairly accurate. But all playful roasting aside, these folks did make me feel welcome, despite my lacking any of those qualities.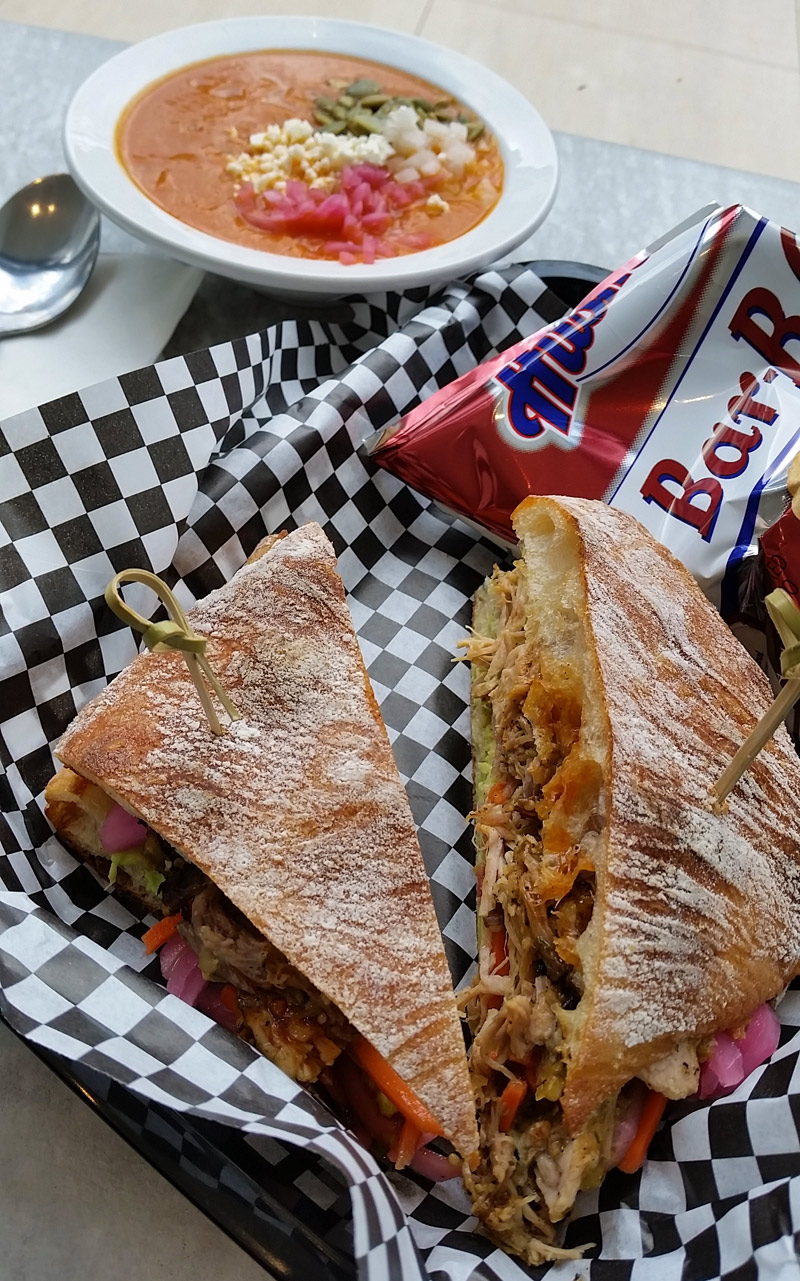 Verde Pork sandwich w/sweet potato soup
On my first visit, I stepped up to the bar and ordered the Verde Pork sandwich ($10), served on freshly made ciabatta from the Sixteen Bricks bakery. The chopped pork is topped with tomatillo verde sauce, avocado, pickled onions, carrots and hot sauce. It also comes with a bag of either plain or barbecue chips. The sandwich featured all the bright acidity I'd want to counter the rich pork flavor, with a mildly-spiced kick from the tomatillo sauce.
To accompany my sandwich and chips, I chose a cup of seasonal sweet potato and tomato soup ($3), topped with pepitas, pickled onion and crema. This was a vibrant, electric-orange soup, packed with as much rich flavor as it did beta carotene. I could have dipped my sandwich into the soup, but the Verde Pork was plenty good on its own.
On my second lunch stop, I suppressed my carnivorous urgings and risked a farro grain bowl. The "build-your-own" process entrails entails filling out a card by checking off desired ingredients. I selected black beans, roasted sweet potato, pickled radish and onion, cilantro, pepitas, queso fresco cheese and avocado ($9).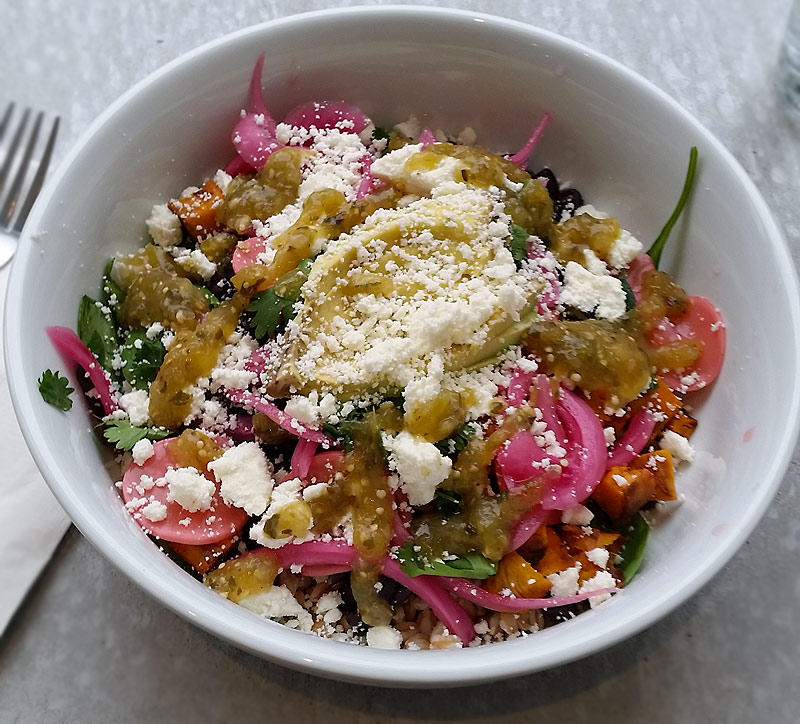 Grain bowl
Until that day, I hadn't much experience with farro grains. It's often used in Italian soups, so if I'd ever eaten it, it wasn't memorable. It definitely was this time, however. Now that I've experienced a bowl of it, I wonder why on earth we still use rice as a base for everything? Farro grain is tastier than white or brown rice, with a pleasing, slightly chewy bite and mild nuttiness. It complemented --and perhaps enhanced-- all the toppings. And despite lacking meat, my custom grain bowl was both hearty and filling.
Instead of bolstering my cynicism for all things vegetarian, The Royal OTR soothed it. They've got plenty to offer any palate, and they're just another example of Over-the-Rhine's impressive, exhaustive list of great restaurants bolstered by great talent.
The Royal OTR
Price: Moderately Expensive ($11 - $16 per person)
Service: Good
Rating: 3.5 out of 4
Cincinnati Bites