Posted Monday, October 11, 2010
I'm pretty sure Cassano's pizza was one of the first solid foods I ever ate. So when it came time to try one of Cassano's most long-standing rivals, Marion's Piazza, I was concerned where my loyalties would lie after all the pepperoni had settled.
Opening Cassano's Pizza King in 1953, Vic Cassano, Sr. began serving a very unique style of pie: round, like most pizzas, but served on a very thin, salty-bottomed crust with edge-to-edge toppings, a tangy, wine-spiked tomato sauce and slices cut into small squares.
Their pizza style is unlike any I've ever eaten outside of the Dayton/Springfield area. I've researched similar types and the closest descriptive match I can find is something called "St. Louis Style" pizza. But somehow, that classification didn't ring right. A contact at Cassano's corporate headquarters reinforced my belief that both Cassano's and Marion's pizza fit into a category all their own:
The call went out to the Cassano Family for their answer to your question....."what style of pizza is Cassano's Pizza"?

The consensus is....Cassano's Pizza is "Dayton, Ohio style" pizza. The family does know that it is NOT Chicago, St. Louis, or Connecticut style pizzas. Cassano's Pizza...originally Vic Cassano-Mom Donisi Pizza...opened to the Dayton area in June 1953, when telecommunications were confined to limited radio and television stations...no web sites, texting, e-mails, Facebook, Twitter, etc., which would certainly limit at that time ready access to comparison of pizza styles.

The recipe was developed by Vic Cassano, Sr. and his mother-in-law, Mom Donisi, and came from their recipes, based on the family treat from Italy. It's the thin crust, salt on the bottom, and the crunch when you bite into the crust, topped with our own specifications for the sauce, cheese, and toppings.....PLUS, the finished product cut into our famous squares, for ease of eating....all of these attributes make Cassano's Pizza...."Dayton, Ohio style pizza"!

—Cassano's corporate communications rep
By the 1960's, Cassano's was fending off a number of local pizza joints serving up this so-called "Dayton, Ohio style" pizza. Competitors cropped up in Dayton and surrounding areas, most notably the Columbus-based Donato's, established in 1963; and Marion's Piazza, which opened its doors in 1965.
A healthy pizza battle ensued over the next several decades, with all three businesses achieving varying degrees of success. At its height in the mid-1980s, Cassano's was poised to take on the heavy-hitting, mediocre-tasting Domino's national chain. Cassano's was sold to Greyhound Food Management (no relation to Greyhound buses), which aimed to rapidly expand the business and "tweak" the menu. But bad decisions, bad timing and allegations of mismanagement and embezzlement bankrupted Cassano's by 1995. Still, Cassano's persevered. Re-purchased by the Cassano family, it returned to its original ingredients and philosophy, holding steady with more than 30 locations in the Dayton and Springfield area.
In the midst of all this, Marion's Piazza was slowly building its customer base using a recipe and technique very much like Cassano's. Its family-friendly atmosphere and its hosting of celebrity-infused Kenley Players cast parties sealed its reputation among Daytonians as the premier pizza hangout spot. It's a standing Marion's enjoys to this day, having been deemed the "best tasting" pizza this year by Dayton Business Journal readers.
Despite growing up in the Springfield area, I'd never heard of, much less tried, Marion's pizza before a few years ago. It'd been on my wish list for quite some time. Today would be our first experience.
We decided to visit one of the newest of Marion's seven locations, on Kingsridge Dr., behind the Dayton Mall. Completed in 2008, the restaurant was much larger than I'd imagined: spacious and open with an impressive central skylight allowing soft rays of sun to cascade upon the dining room. Several sections were cordoned off, apparently reserved for special events. The place could comfortably seat 250 people, perhaps more. Vibrant murals depicting Venetian-like landscapes and canals were painted inside arched "windows" on yellow-stuccoed walls. Small trees and street lamps tickled the ceiling. It simultaneously reminded me of a large, open Italian piazza and a banquet hall.
At the far end of the room was the ordering counter, behind which was an impressive pizza assembly area showcasing several employees busily dusting myriad pies with cheese and toppings and manning a wall lined with large, chrome-plated pizza ovens.
Marion's menu uses a very groovy 70's-style font that's obviously not changed --a pleasing sight. If the saying, "what's old is new again" holds true, their font selection seems almost contemporary these days. In addition to pizza, Marion's serves up five kinds of submarine sandwiches; five deli-style sandwiches; a few basic salads; lasagna; and several variations of spaghetti.
Their system of ordering was a bit strange for us newcomers. There is one line designated for ordering and paying for food items and a second, separate counter for ordering and paying for drink items. This process must seem efficient to them, but I'm unclear how or why. Are there that many people who only come for one or the other? Is it a sneaky way to more easily up-sell patrons on pitchers of beer and soda? We weren't really sure. All I know is, we've never seen this kind of setup anywhere else.
There are only two pizza sizes available: 9-inch or 13-inch. We decided to order half a submarine sandwich and share a 9-inch deluxe, which by default comes with sausage, pepperoni, mushrooms, green peppers and onions, although the first three ingredients can be substituted with any other available topping.
The number on our receipt was called out within minutes, and I retrieved a very attractive, piping-hot pizza and submarine. The pizza is very similar to Cassano's, with several clear differences: Marion's crumbled sausage looks like it's been extruded through a grinder. Very uniform, tiny sausage tubules covered our deluxe. Their sauce isn't as tangy or winy as Cassano's and their pizza crust bottom is dusted with corn meal instead of salt.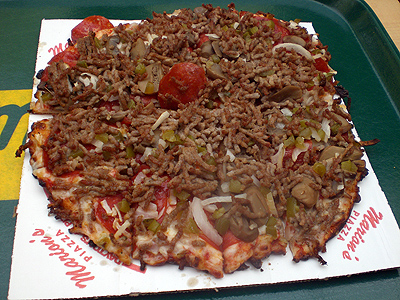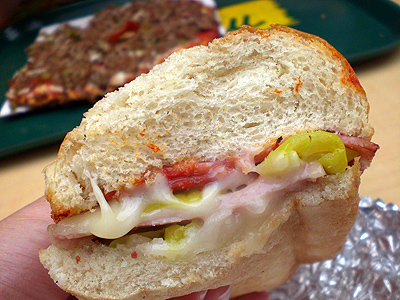 The tiny square slices have always been pleasing to me: it's another reason why pizza chains like Donato's, Cassano's and now Marion's are among my favorite. While the crumbly textures of the toppings evoked many a Cassano's memory, Marion's pizza exhibited a more subtly-flavored sauce and lacked the salty kick one typically finds with Cassano's. It was a great pizza.
The sauce on the submarine sandwich was mouth-wateringly tangy, its zesty flavor perfectly complimenting the salami, ham, onions and banana peppers. The aroma of the fresh-baked bread was intoxicating.
So where does this leave me and my devotion to Cassano's? I'm still a hard-nosed, die-hard fan. Being raised on Cassano's means my heart will always rest in their dough-flecked hands, but there's still plenty of room in my stomach for Marion's.
Marion\'s Piazza
Price: Cheap (under $11 per person)
Service: Good
Rating: 3.0 out of 4

Cincinnati Bites