Posted Monday, January 3, 2011
Note: the following review is for a restaurant that has since closed. Orient closed it's doors after 31 years in business on February 24, 2018.
We've tried several times to get a seat at the newly opened and ultra-hip Pho Lang Thang, without success. Be it poor timing or blind luck, we've not been there at a time when there wasn't at least a 30-minute wait or a shortage of a key ingredient. And while it's great this Findlay Market business is getting showered with an abundance of foodie love, I'm reminded that it's not the only Vietnamese player downtown.
As reported seven months ago by Polly Campbell and TJ Jackson, the Banh Mi sandwiches have been readily available at tiny Le's Cafe, located inside the Main Library, before Pho Lang Thang was but a mere scribble in an ambitious business plan.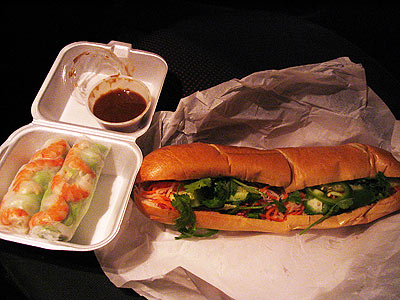 If you've never tried a Banh Mi, you'll find it quite a unique experience, one you'll either savor or despise. This "Vietnamese Po' Boy" is a working man's staple, served on a crusty baguette, offering a one-two flavor punch of hearty meat and spicy vegetables and a fragrant, cilantro finish.
Le's Cafe offers the 6-inch Banh Mi for just three dollars; you can get a foot-long for five. Stick that in your sub and smoke it, Jared.
The other downtown favorite of mine, one that gets virtually zero Twitter or Facebook love, is simply called, "Orient." You can find the unassuming Asian restaurant at 627 Main Street, across from Izzy's and Penn Station.
The decor at Orient is minimal: some (possibly plastic) potted plants line the front window and the dining room consists of about seven or eight worn booths. Not exactly sexy or Twitterific. When an order is placed, Caucasian patrons usually don't get much in acknowledgment from the owner beyond, "okay," but what he lacks in conversation, he amply makes up for in food.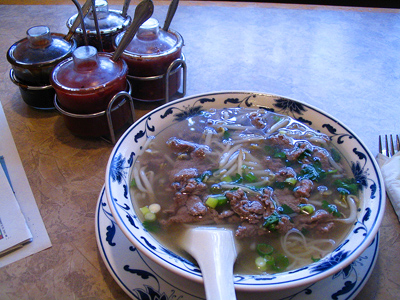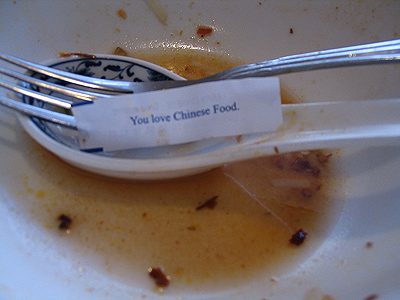 The menu includes a mixture of Chinese, Thai and Vietnamese items. I eat there year round, but when winter hits, I especially yearn for Orient and its great Pho. A generous bowl comes filled with long, wispy rice noodles and thin, slightly pink slices of beef, still cooking in the hot, fragrant broth. Sprouts, jalapeno slices, green onions and a carousel of not one, not two, not three...but FOUR types of hoisin and chili sauces of varying heat accompany the bowl, allowing you to season the Pho to suit your distinctive palate.
So until the Pho Lang Thang buzz quiets down a bit and the Tweeters move on to the next new, hip thing, remember: you've got a couple tasty Asian alternatives.
Orient
Price: Cheap (under $11 per person)
Service: Good
Rating: 3.0 out of 4

Cincinnati Bites