Posted Sunday, September 11, 2011
Bellevue Bistro, located at 313 Fairfield Avenue in Bellevue, Kentucky, is one of those restaurants you wish could have been kept secret, lest the crowds overrun the place so you'll never get a seat when you want one.
It was a work lunch trip to Pasquales that first queued me in to Bellevue Bistro's existence. In the Cincinnati area, as in most big cities, "bistro" usually equates to "upscale." And while Bellevue Bistro isn't exactly a dive, it's not exactly snooty, either.
With it's large shopfront windows, tin ceilings and general all-around old timeyness, Bistro feels like it could be (and may very well once have been) a small-town candy store. The interior walls are painted with a warm gold, textured fresco style, showcasing dozens of framed photos and other works from a rotating collection of local artists. During our visit, we enjoyed a wide array of world travel photos from photographer Eric Feldman.
Each glass-topped table reveals a small nook underneath where travel and architectural magazines are displayed. Playful, contemporary decorative elements roughly reveal the owners' age bracket and taste in movies, as there are an assortment of Star Wars action figures standing in strategic areas of the room, as well as a Millennium Falcon hanging high on a wall behind the checkout counter. The Force is strong in...well, you get the picture.
We visited the restaurant for a late breakfast, enjoying the quaint street view provided by Bellevue Bistro's ample front windows. Fortunately, we'd come during a brief lull between the breakfast and lunch crowds. Bistro is noted for being very busy most of the time, particularly because the food is good and especially because there are only about a dozen tables.
The restaurant's tri-fold menu includes an impressive array of breakfast and lunch items, all with prices easily rivaling those of a Perkins or Bob Evans. Bistro offers specialty sandwiches, soups and salads; hearty "breakfast bakes" of two fried eggs and various choices of ingredients served over rosemary potatoes; breakfast quesadillas; several Eggs Benedict variations; and specialty breakfasts such as the "Bistro French Toast" and Belgian waffles.
Over a mug of steaming coffee, my girlfriend chose the "Veggie" Breakfast Bake: Two fried eggs resting on a small brickette of seasoned tofu atop a bed of sweet potatoes, squash, green peppers, mushrooms, onions, spinach, avocado, tomatoes and basil with melted cheddar and jack cheeses.
Nursing my own mug, I choose the Bistro French Toast: "housemade" cinnamon bread, drizzled with chocolate sauce, a side of whipped cream, strawberries and syrup.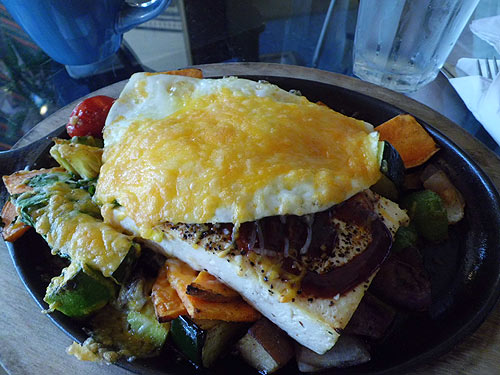 The food arrived in a little over 10 minutes as the lunch rush began to fill the remaining tables. Both dishes were as impressively sized as they were artfully displayed.
My girlfriends Veggie bake was well seasoned and tasted unusually hearty. There was a nice textural interplay between the tofu/egg combination and the vegetables lying underneath. The tofu seasoning seemed almost teriyaki-like in flavor, but it wasn't overpowering and the saltiness lent itself well to the rest of the dish.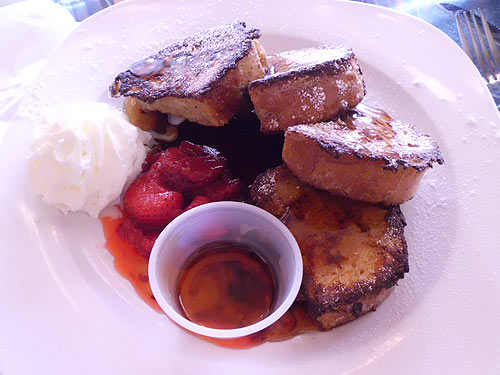 My four large pieces of powdered sugar-dusted french toast were crispy on the outside and soft and warm in the center, with a pleasant cinnamon-egg flavor complimenting the slight acidity of the strawberries. The dish was perfect for satisfying my morning sweet tooth, washed down with deep swigs of coffee.
If you manage to beat the rush, you'll find delicious, affordably priced meals at Bellevue Bistro.
Bellevue Bistro
Price: Cheap (under $11 per person)
Service: Good
Rating: 3.0 out of 4

Cincinnati Bites