Posted Sunday, October 16, 2011
Note: the following review is for a restaurant that has since closed.
Mekong Thai's location is easy to miss. A tenant in a tiny Montgomery Road strip mall a mile west of the Kenwood Mall, it's sandwiched between a corner La Rosa's and a check-cashing service.
If you successfully find the place and secure a hard-won parking space in the small lot, walk on in and you'll discover plenty of seating, most of it in an adjacent, shotgun-style dining room. Mekong also maintains a steady stream of take-out business. A phone ringer at the front desk sounds like it'd been lifted from an old Nintendo Mario Bros. game, reverberating through the long row of booths.
Mekong employs only a three-level spice scale for all dishes, so be careful --there's not much wiggle room. The levels are sometimes inconsistent from one visit to the next. Even if you enjoy really spicy food like I do, it's best to go no higher than level two. A "3" scale may seem not so bad one day and scorchingly ridiculous the next.
Fortunately, the one thing that does seem consistent about Mekong is their tasty food. The appetizers and entrees are all artfully presented; the piquant, spice-laden aromas awaken even the most stubborn appetites.
The menu boasts nothing particularly distinctive: it's very much like any other Thai restaurant's offerings, which include Pho noodle soups; a variety of curries; rice and noodle dishes; and an assortment of "house specialties" that blur the boundaries of Thailand, China, Vietnam and Japan.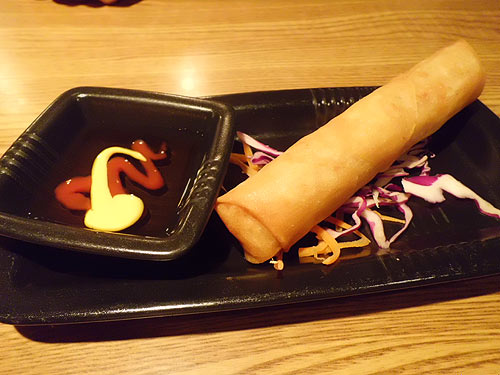 This being our umpteenth visit, we started off with an order of spring rolls. The longer-than-average, tightly-wrapped, deep fried wonders are filled with chicken, assorted veggies and bean thread noodles. Each roll was served with its own aesthetically pleasing dish of tasty dipping sauce, with squirts of red bean paste and mustard shaped into squiggly designs. The rolls tasted light and crispy, not like the greasy ones endured at similar restaurants.
Next came our entrees, which are usually Pad Sew-Eew and Pad Kee-Mao, but today we decided to try something new. My girlfriend ordered the Spaghetti Thai Spicy, with stir-fried noodles, Thai basil, mushrooms, tomatoes, bamboo shoots, egg, broccoli and carrots. I chose the Massaman Curry, a bright, saucy concoction of potatoes, pineapple, coconut milk, onions and ground peanuts in Massaman curry. Both dishes come with a choice of chicken, beef, seafood, shrimp or tofu; we each chose are usual steamed tofu (you have to ask to have it steamed vs the standard flash-fried treatment).
The Spaghetti Thai Spicy's noodles were very much like you'd find in a traditional Italian spaghetti dish, but that's where the similarities end. The level-two spiciness well complemented the the vibrant basil flavor of the dish.
The hearty, stew-like Massaman curry arrived in a large bowl and was presented with a side of rice. The mildly-spiced curry's coconut base and chunks of pineapple lent it a uniquely sweet note, tempered by the roasted dry spices, peanuts and potatoes. The flavors were both curious and addictive. If you enjoy the occasional Hawaiian pizza, with its interplay of salty ham to sweet pineapple, then Massaman curry is well worth trying.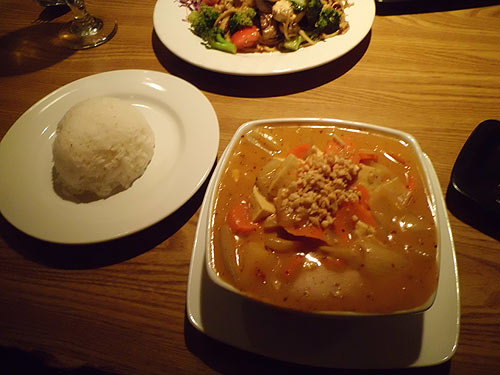 Mekong's checks arrive with a free tamarind-flavored candy for each patron. My girlfriend doesn't like them as much as I do, so I always get to eat both. Awesome.
After five years, Mekong remains one of our favorite Thai restaurants in Cincinnati.
Mekong Thai
Price: Cheap (under $11 per person)
Service: Good
Rating: 3.5 out of 4
Cincinnati Bites