Posted Sunday, February 19, 2012
Not long ago, Taste of Belgium was merely a one-man operation outside Findlay Market: an enthusiastic guy with an exotic accent peddling tasty Belgian "Liège" waffles from his diminutive cart. I'd always been so-so on waffles (thanks, Kellogg's!) but his product changed my opinion forever. My first TOB waffle was years ago, served cold because I'd caught the tail end of a batch, yet it was still the best waffle I'd ever tasted. It was surprising and explosive in sweet, doughy flavor, riddled with little pockets of caramelized, sugary wonder. So impressive were they that I bought and devoured a second cold waffle only ten minutes later.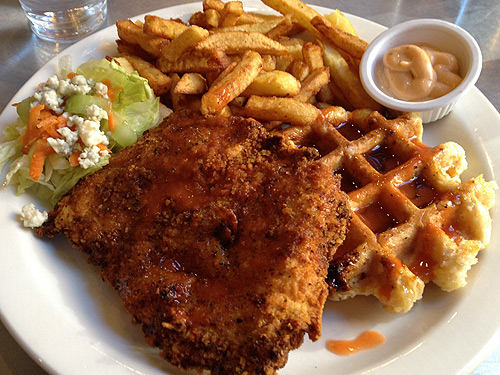 Taste of Belgium is one of those Cincinnati restaurant success stories that seem almost magical in their evolution. Staying true to his roots and deftly navigating the local foodie marketing machine, owner Jean-Francois Flechet has quickly turned a classic dough into a waffle empire.
His latest triumph is a new corner bistro located on Vine Street, in the Gateway Corner of Over-the-Rhine. Other restaurants sharing the immediate area of this gentrified subdistrict include Senate, Abigail Street, Lavomatic and Bakersfield OTR.
We visited Flechet's "Belgian Bistro" for late lunch one recent weekday afternoon. Even then, we were lucky to have landed a table without a wait. A glass case housing fascinating desserts greeted us as we first stepped inside. High tin ceilings and beige walls gave way to sections of exposed brick, lending a cavernous feel to the place. Patrons unable to find a table sat at a row of stools along the bar, thankful for the opportunity to eat there at all.
The menu greatly expands upon their original Findlay Market menu of crepes and waffles with traditional Belgian items, including Boulets à la liégeoise (Belgian meatballs); Stoemp (a mashed potato concoction); Waterzooi (a hearty chicken soup); and, of course, the omnipresent Belgian frites, served with a spicy mayo dipping sauce. A wide variety of Belgian beer is available, as well as a half dozen Belgian drafts.
Nearly every table around us showcased at least one person with a plate of Taste of Belgium's most popular --and least authentic-- item, the "Waffle n' chicken," a boneless, lightly breaded chicken breast topped with a hot sauce and served with the signature Belgian waffle covered in real Ohio-sourced maple syrup. We followed suit, myself and my co-worker both ordering a round while I added a side of frites with spicy mayo. The dish also came with a small side salad topped with bleu cheese.
Despite the crowds, it seemed clear the Taste of Belgium staff were well trained, with drinks served and refilled promptly and the food arriving quicker than expected (it's never poor dining strategy to order the most popular dish). The plates were impressively filled, more fitting as dinner portions than lunch.
The chicken was very moist, perfectly cooked and popping with the spicy heat of the hot sauce. I wasn't sure how the savory, spicy chicken would marry with the intensely sweet waffle and syrup but it did so remarkably well. The frites were a pleasingly darker brown shade thanks to a two-bath oil frying technique, something you just don't see in the typical American french fry, their salty tastiness making the accompanying spicy mayo dipping sauce almost unnecessary.
I've been eager to get my girlfriend over to Taste of Belgium's new location for a bite, but every time we try to go on a weekend, the place is far too packed. We've arrived there and left in disappointment twice now, which is discouraging. Now that they've opened up for Sunday brunch, Saturdays may be a better opportunity.
What's unfortunate about this newly-developed stretch of Vine St. in OTR is that few other nearby restaurants are open weekend mornings and afternoons. So if you've managed to secure and pay for that rare parking space, there really isn't much in the way of a backup plan when the Taste of Belgium lines file out the door. The other restaurants are missing out on a golden opportunity to capitalize on those unwilling to endure TOB's wait.
If you're one of the few foodies in Cincinnati who hasn't tried Taste of Belgium, the new bistro is the perfect venue for experiencing authentic Belgian cuisine. And if the lines are too much to endure, hop over to their stall in Findlay Market, the birthplace of their humble beginnings.
Taste of Belgium Bistro
Price: Moderately Expensive ($11 - $16 per person)
Service: Good
Rating: 3.5 out of 4
Cincinnati Bites