Posted Saturday, February 4, 2012
The fantasy of being part of a large Italian family is a seductive one, where's there's a palpable, inexorable bond among its members. I picture them all seated at a long dinner table, bustling with spirited and overlapping conversation. A large, cushy, happy old grandmother with a big bowl of pasta slung under one arm leans over, inadvertently showing off her ample, withered cleavage as she pinches the cheek of her husband, who's busy singing some folksy Italian ditty over the din of animated dialogue and hand gesturing. And yes, I'm still fixated on grandma's cleavage.
Families aren't like that anymore, at least none I'm familiar with. They're broken. Empty. Distant. In this day and age of cell phones and Facebooks and digital faux-connectedness, no one really wants to put up with another's shit any longer than they have to. But that doesn't mean we don't all dream of a different, simpler time.
Restaurants like Campanello's, located on Central Avenue downtown, help in some small way to fill that void we of broken families share. We want to be engulfed and embraced by a close-knit atmosphere; we want to bask in all its boisterousness, its innate camaraderie --everything today's dysfunctional families lack.
The main dining room back behind the bar is as quaint as it is cozy. Red and white-checkered table cloths and 70s-esque wood paneling reflect the spirit of an old Italian grandmother stubbornly stuck in her ways. Newspaper clippings of Pete Rose milestones adorn the walls. "Let Him In" proclaims a section of their website devoted to him. Amen to that.
Campanello's menu promises traditional Italian classics: entrees of Marsalas, Cacciatores, Parmesanos along with Spaghettis, Lasagnas, Fettucines, Manicottis and Mostacciolis fill the pages. Dinner prices seemed a little on the high side compared to similar Italian restaurants. Lunch prices were much more reasonable.
We started off with the complimentary basket of homemade bread and pads of butter. The bread was simple, soft and white with a slightly chewy crust, a decent start to our evening.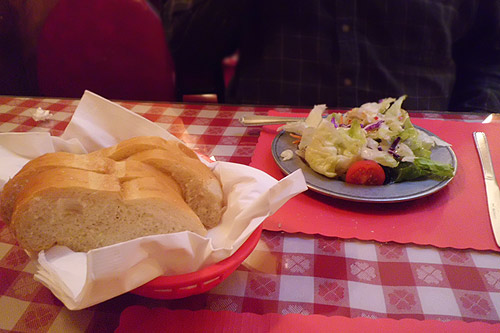 Within moments, a large party arrived at one of the nearby tables. It was impossible to avoid eavesdropping on one another's conversations. A brief and minor tiff with the waitress ensued about their desire for separate checks. The waitress said they don't usually do that. A member of the group proclaimed he knew the chef and instructed her to retrieve him to settle it.
I'm told part of Campanello's schtick is its sometimes abrasive personalities in both the front and back of the house. A friend told me the tale of her boss's incident, in which he'd asked for a table to be cleaned off before he sat down, only to be thrown a rag by an old woman who growled, "Here, clean it off yourself!" Now THAT'S Italian!
The chef returned with what seemed like an air of mock defiance, saying he had no control over the policy and if one check is what is necessary, then they'll need to deal with it. Most of the exchange seemed semi-jocular; we wondered how much of it had been for show.
After the exchange, we settled on a couple entrees. I chose the Mostaccioli and Italian Sausage, while my girlfriend ordered the "Campanello's Specialty," chosen at the chef's discretion. Today, the specialty was a combo of "Manicotti a la Danny," two baked cheese-stuffed manicotti, and a slice of lasagna, with a meatless and meat tomato sauce, respectively. All entrees come with the aforementioned bread and a side salad.
Salads arrived quickly either topped with dressing or served on the side upon request. They were simple, with crisp iceberg lettuce, shaved carrots, wisps of cabbage, a single cherry tomato slice and a single black olive.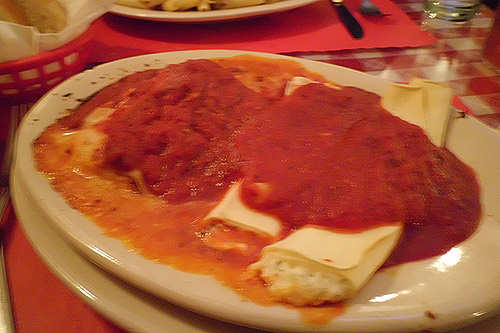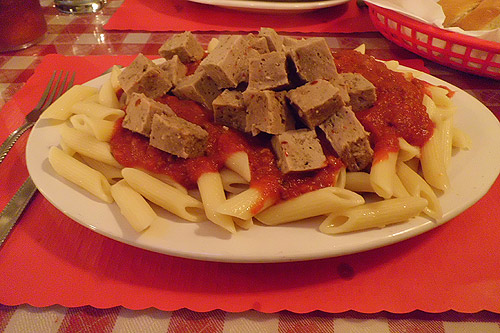 Our entrees arrived about 15 minutes later, a comfortable pace. The plate of baked manicotti and lasagna was bubbling hot, while my plate of mostaccioli was not so much. The most visually striking and disconcerting aspect of my entree was that the Italian sausage had been cut up into cubes. I've never seen it presented this way. It didn't even appear the sausage had once been in tube format; rather, it had been prepared in a flat, loaf-style and then cut. The presentation was unappetizing to me, but I soldiered on.
My girlfriend enjoyed the meaty flavor of her lasagna more than the meatless manicotti, while I preferred the latter. My Italian sausage tasted better than it looked (ho-ho!) but I think the cubed preparation gave it a drier, less juicy consistency. The ridged penne pasta was ok, though it's advertised on the menu as "Mostaccioli (with penne)." It's minor semantics, but if the dish uses ridged penne, why keep calling it mostaccioli? I found my pasta sauce a bit bland, forced to add liberal shakes of red pepper flakes and Parmesan cheese to spice things up.
Campanello's seems to get it right on the atmosphere front, but for us, its food was hit-or-miss. Maybe that's the hallmark of a genuine Italian grandmother. So when she shuffles by your table and pinches your cheek, be sure to smile, nod and tell her everything's just fine.
Campanello\'s Italian Cuisine
Price: Moderately Expensive ($11 - $16 per person)
Service: Good
Rating: 2.5 out of 4

Cincinnati Bites