Posted Saturday, December 8, 2012
Note: the following review is for a restaurant that has since closed.
As the chilly winds begin to blow over the hills of Cincinnati, an inevitable longing for hearty soups and heavy meats flood the brain. Few cuisines can satisfy that need in quite the same way Eastern European dishes can. Puffins Bistro & Desserts, a new Blue Ash restaurant with generations of Russian underpinnings, aims to fill that void.
Puffins offers a unique take on the standard soup-and-sandwich concept. Their signature menu items are meat and veggie-filled turnovers called "Piroshkys." They are handsome, rounded, golden-brown "hot pockets" that easily complement an array of hot soups, yet are large enough to be meals in themselves.
Puffins is located off Reed Hartman Highway in a hidden corner of a strip mall, nearly obscured by the adjacent Wendy's and the more prominently-seen Panera Bread. I hope it does well there, as one of its previous tenants, Roly Poly, only lasted a handful of years, and one wonders if the lack of visibility will pose a challenge when drivers blow past at 50 MPH.
We strode up to the counter to meet the owner, Beatrice Terekhov, who helpfully reviewed with us the menu options. Puffins divides its pastry menu into four primary sections: Breakfast, Savory Meat, Vegetarian and Sausage Puffs. Each use one of two different types of dough styles, the prominent of which being the bulbous, golden puffs that are the restaurant's namesake.
A variety of salads and soups are available, including the Bobushka's Borscht, a popular Eastern European vegetarian beet soup filled with cabbage and topped with sour cream. Mama's Chicken soup promises to stave off wintery colds, while Roman's Chicken Stew offers hearty chunks of potato and vegetables with a richness aided by a dollop of sour cream.
Puffins also proudly flaunts a glass case filled with a dazzling assortment of homemade desserts. One of their most curious confections is the rolled "Dessert Salami," a cross between a cookie and a fudge, whose purchase was too irresistible for me to pass up.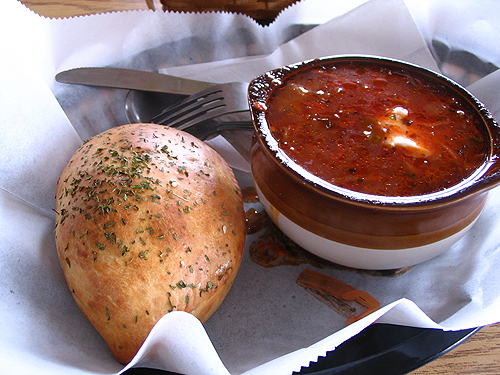 My girlfriend ordered the Buffalo Chicken Puff and a bowl of Roman's Chicken Stew, both of which the owner said were among their biggest sellers. I steered toward the more traditional Beef & Sauerkraut Puff along with a piping-hot bowl of Borscht.
The Piroshkys were baked a perfect golden brown with a crispy outside and a fluffy, semi-hollow core. German snippets of my DNA were instantly electrified by the familiar bread, beef and sauerkraut flavors, and the deceptively, light feel of the Borscht's beet broth coupled with the silken sour cream reminded me how much I'd missed having a Russian restaurant in Blue Ash (the last one was The Baltic, which sadly closed so many years ago).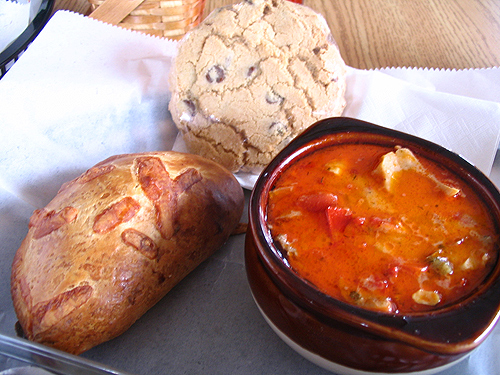 My girlfriend's Buffalo Chicken Puff had just the right spicy bite, intermingled with the sharp, pleasing smack of bleu cheese. Her chicken stew --the favorite part of her meal--was filled with vegetables and generous cuts of chicken amid a hearty, satisfying stock.
The large chocolate chip cookie we'd ordered was too crunchy for our tastes --we're partial to the soft, warm, gooey variety-- but it was chock full of melty chocolate chips with a texture not unlike biscotti. On the way out, we returned to the counter to order a roll of the Dessert Salami and several of their tasty, flaky, chocolate and apricot-filled pastries.
Puffins helps fill Cincinnati's Russian food void, and it does so with an infectious, puffy style that will assure our return, not just in the winter months, but all year round.
Puffins Bistro & Desserts
Price: Cheap (under $11 per person)
Service: Good
Rating: 3.0 out of 4

Cincinnati Bites