Posted Wednesday, April 17, 2013
Highfalutin hot dogs have spread through the Cincinnati area these last few years, testing foodies' willingness to spend upwards of $10 on a gourmet sausage over their usual $3 Skyline coney. One of the first of these haute dog institutions was the Gateway Quarter's Senate, followed closely by Downtown's The Good Dog and Tot Dogs, as well as Wunderbar, located in Covington. With tail between legs, The Good Dog has since shuttered its doors, while the remaining three continue to peddle their unique tubes of meat.
A little late to the party, Wurst Bar in the Square opened last month in Mount Lookout, hoping to wring a little more life out of the upscale dog trend. At first glance, Wurst Bar's business model looks much like Senate's: they both serve an array of interesting sausages, hearty fresh-cut French fries; super-addictive house made pickles; tasty burgers; interesting takes on the gravylicious poutine; and a wide and varied beer, wine and cocktail selection.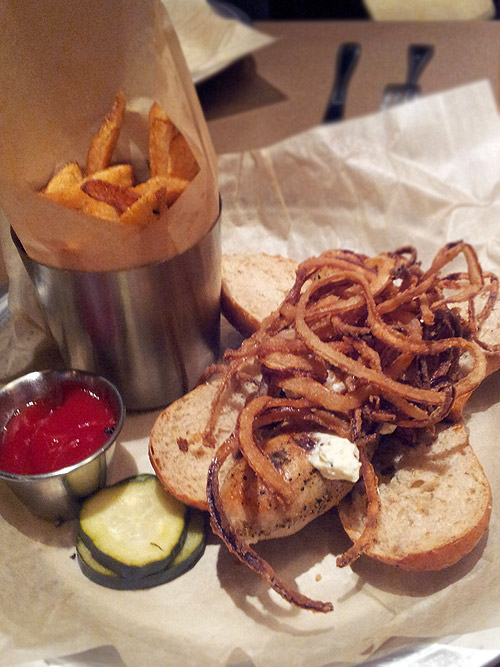 But if you take a closer look you'll find that...well, who am I kidding: they're both still very similar. Yet our experience at Wurst Bar was far more positive than our time at Senate. And I've got to come to terms with why that's the case.
I wasn't very easy on Senate when they debuted a few years ago. In 2010, $10 hot dogs seemed outlandish, and I'd initially handed them a 2-1/2 star rating. I later upgraded that to 3 stars solely for the lingering memory of their tasty poutine (no matter how you pronounce it). What had particularly turned me off about Senate was not their food, but their ambiance: uncomfortably upscale, cramped, loud and a bit pretentious. It wasn't --and still isn't-- a place I find relaxing.
Wurst Bar feels different. It has some hip touches: a refurbished Bevador beer cooler that looks like it'd been swiped from Terry's Turf Club; Wurst Bar logo-embossed bar stools; reclaimed wood walls and a dining room that, despite being no larger than Senate, somehow manages to not make me feel like I could fall into my neighbor's lap at any moment.
Perhaps it's Wurst Bar's tongue-in-cheek approach to its menu that I find the most appealing: it's the kind of place that serves good food, but doesn't take itself all that seriously. It's not trying to be The Most. Important. Restaurant. In Cincinnati.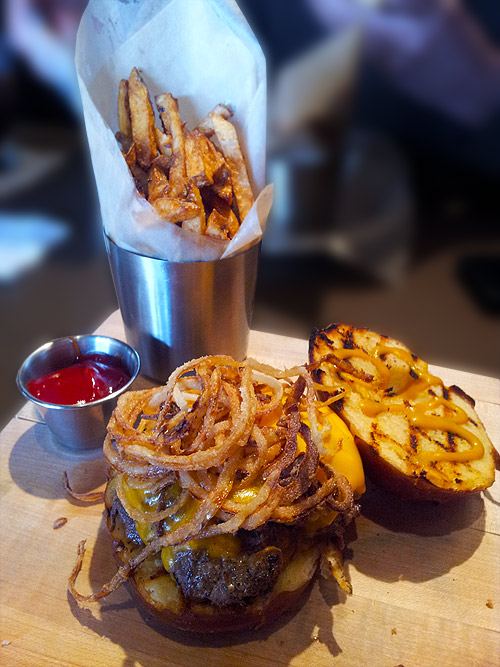 Instead, Wurst Bar names its food with an almost self-deprecating flair. Their stuffed Wurst Burger Ever is hardly deserving of such a moniker: it's got beef short rib and veal encasing a fiery center filled with sliced jalapeno cheddar wurst. The burger offers a nice grilled char that can be seen, smelled and tasted. Their hot dog buns are like nothing we've ever seen before, purposely molded to mimic the curved shape of the sausage, like big, doughy smiley faces. Servers and bartenders are down-to-earth, friendly and chatty.
Wurst Bar's version of poutine, the "Wurst Disaster," consists of a pile of fries and a sliced Mett topped with cheese curds and a rich pork gravy. Arriving in a mini cast-iron skillet, it prompted my girlfriend to quip, "This should be served with a defibrillator." The fries and Mett were the highlights, but everything was unfortunately drowning in a little too much gravy. Senate still wins the city's poutine wars.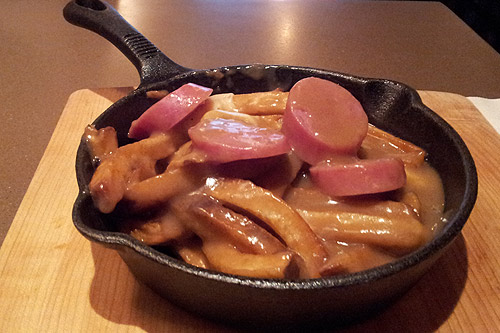 Both Senate and Wurst Bar offer cleverly-named and thoughtfully conceived sausages, although Wurst Bar offers considerably more dog options, all averaging a dollar less than their competitor. Our vegetarian Garlic Portabella Sausage and the spicy Andouille of our "Hip Senator" dog offered notable but not overbearing casings, with delicious, smoky grilled flavor. We loved the fact that Wurst names their Chicago dog the "Abe Froman." In retrospect, why isn't EVERY Chicago-style hot dog named that way?
Most importantly, Wurst Bar is a place where I can be myself. I don't feel like I need to drive an Audi as a prerequisite for entering. To underscore their approachability, they even have their own take on McDonald's apple turnovers for dessert, called The Crispy Apple Wench.
Haute, but not snotty. Now you're speaking my language.
Wurst Bar in the Square
Price: Moderately Expensive ($11 - $16 per person)
Service: Good
Rating: 3.0 out of 4

Cincinnati Bites