Posted Tuesday, April 2, 2013
Cincinnati's first-ever downtown casino opened last month to a thundering cacophony of fireworks, which could be heard up to 10 miles away. Its introduction brings to the area much needed tax revenue, a steady stream of eccentric, oft-geriatric, seasoned gamblers and, of course, several new dining options.
The inimitably talented, decidedly smug New Yorker Bobby Flay opened the 14th location of his Bobby's Burger Palace inside Horseshoe Casino, hoping to test its success as his restaurant chain claws deeper into the Midwest. The restaurant features his "Crunchified®" burgers (yes, he actually trademarked a term he claims to have coined to describe the act of using potato chips as a burger topping), along with spiked milkshakes, fries, onion rings and the obligatory booze.
Like the casino hosting it, Bobby's Burger Palace is striking and gaudy: its blend of tile, snaking tables and light fixtures mixed with lime green and orange furniture are paradoxically contemporary and retro.
There are ten burgers on the menu of various theme, each offered with a choice of Angus beef, ground turkey or chicken breast. The Dallas Burger is a multi spice-encrusted patty topped with Monterey Jack cheese, coleslaw and BBQ sauce, accompanied by a large, handsome half-pickle. The Santa Fe Burger comes with queso, pickled jalapeno's and blue corn chips. The cheapest is the "Palace Classic" ($6.75), a standard burger with American cheese, onion, lettuce and tomato.
In addition to a couple salads and grilled cheese options, several appealing sides include sweet potato fries with a honey mustard-horseradish sauce; thick beer-battered onion rings that could serve as Wonder Woman bracelets; and fresh-cut french fries with a chipotle mayo-esque side sauce.
A line had formed when we'd attempted to have lunch, but fortunately it moved quickly, and we were offered two stools at the bar. I'm not the biggest guy, but at 6'-1" and 215 pounds, I labored into their stools, which had been anchored to the floor and could not be moved, making for a tight fit against the bar. Even moderately overweight patrons would have found it impossible to sit there.
I felt a calling for BBQ sauce, so the Dallas Burger was my first choice. My co-worker chose a Crunchburger, topped with potato chips and heaps of American cheese. We also grabbed a side of regular fries and an order of onion rings.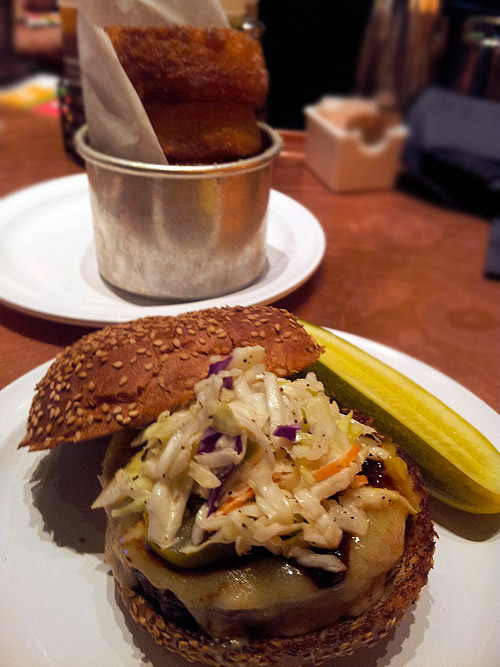 The burgers arrived fairly quickly considering the lunch crowd, and they certainly looked handsome with a sesame-seed encrusted top bun set aside to showcase the burgers' tasty innards. But the side items stole the show, each overflowing and oversized, with a towering display of onion rings and heaps of french fries bursting from their respective metal containers.
There was nothing notably special about Bobby's burgers, however. The meat itself simply wasn't showcased, its flavor hidden by most of the toppings. Cincinnati already offers some very exceptional, venerable options, and Bobby's Burger Palace is no match when pitted against the likes of Terry's Turf Club, Mad Mike's, City View or Gaslight Cafe, to name a few. Still, there was nothing terrible about the burgers, although the buns were over toasted and disconcertedly riddled with sesame seeds. The fries and onion rings were delicious, as were some of Bobby's signature sauces, particularly the chipotle ketchup available in squeeze bottles.
If you're going to be gambling a while, Bobby's Burger Palace is worth a try. But if you're looking for a really great, memorable burger, you already know where to find them in this town.
Bobby\'s Burger Palace
Price: Cheap (under $11 per person)
Service: Good
Rating: 3.0 out of 4

Cincinnati Bites