Posted Monday, March 6, 2017
The owners of a popular Cincinnati food truck have planted roots in the tiny village of Newtown with their brick-and-mortar spinoff, Urban Grill on Main. The restaurant offers all the truck's greatest burger and "Grilled Mac" sandwich hits, as well as a full beer list, regularly rotating specials, salads and desserts.
Their newly-renovated building is spacious, yet intimate, with many adjoining dining rooms of distressed wood and impressive copper-plated table tops. There's an ample paved parking lot and auxiliary gravel lot in the rear.
We stopped by one Sunday afternoon for dinner, encouraged by the bustling din of diners making the trek to this slightly out-of-the-way speed trap of a town.
The menu features mostly heavy, meaty and cheesy fare, so if you're a dainty eater or are worried about your cholesterol, Urban Grill is likely not your bag. The appetizers and so-called "lite bites" are anything but: thick, house made pork rinds, bacon jam toast, pulled pork puff pastries and smoked chicken wings are among your options. There are three entree salads, but at least one involves Gorgonzola cream sauce. Your next best "light" option is the grilled chicken sandwich. After that, you're left with steak burgers and artery-challenging grilled mac 'n cheese sandwiches.
I ordered the Ultimate Steak Burger ($10), a patty made up of a ground combo of Filet Mignon, Ribeye and NY strip. It comes standard topped with a grilled round of cheddar cheese, grilled onions, lettuce, tomato and pickle. I also added two optional condiments: mayo and jalapeno mustard. Other optional accoutrements include mustard, ketchup, A1 sauce and BBQ sauce.
Sandwiches come standard with chips, but when I asked the waitress if I could substitute another side item, she answered in a way that gave us the impression it was at no additional charge. It was only after I'd pointedly asked if that was the case that she clarified that other sides would indeed cost more. This kind of ordering obfuscation is a common upsell tactic, one I find particularly irritating, so be warned.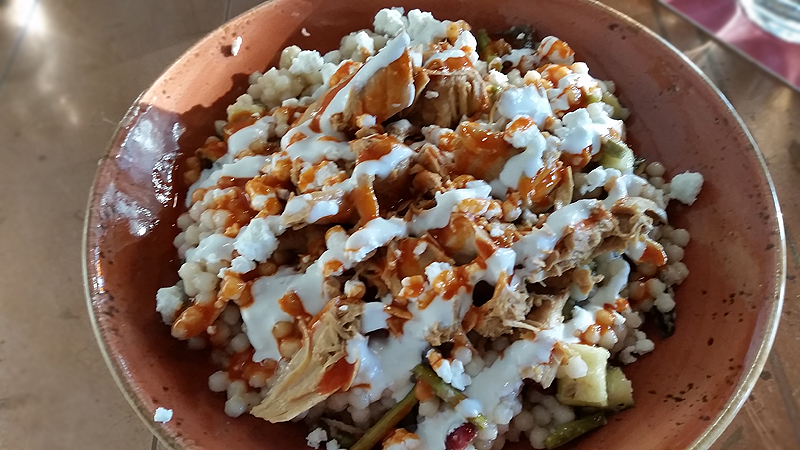 UGFT Couscous Salad w/Grilled Chicken
My girlfriend ordered the UGFT (Urban Grill Food Truck) couscous salad with grilled chicken ($9), with breast pieces served over pearl couscous, grilled vegetables and topped with what was supposed to be a buffalo and Gorgonzola sauce.
The large pearl couscous were unlike any I'd seen before. The couscous I know are tiny grains of semolina. Not so here. They were nearly pea-sized and texturally quite pleasing. The dish offered surprisingly assertive flavors, with generous shredded hunks of chicken. But the grilled veggies were sparse, and those that were in the salad were cut so small and wispy thin that it made us wonder if they'd run low on supplies and decided to stretch their inventory. The salad also harbored a strong sesame oil flavor, which was odd considering my girlfriend had chosen the buffalo sauce. Perhaps they'd accidentally begun to dress it with what normally comes with the Thai peanut option before finally topping it with the cheese and buffalo sauce. In any event, the flavors surprisingly blended well, and my girlfriend generally enjoyed her entree.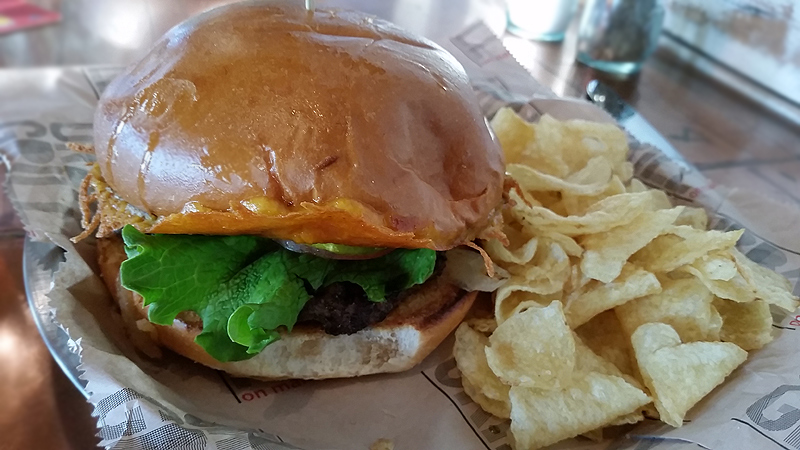 Ultimate Steak Burger
My burger seemed a bit underwhelming in size compared to the ridiculous photos I've seen of burgers served from Urban Grill's food truck. The doughy, oversized Giminetti bun made the burger and toppings seem sparse; I could have used a lot less bread. I did enjoy the crispy round of grilled cheddar cheese, as the flavor reminds me of those addictive Cheese-It snack crackers. Overall, the meat was fine, but there was no discernible char and nothing to make it particularly memorable. The jalapeno mustard was disappointing in that it offered virtually no heat. I enjoyed the Kettle chips.
We weren't sure what to expect from Urban Grill on Main, but our first visit seemed only moderately satisfying. We hope to try again for a better impression soon.
Urban Grill on Main
Price: Moderately Expensive ($11 - $16 per person)
Service: Good
Rating: 3.0 out of 4

Cincinnati Bites