Posted Saturday, June 18, 2011
I've never been particularly fond of quesadillas. A seemingly ubiquitous, throwaway appetizer menu item, they quickly turned me off. Perhaps in its day, the quesadilla was regarded as new and innovative. Now it's so universal and so universally poorly made as to evoke small retching fits: a gluey, oily, faux-cheesy mess served on hard, flour tortillas, cut into wedges and dunked in a ramekin of putrid guacamole "made with at least 2% avocados!" Thank you, Applebee's.
Now comes an enterprising hippie chick named Fallon Horstmeyer aiming to re-invent the quesadilla, serving more than a dozen variations from her tiny 1967 Airstream trailer parked in a lot on 8th and Vine. And you know what? After a couple visits, I can safely say I enjoy quesadillas, for the first time.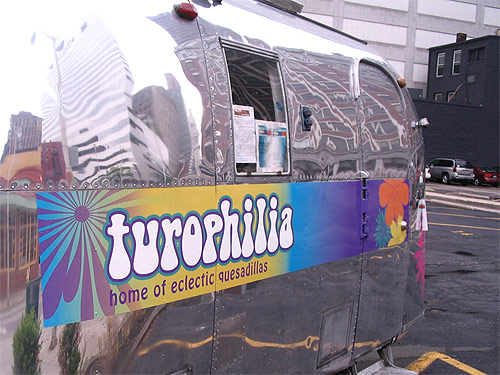 Horstmeyer's fledgling business is called Turophilia, a naughty-sounding name meaning, "love of cheese." There are typically a half-dozen quesadilla variations on her menu for any given day, including a daily special.
Of course, it's the ingredients that set Turophilia's quesadillas apart from those you'd find at the generic restaurant chains. Made from organic, wheat tortillas, fillings range from the simple to the exotic. There's the modest turkey, bacon and avocado quesadilla, to the truly unusual "Sushi Dave," filled with smoked salmon, cream cheese, wasabi rice, scallions and spicy mayo. But the one I think best fits Horstmeyer is "The Nietzsche," a vegetarian quesadilla with spinach, roasted red peppers, onions, garlic and goat cheese. God is dead, so let Freedom Rock, man!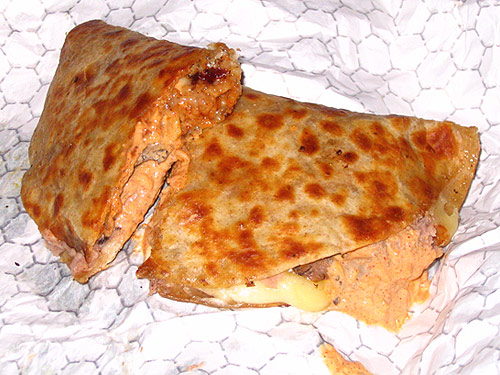 Customers can order either an 8-inch or a 10-inch quesadilla, and all items range in price from $5 to $7. No prices are actually posted anywhere, and given that it's cash only, it does make it challenging if you're trying to order based on how many crumpled greenbacks are left in your pocket.
The quesadillas are handed to you wrapped lovingly in foil. Tear into one and you'll find the tortillas hot and with just enough crispiness to offset the softer filling. The specials I've chosen have all been on the pleasingly spicy side, with ample cheesy gooeyness in every bite. The whole wheat tortillas add an almost nutty complexity you simply won't find in the refined flour types.
Turophilia is helping to redefine what we know of quesadillas, adding a brand-new, novel element: flavor.
Turophilia
Price: Cheap (under $11 per person)
Service: Good
Rating: 3.0 out of 4

Cincinnati Bites