Posted Sunday, January 16, 2011
The National Exemplar is a 28-year-old restaurant located in historic Mariemont Inn. Mary Emery, Mariemont's founder, coined the fledgling community a "'National Exemplar' in practical town planning," and the restaurant pays homage to that.
Based on past experiences, it's hard for me to be objective when I think about Mariemont businesses --my mind wants to amalgamate them into a single category of highfalutin snobbery. In some ways, The National Exemplar gives off a similar upscale vibe, but it's significantly more casual during the breakfast/brunch hours. I didn't feel the least bit uncomfortable in jeans and a button-down shirt. Little did I realize exactly why that was...
The manager at the reception desk took our name and told us there'd be a 25-minute wait. My girlfriend's grimace upon hearing this made it clear she'd need some convincing to stick around.
"If only I could get some coffee while we wait, I'd be fine," she yawned, still not quite awake.
I glanced over at the hallway separating the restaurant's lobby and the hotel lobby, where I spotted a cabinet with pots of free coffee. Invigorated by the prospect, we agreed to stay and wait, steaming cups soon in hand.
The means by which the manager was handling tables seemed very efficient. He received regular reports from the two hostesses about what tables had become available, marking them on his computer screen while calling out the next line of party names. Having an intimate view of this process made me realize how well-oiled their system was. We were seated in almost exactly his predicted time. I didn't know why, but there was something in the back of mind telling me this was all working out a little too efficiently...
Nearly all the servers and hostesses seemed young, fit and beautiful; our waitress strained a smile as she greeted us --the heavy, now five-hour-old breakfast rush had obviously taken its toll. Having worked breakfast at a restaurant dozens of times myself, I could relate: of all the meals in the day, I'd wager many in the restaurant industry find it the most taxing. After all, you have to deal with grumbly people who haven't yet had their first meal or cup of caffeine.
After taking our drink order, the waitress left us to scan the breakfast menu. Dishes averaged around $7 with the most expensive being $8.99, a pleasant surprise. Offerings included pancakes, omelettes, breakfast skillets, waffles, french toast and fruit plates. The names of the dishes somehow seemed familiar, particularly their so-called "signature" items. Again, I couldn't quite put my finger on it...cutesy names like the "Bacado," "Crepeggs" and the "Tri-fecta." The buzz in my head became a little more urgent, yet still I couldn't figure out why.
I ordered the strangely familiar-sounding Bacado, an omelette filled with bacon, avocado, monterey jack cheese, topped with a dollop of sour cream and a side of salsa. My girlfriend chose the banana crunch pancakes.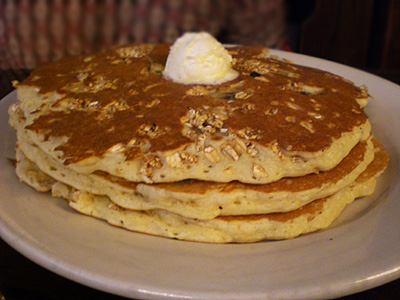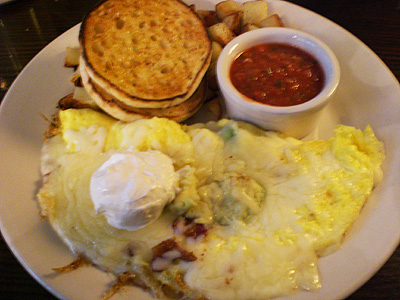 When her plate arrived, we were mesmerized by the sheer size and impressive presentation. My girlfriend is an admitted stickler when it comes to pancakes: she's sensitive to any that are under or overcooked. She and I both really enjoyed their banana flavor, but she later revealed to me that they tasted somewhat dry and overdone. I didn't think so when I'd tried them, but I also tend to moisten my flapjacks with generous amounts of syrup.
My Bacado omelette was sized generously. I dipped a fork into the small ramekin of salsa for a quick taste. Expecting an unspectacular, generic, jarred-flavor, I was delighted instead to find it very fresh and light, with a mild, muted heat --it could easily have passed for gazpacho. The potatoes were hot and lightly crispy and the English muffins were pleasingly textured in all their buttery, nook-and-cranniness.
Overall, we'd enjoyed our meals, but I was left with this nagging sensation that I'd seen the menu before. Only after writing this review and researching the history of the place did I realize why: owner Ken Pendery is also CEO of the First Watch chain. I hadn't realized it sooner because it had been so long since we'd last eaten at a First Watch --about eight years ago.
The discovery was like a sucker punch. Because there'd been no mention of First Watch on the menu, I felt a bit like we'd been had. So it begs the question: Do our first impressions of the restaurant really reflect The National Exemplar or do they reflect just about any First Watch franchise? What of their lunch and dinner menus: how many of those are Exemplar originals? Not a lot, judging from the First Watch lunch menu. And some of the lunch and dinner items look like they were swiped from the defunct Plaza 600, Le Boxx Cafe and The Phoenix, all of which were Pendery ventures.
Talk about an amalgamation. I guess the conclusion is: if you like First Watch or any of Ken Pendery's other restaurants, you'll like The National Exemplar.
The National Exemplar
Price: Cheap (under $11 per person)
Service: Good
Rating: 3.0 out of 4

Cincinnati Bites