Posted Tuesday, August 2, 2011
Note: the following review is for a restaurant that has since closed.
I don't know much about Northside. I've never hung out in the neighborhood long enough to really get an honest feel for the area. While some spots seem wracked by scenes of decay and poverty, other areas enjoy a young, collegiate, hippie vibe.
What's clear is that Northside hosts quite a number of restaurants serving tasty grub. Places like The Comet, Melt, Mayday, The Painted Fish and Honey all seem to exude a sort of edgy, grimy trendiness. Patrons can be prancing around in dashing threads while still finding time to roll up their sleeves and add to their tattoo collections.
There's one place in Northside bucking trendy for a more down-home approach, a diner called, "The Grove." But don't be fooled: there's much more to this restaurant than you'd find at your average greasy spoon.
The Grove feels large, with high ceilings, several cavernous, long booths and rows of retro bar stools lined along a gleaming, black-topped counter. There's a sense that not a lot has changed over the years here except the menu.
The food lineup includes a few things you'd expect to find at a diner -- burgers, soup-and-salad combos and chicken salad sandwiches, for example -- but most everything else is slightly more adventurous. The biggest surprise was the extensive vegetarian selection, with some items easily made full-on vegan for an extra 75 cents.
Given that the owners are vegetarians, it would make sense that the majority of the menu is meatless. There are three veggie burgers that absolutely cannot be missed, as well as several sandwiches made to both imitate and surpass their meaty counterparts.
In addition to the two-sided, laminated menu are a number of daily specials written on a large whiteboard, including one or two homemade soups and dinners.
I was very intrigued by the vegetarian Corn Cake Burger, a grilled corn cake patty packed with bits of jalapeno, garlic and cumin, topped with chipotle mayo, red onions, red pepper, a slice of melted cheddar cheese, lettuce and tomato. The sandwich normally comes with homemade kettle-style potato chips, but I instead swapped it out for a cup of homemade mushroom soup.
My girlfriend ordered the Curry Tofu sandwich, a take on curried chicken salad with tofu, almonds, celery, green onions, raisins, red onion and lettuce. She also opted for a side of black bean soup.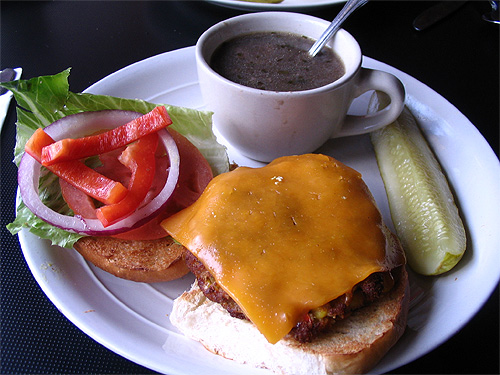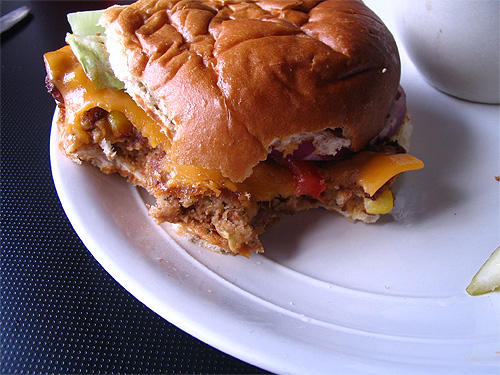 I wasn't sure what to expect from the Corn Cake Burger. Recalling my short-lived vegetarian days, I know good-tasting meat substitutes --particularly the ones that try to mimic flesh-- are hard to come by. But this sandwich wasn't meant to taste like meat: it was meant to transcend it. And in may ways, it did. I was simply caught off guard by how good the burger was.
The corn cake patty had been grilled such that as I took a bite, I could appreciate the crusty char on the outside while piercing into the warm, corn-flecked softer core. An explosion of flavor ripped through my taste buds while a moderate jalapeno heat tickled the back of my throat. The melted cheddar was perfect; the fluffy, grilled bun was fresh; the toppings crisp. This was an excellent burger, in all ways that make burgers successful, but without the blood.
My cup of mushroom soup at first glance appeared too watery. But once I slurped my first spoonful, I realized all was well. It may have been runnier than conventional mushroom soups, but it was packed with real mushroom flavor, quite unlike the thick, canned crap one makes casseroles with.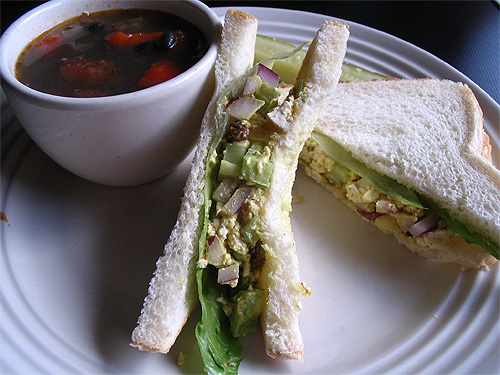 My girlfriend's Curry Tofu sandwich didn't strike me as very impressive --it looked a bit diminutive and ordinary on two slices of conventional white bread-- but she was very happy with it. The curried flavor shone through, with a welcomed, varied textural play of raisins, celery and almonds. As much as I liked my mushroom soup, I found her homemade black bean soup even more tasty, with a slow-building spice and unexpected complexity.
Our helpful waiter also invited us to try a couple homemade chocolate chip cookies, which were large and soft and gooey, just like we like them.
The Grove is a surprising diamond in the Northside rough. I was so impressed by them that I took two of my burger-loving co-workers for another visit. They enjoyed the Angus beef preparation as much as I enjoyed yet another Corn Cake Burger.
Whether you're a vegetarian or a hardened carnivore, you'll find something tasty at The Grove.
The Grove
Price: Cheap (under $11 per person)
Service: Good
Rating: 3.5 out of 4
Cincinnati Bites