Posted Saturday, December 12, 2015
Taft's Ale House is an enormous Over-the-Rhine brewery and restaurant that first opened in April, 2015. It's located in the former St. Paulus Kirche, the second oldest surviving church in Cincinnati. Built in 1850, the church had stood abandoned for decades, but thanks to an $8 million cash infusion including funds from nearby 3CDC, it's got a new lease on life as yet another trendy gem in OTR's ongoing gentrification.
Taft's head brewer is Kevin Moreland, formerly of both Listermann and Triple Digit brewing companies. He's partnered with New York entrepeneur Dave Kassling and investor Dave Williams to offer patrons craft beer; a portly, fun-loving mascot mirrored after former U.S. President and Cincinnatian William Howard Taft; and a menu emphasizing "tri-tip" beef amid a classy, Victorian-style ambiance. "Tri-tip" is a small, triangular cut of beef from the bottom sirloin. Once considered a cheap, tough, throw-away best left ground as hamburger, tri-tip is today re-envisioned as a full-fledged culinary trend.
We arrived on a recent Saturday evening, swinging open the oversized front doors to reveal a staircase leading up to the bustling main dining room. The space is massive: a total of three bars reside on three different levels, with the upper two floors available for dining. In the center of the main dining hall are long, communal tables arranged like pews with an aisle leading up to the main bar. Towering over the bar are three large, stainless steel beer fermentation tanks rising in the air like a church pipe organ, beckoning diners to kneel before the bar and worship their preferred meat or beer god.
Wait times vary based on party size, but it averaged an hour this weekend. Tonight, we got lucky: after the host had accepted our cell phone number and we'd received an initial text confirming our place in line, a follow-up text announced only twenty minutes later that our table was ready. We were led past the open kitchen and up a flight of stairs to the top level, flanked by the fermentation tanks and another bar.
Taft's menu is blissfully to-the-point: smoked chicken wings, tri-tip sliders and steak bites round out the appetizers; a half-dozen salads and seven sandwich varieties are available; as well as several platters that include a premier beef, chicken or fish, mashed potatoes and gravy, roasted veggies and cornbread. Side items include sweet potato fries, tater tots and a tri-tip steak laden hunter style stew. A steady rotation of about a dozen signature beers are available by the glass or as beer flights.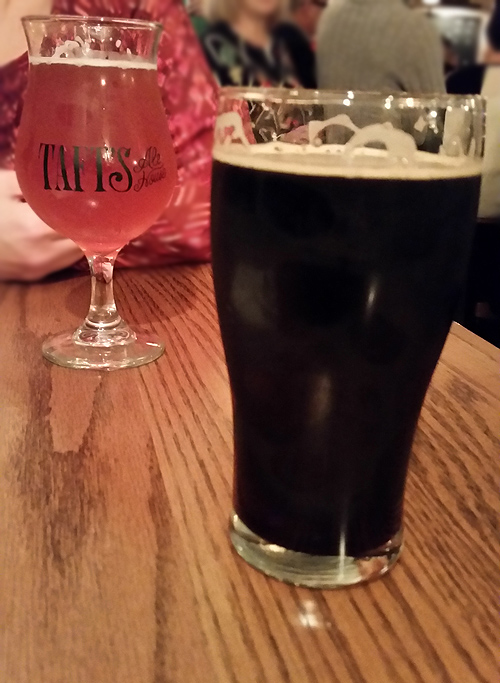 Louisa Kriek and Mooly Wooly beers
My girlfriend selected the Border sandwich with a side of tater tots ($13.50). Nestled in a six-inch "artisan" roll were thin slices of tri-tip steak topped with melted pepper jack cheese and a side of chipotle sauce. She appreciated the sandwich's slow-burn spicy heat. We were particularly impressed with the chipotle sauce, which reminded us of the distinctive homemade salsa found at Habanero burrito in Clifton.
I chose the Alehouse sandwich: thin-sliced tri-tip steak topped with wispy, fried "Alehouse onions," bleu cheese and red ranch sauce, along with a side of sweet potato fries ($13.50). The soft artisan roll and tender steak, combined with the sharp smack of bleu cheese, made for a satisfying bite. I was a bit disappointed that the sandwich had sat out too long, as it had arrived lukewarm. The sandwiches also seemed on the small side overall, which was unexpected given the fact that the restaurant's mascot is one of the most prolifically rotund former presidents. Maybe his likeness was meant as a cautionary tale.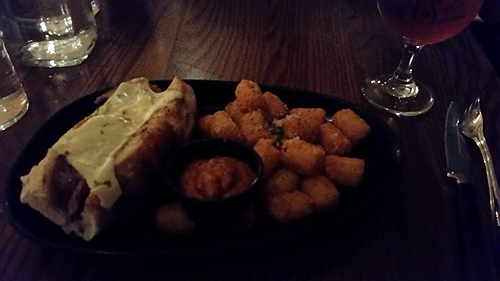 Border sandwich w/tater tots
On the beer front, I opted for Taft's "Mooly Wooly" ($6.50), a dark milk stout infused with roasted coffee and oats. My girlfriend chose the "Louisa Kriek" ($6.50), a Belgian cherry lambic beer with a sour aroma generated by its trio of distinctive fermenting bacteria: Brettanomyces, Lactobacillus and Pediococcus. Both beers registered relatively low IBUs, offering a smoother taste and a thankful lack of the intense hoppiness I've recently grown weary of after countless IPAs. I especially enjoyed the rich, chocolate notes of my black-as-tar stout.
Taft's Ale House is a must-try for both beer and beef enthusiasts. It's a great atmosphere with an impressive line of craft beer to compliment its menu of rib-sticking food.
Taft\'s Ale House
Price: Moderately Expensive ($11 - $16 per person)
Service: Good
Rating: 3.0 out of 4

Cincinnati Bites