Posted Sunday, May 22, 2011
Taco Casa is one of those enduring city institutions you'd think would have died off years ago, but somehow manages to survive in spite of a culinary landscape overrun by corporate restaurant chains.
The Tex-Mex, Taco Bell-inspired business has been around well before my time, founded in 1968. There are three locations, each with its own batch of loyal followers.
The location I've most often frequented is in Oakley, across the street from Hyde Park Kroger (let the boundary arguments commence). Years ago, Casa was safely tucked between Mio's Pizza and a gas station, but the gas station is long gone and an incredibly busy Chipotle tauntingly stands in its place.
You can feel the rivalry between the two businesses: there are large signs in the comparatively sparse Taco Casa parking lot warning Chipotle patrons that they'll be towed if they park there and walk next door. You can't really blame them.
Taco Casa offers some of the most Americanized versions of Mexican food I've ever seen, Taco Bell notwithstanding. I'm not even sure it's accurate to call it Tex-Mex. Most of the food appears to be prepared from canned ingredients --though I have no idea where their meat and seafood comes from. Casa fans would say this is all part of its charm.
For as old as the Oakley location is, you'd think the menu would have an appearance of some permanence, but you'd be wrong. The sheets are tacked to the wall as though the owners plan to pack up and run off in the night. This location is to-go only, except during the spring and summer when an outdoor patio is available.
The obligatory tacos, enchiladas, burritos and quesadillas are here, but what I suspect keeps people coming back are Taco Casa's interesting "house specialties," like their unusually addictive Taco Salad, served with tortilla chips and filled with iceberg lettuce, seasoned ground beef, beans, onions, tomatoes, shredded cheese topped with ranch dressing.
The specialty I always have a craving for is the Tuna Boat Supreme, served in a plastic tub and looking a lot like a fat enchilada filled with tuna salad, cheese, onions, jalapenos and topped with the aforementioned ranch sauce.
Everything here is artery-clogging, cheesy, meaty goodness, although you can go vegetarian replacing meat with refried beans. That certainly won't help you on the calorie front.
Recently, Taco Casa added a rare new menu item: fish tacos. I'm a fish taco fiend and gave them a try. Unlike more "traditional" fish tacos you'd see in California using a white fish like cod, mahi-mahi or tilapia, these were made with salmon and not fried. Each taco was served on a single corn tortilla and topped with tomatoes, lettuce and that same ranch sauce.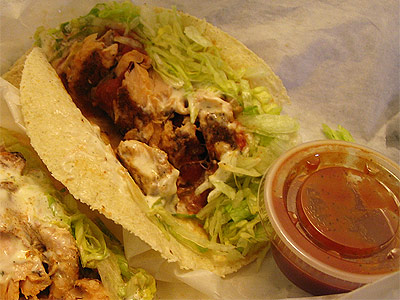 By the time I got the fish tacos home, the sauce had absorbed into the tortilla and made it impossible to pick up without falling apart. The fish was moist, flaky and seemed to have been prepared with a spicy rub --there was definite, welcomed heat dancing off the tongue. They're worth a try, though I'd recommend keeping them in their wrapper since one flimsy corn tortilla won't stand up to that sauce.
Taco Casa is an old stand-by whose long-standing success is thanks to the one constant in the universe: we all occasionally crave food served in a cardiologist's worst nightmare. Long live the Tuna Boat.
Taco Casa
Price: Cheap (under $11 per person)
Service: Good
Rating: 2.5 out of 4

Cincinnati Bites