Posted Tuesday, June 7, 2011
Note: the following review is for a restaurant that has since closed.
One could argue Downtown Cincinnati needs another burger joint like Hyde Park needs another Asian restaurant. So when Stuffed On Vine opened March 1st in Over-The-Rhine, I wasn't exactly holding my breath that they'd still be around by the time summer rolled in. But despite my culinary boner-less cynicism, they seem to be holding their own.
In this crowded burger market, you have to come up with a pretty impressive product to compete, especially when you're located in an area of town where more than half your potential patrons don't feel safe walking, even at high noon. The recent shooting at Tucker's restaurant, a few hundred feet away, doesn't help matters.
We parked at a nearby meter and inserted enough change to last more than an hour. In retrospect, we should have fed the meter more coins. Upon entering, patrons will note a modestly-sized room with a long, refinished bar on the left, several tables on the right, checkered floors, a tin ceiling and a touch-screen quiz game near the restrooms in the back. A single air-conditioning unit hummed from one window.
The man behind the bar greeted us with a two-piece laminated menu. As we stood there, I noted three people seated at two bare tables, which struck me as odd until he advised us that burgers would take about 25 minutes to prepare. A-ha. Looks like we've got ourselves a burger queue.
What distinguishes Stuffed on Vine's burgers from the competition is their take on the "Jucy Lucy," a cheeseburger whose molten cheese resides in the center of the meat, rather than on top. Other ingredients are available for stuffing, including peppers, mushrooms and grilled onions. The half-pound burgers are served on a toasted Klosterman bun along with a side of very intriguing french fries.
My co-workers both ordered the "Big Lene," a handmade burger stuffed with cheddar, pepper jack and American cheeses, bell peppers, hot peppers, mushrooms and grilled onions, all topped with lettuce and mayo. I chose the Mushroom & Swiss, stuffed with Swiss cheese and mushrooms, topped with lettuce, mayo and red onions.
There was a lot of waiting to be had. Ten minutes melted into twenty, then a half hour had passed. Sometime along the way, the neighboring table had received a couple plates of Spicy Garlic Buffalo Wings. We collectively salivated as the meaty fragrance, caught on the rushing current from the nearby air conditioner, danced cruelly under our nostrils.
The smells from the neighboring plates of buffalo wings lingered throughout the increasingly interminable wait. The Ohio Players' "Love Rollercoaster" piped through overhead speakers was no match for the cacophonous chorus of growls bellowing from our protesting stomachs.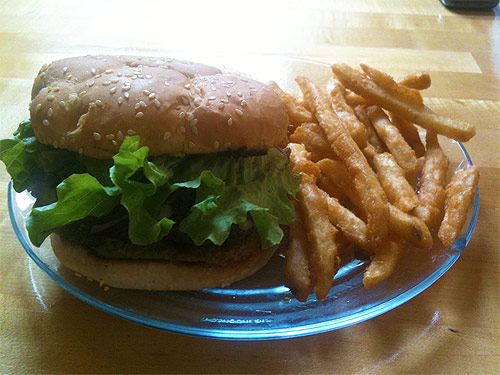 Finally, owner Charlena Calloway emerged from a doorway with three plates of meatiness. The burgers were impressively large, and at $7.50 for the Mushroom & Swiss and $8 for the Big Lene (cash only), they were quite a good deal.
My first impression as I bit into my burger was how garlicky and juicy it was --very welcome flavors of well-prepared grilled meat that evoked a number of pleasant culinary memories. My burger had big mushroom flavor, with oozing Swiss cheese just cool enough not to scorch my tongue.
The fries had a unique textured coating that I assume was achieved through some sort of twice-fried or batter technique. The outer coating really set these spuds apart; the fries were hot, tasty, and the coating caused several of them to stick together in a delicious bundle of potatoey heaven.
One of my co-workers was red-faced and sweating bullets from the hot peppers in his stuffed burger. Charlena commented about it with a playful laugh. But he seemed to be enjoying every minute of the experience.
After the burgers were dispatched, we all slowly rose rubbing over-satiated bellies: we were indeed stuffed. On Vine. The desserts in the display case behind the bar still managed to catch our eye on the way out, but no one dared consider another purchase, lest there be unfortunate explosions.
We returned to a blinking red parking meter, fortunate not to have been ticketed. The road back to work was a long one, the impending food coma a forgone conclusion.
Stuffed on Vine manages to stand ahead of some of the best burgers in Cincinnati. It's certainly in my top three. Overcome your OTR trepidation and give this place a try.
Stuffed on Vine
Price: Cheap (under $11 per person)
Service: Good
Rating: 3.0 out of 4

Cincinnati Bites