Posted Monday, March 22, 2010
Song Long is Vietnamese restaurant tucked just off Reading Road in Roselawn. Take the Norwood Lateral, pick up the Reading Road exit and head north, past Richie's Fast Food and the recently opened Hook Fish & Chicken joint.
I have a hard time describing Vietnamese cuisine. Is it accurate to call it a cross between Thai and Chinese? There are only a few places in town where I've encountered Vietnamese food before, usually in the form of Pho, one of the signature, spicy noodle soups. While I've eaten Pho for years, it was only in recent months that I started pronouncing it the right way. It's not "foe," but "fuh", as in "I really Pho-kin' love Pho, mother Pho-ker." Ah, to be an 18-year-old vulgarian again...
One of my first area Vietnamese experiences was at a little place on Tylersville Road in West Chester. It's called Chopsticks, and the place offers a mix of Vietnamese, Thai and Sushi dishes. Every Vietnamese joint I've been to (read: two) sports a large red bottle of Srirancha hot chili sauce. You've probably seen it before and, like me, you may even have it in your fridge: it's the bottle with the big rooster logo on the front. I suppose for Cincinnati, having such a condiment on the table is as good a definition of an official Vietnamese joint as any.
Parking is available both on the street along the entrance and in a lot out back. When entering the restaurant, one is pleasantly immersed in kitschy Asian decor: large, painted, ceramic dragons, hanging Chinese lanterns, air-brushed Asian room dividers and pink dragon table cloths set the mood. The place seemed quite large, but some of that may have been an illusion given the long mirrors along one wall.
The menu offers a combination of Vietnamese and Chinese delights. You can play it safe and stick to familiar, Americanized Chinese items, such as Chop Suey, egg rolls, Egg Foo Young and Sweet and Sour Chicken. Or you can test your palate boundaries with soups like "Bun Bo Hue," a spicy lemongrass soup with beef broth, sliced beef and rice noodles; several curry-enhanced dishes; and Vietnamese specialties like "Thit Heo Kho Tieu," sliced pork slow-cooked in a black pepper sauce.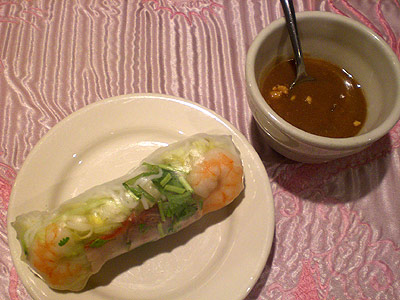 We started off with a round of Goi Cuon, two cold summer rolls of rice noodles, pork, shrimp, lettuce, cilantro and bean sprouts wrapped in a semi-transparent rice paper. They came with a side of peanut dipping sauce, which lent a rich, nutty saltiness to the cool, subtle flavors of the roll.
My girlfriend was in a spicy mood, so she ordered the "Tom Nuong Xa," angel hair rice noodles topped with jumbo shrimp in a lemongrass, hot chili sauce. I ordered the "Muc Don Thit," calamari stuffed with pork, mushrooms and onions and covered in a tomato and onion sauce.
I was excited by the look of my dish. It had a hearty appearance to it, with the head of four squid each stuffed with a kind of minced pork meatloaf-like mixture, topped with a rich, tomatoey, peppery sauce riddled with chunks of onions and tomatoes. I was a little concerned that the calamari would be too tough, given the way they must have been cooked, but instead I found their texture quite pleasing, not overtly chewy.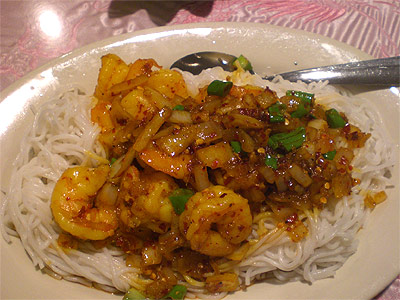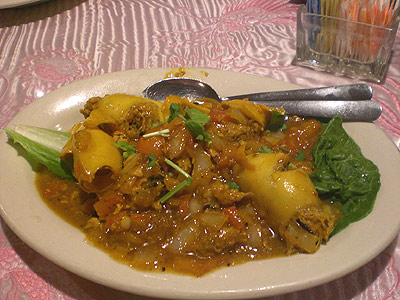 We especially liked the bold, lip-tingling spiciness of the Tom Nuong Xa, which looked like it may burst into flame at any moment. The shrimp were perfectly cooked and the angel hair rice noodles effectively counterbalanced the spicy sauce.
Prices were very reasonable; only a few items on the dinner menu were more than $11, mostly dishes involving whole red snapper or lobster.
Song Long is a unique Asian experience offering both the familiar and the not-so-much, with tasty food, good service and a cozy, fun atmosphere. It's Pho-kin' good Vietnamese.
Song Long
Price: Moderately Expensive ($11 - $16 per person)
Service: Good
Rating: 3.0 out of 4

Cincinnati Bites