Posted Thursday, July 29, 2010
I generally don't do trendy or upscale. When I do, the chair squirming is palpable as you read through my recollection of every uncomfortable moment at these kinds of places. So it was with some hesitation and a healthy sense of adventure that we chose to lunch at Senate, the new, uber-trendy restaurant in Over-the-Rhine.
It's been hard to ignore the buzz about this place. After the justified fanfare of Mayberry had died down, sweet, lofty whisperings of "Senate" were all that soon fluttered off foodies' lips. Bloggers, bona fide food critics and downtowners have been nothing if not dreamily enthusiastic about the restaurant.
Senate's menu is compelling: the chef coins it "gourmet street food," a phrase also widely used to describe the myriad food trucks in town. Specialty hot dogs are emphasized, all hovering around an eye-popping $10. There are also exotic takes on other sandwich classics, like the grilled cheese ($11); peanut butter and jelly with foie gras ($11); lobster BLT ($14); and an eleven-dollar Senate burger. Want fries with that? It's another $5 for the truffle version or $6 for the fries cooked in duck fat.
Needless to say, Senate is just a wee bit overpriced. No one can meanly justify the lavish expense of these items. However, I'm apt to try any food once, especially from somewhere so highly praised.
When we first entered Senate, I was immediately struck by the dichotomy of the place: the bare brick walls and long, oversized bar gave me an initial feel of a laid-back, neighborhood watering hole in an historic venue. Linger an eye a while longer, and one comes to uncomfortably realize an air of pretension: waiters all dressed neatly in black uniforms taking themselves a little too seriously; clientele made up mostly of higher-end business people; leather-bound, high-backed chairs amid the clinking of wine glasses; and a general sense that one might be looked down upon with just the slightest hint of condescension.
As we sat down and I set my juice harp aside, water was served from a stylish glass decanter that the waiter left at our table. The water was very warm, so my co-worker asked for and was supplied a glass of ice. He was just as trepidatious about eating here as I was, but hey: hardcore foodies go the extra distance, sampling trendy, expensive food so you don't have to.
I chose the ten-dollar Poutine, french fries topped with braised beef short ribs, gravy and cheese curds. I also ordered an eight-dollar side of lobster mac & cheese. That's a total of $18. For one person. For lunch.
I've enjoyed Poutine before at a slightly less-than-upscale establishment known as Bard's Burgers. When I accurately pronounced the dish as "POO-tin," the waiter seemed bound and determined to "correct" me by immediately repeating my order as "Poo-TEEN," sounding it out for me slowly and phonetically. I was mildly annoyed, but chuckled in response. Given my past experience, I knew his pronunciation was the Toronto variant now gaining ground in America. Take a quick jaunt to Wikipedia or this site to find the original, Quebec pronunciation.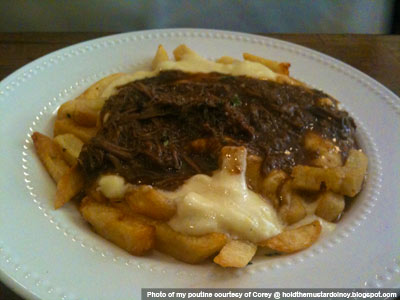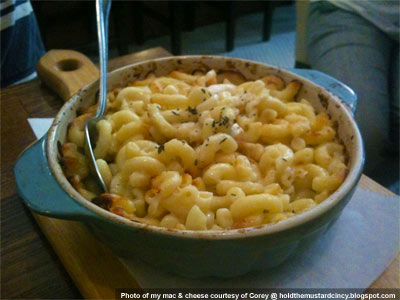 When the food arrived, it looked wonderful. The wispy fragrance from the poutine's pool of braised beef and gravy told the tale of slow-cooked meat lovingly marinated in what I guessed to be a dry Burgundy. The one-two punch of the short ribs and the creamy cheese curds made it difficult to put my fork down. But the eight-dollar lobster macaroni & cheese failed to impress. The few chunks of lobster were very overcooked and rubbery and the macaroni seemed too crusty and dry.
My co-worker thought his Trailer Park dog was ok, but he said it was nothing he couldn't duplicate himself for much less than $9. I nudged him into trying the poutine, which he did admit was good, but not worth $10.
While the food and service were ok overall, the high price point and upscale ambiance ensure I'll likely never return. I think a lot of people have been caught up in the hype and that's often a good thing for a restaurant, at least in the short term. I was certainly willing to be seduced. Alas, Senate's not a place I can recommend for any purpose beyond satiating curiosity. Want to know for yourself what a $10 hot dog tastes like? Stop on by. But if you only pick one dish, make it the poutine.
Senate
Price: Moderately Expensive ($11 - $16 per person)
Service: Good
Rating: 3.0 out of 4

Cincinnati Bites