Posted Monday, June 1, 2009
We had passed by Ruthai's Thai Kitchen nearly every weekend for the last nine years. I don't know what exactly kept us from stopping for a visit: we're huge Thai food fans. Today, we would pass it no more.
The restaurant is located just on the cusp of Mount Lookout Square proper, right next to Ramundo's Pizza. Parking is available along the street, unless you prefer to take the short walk from the Square's (often full) central parking lot.
There are two main divisions of the restaurant: the primary dining area contains a number of dining tables; the other half contains a sushi bar, two additional tables and a row of floor tables where groups can sit on cushions for a more authentic Asian dining experience.
We arrived on a Sunday in the mid-afternoon, far too early for the usual dinner rush. For the first half hour, we had the place to ourselves. We examined the menus amid the gaudy wall hangings of glittering, puffy elephants.
One appetizer stood out among all the rest, if for no other reason than that it was new to me: soft shell crab in a tempura batter. Having never eaten soft shell crab, I had no idea what to expect beyond photos I'd seen on Flickr and other sources. It very literally looks like the animal you're eating: there's a discernible body with the clear appendages, claws, etc. If that thought disturbs you, this is not the appetizer for you!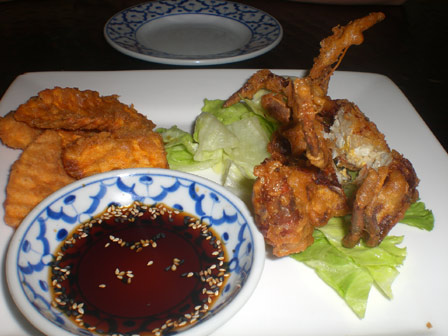 The crab was presented on a bed of lettuce, a side of deep fried slices of sweet potato and a slightly salty, tart dipping sauce called "ponzu." The large, meaty portions of the crab body had a pleasingly sweet fishiness that melded well with the sauce. It was a rich appetizer I was glad to share, though my girlfriend was put off by the shape. The sweet potato chips served as a lighter, welcome palate cleanser.
Our entrees arrived shortly thereafter, and I paused to take a snapshot. One of the sushi chefs caught me in the act, asking me if I'd planned to post the photo to a website. "Oh, it might appear on a blog in the near future," I chuckled. He and a co-worker continued to watch the television behind us.
I ordered the "Basil Noodle," wide rice noodles with basil, tomatoes, green beans, slices of yellow and red bell pepper and chicken. Ruthai's offers four spice levels: mild, medium, hot and "Ruthai hot," which I had interpreted to mean, "kill me now." I chose the hot level, which made for a spicy-sweet, smoky sauce.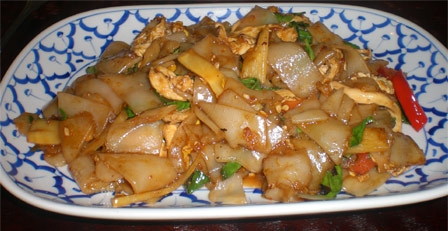 Ruthai's Thai Kitchen is solid, familiar Thai, prepared simply and well. Like the soft shell crab, there are a few surprise items on the menu well worth investigating.
Ruthai\'s Thai Kitchen
Price: Moderately Expensive ($11 - $16 per person)
Service: Good
Rating: 3.0 out of 4

Cincinnati Bites