Posted Thursday, March 11, 2010
I'd read a lot about Melt in Northside, so on a late afternoon, I decided to drive there for a sandwich. Alas, that day was a Sunday and, as I soon discovered, they're not open past 3 pm then.
We continued along Hamilton Avenue, through Northside, past College Hill, just taking a Sunday drive, until we arrived in Mount Healthy. We'd awaited some sort of calling, a sign from beyond, and a smoky, meaty beacon of hope soon loomed before us on our left. It was Pit To Plate BBQ.
The shell of the building is unquestionably that of a former Hardee's, but make no mistake: there's not a Frisco Sandwich in sight. This place is now home to some of the better barbecue in Cincinnati.
Pit To Plate BBQ makes great use of the interior; from the inside, you'd be hard pressed to recognize that a fast food restaurant had ever existed here. The windows had all been partially covered with wood planks on which hung a variety of kitschy artifacts of Southern Americana. Large metal pails on every table held nearly a dozen squeeze bottles of various barbecue and hot sauces. They've got both kinds of music piping through this joint, pardner: Country AND Western.
The menu includes the usual suspects one would expect from a barbecue restaurant: beef and pork ribs, pulled chicken, pulled pork and brisket. Several less common items include corned beef, turkey ribs and wings, salmon, tilapia, kielbasa, hot metts and even a veggie plate, not surprisingly made up of three side items and cornbread (but c'mon, would you really expect more from a barbecue joint if you were a vegetarian?!?). Pit To Plate also offers 16 hot side items and six cold sides as well as White Bean Chili, Texas chili and Brunswick stew, a chunky vegetable soup-like concoction with an unusual, smoky flavor.
My favorite barbecue joint staple is, and always shall be, pulled pork. Rounding out my gold standards were a side of mac & cheese, collard greens and cornbread, all washed down with sweet tea.
My girlfriend chose the pulled chicken sandwich, which usually comes with slaw, chips and a pickle. She decided to replace the slaw with pinto beans and also a side of the Brunswick stew.
Service was pretty fast given the fact that there were only a few tables occupied on that lazy Sunday afternoon.
The sweet tea was exceptionally so, which is just how I like it. It's one of the better-tasting sweet teas I've had in the area and they must know it, because they sell the stuff for $6 a gallon. I was pleased that our server didn't water the tea down with an overabundance of ice.
Our food arrived in black plastic divider plates, the meat and sides all separated neatly in their designated, recessed sections. Given that my plate cost $9.50, I was a little disappointed in the pulled pork portion size. It seemed a tad on the skimpy side compared to the amount I enjoy at my other barbecue hangout, City Barbecue. Still, it was a decent amount of food, even for my more than 6-foot, 225-pound frame.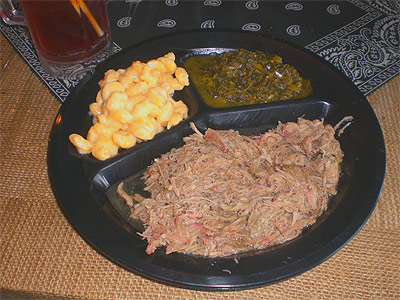 The choice of barbecue sauces on the table ranged from the sweet, to the mild to the spicy. Seven different squeeze bottles were available at our table (their menu listed a horseradish sauce but ours was missing). Our hands-down favorites were the "Gold Rush" mustard-based sauce and the Spicy garlic, the latter of which tasted a lot like a buffalo wing sauce.
The pulled pork itself was smoky perfection. Many barbecue joints I've visited fail to infuse a lot of flavor into their pork, necessitating all the myriad sauces to dress them with. Not so with Pit To Plate's version. There was a rich, well-rounded complexity to this pork, as though I could taste each hour it had spent in the smoker. My girlfriend appreciated a similar flavor in her chicken.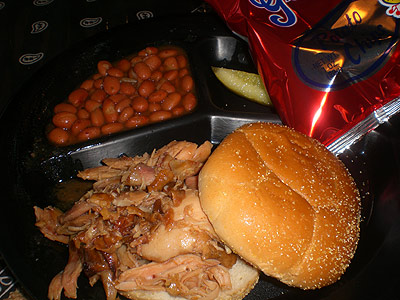 My sides were equally pleasing: collard greens are often a crap shoot at barbecue restaurants. Not many of them succeed in curbing the bitterness that comes from the vegetable, but Pit To Plate's was spot-on. The greens weren't bitter in the slightest and offered a nice spice. The Mac & Cheese was creamy and utilized a loose, curly pasta effectively.
I'm a big cornbread fan, but don't care for the dry, savory versions. I prefer mine to be moist, borderline cake-like and slightly sweet. Pit To Plate's cornbread was just like that, served cupcake style, with a strong corn aftertaste. If I hadn't already been full, it would have been great served with a bowl of bean soup.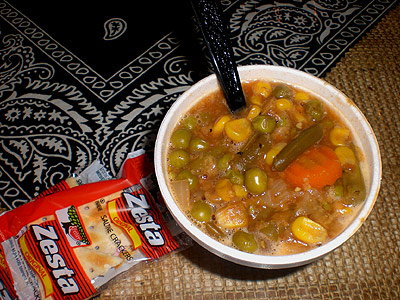 The biggest disappointment was the Brunswick stew, which neither of us liked. It seemed to lack any depth and we found the unusual, vinegary-smoky aftertaste a little off; I wondered if it would have made a difference if we'd added chicken to it for an extra 50 cents.
Overall, Pit To Plate BBQ was a pleasant surprise, offering some of the best-tasting meat of all the area barbecue restaurants we've tried. Their sweet tea and flavorful pulled pork alone put them ahead of my runner-up favorite, City Barbecue. Thank you, Melt, for being closed on Sunday so that we could stumble upon it.
Pit To Plate BBQ
Price: Cheap (under $11 per person)
Service: Good
Rating: 3.0 out of 4

Cincinnati Bites