Posted Monday, March 14, 2011
It took three attempts over a span of three months to finally try Pho Lang Thang, the new and quickly blogger-revered Vietnamese restaurant at Findlay Market. Our failed visits were due to either an exorbitant wait or their completely running out of key menu items.
Pho Lang Thang boasts a diminutive menu made up of classic, authentic Vietnamese appetizers, soups, sandwiches and noodle dishes. It's as short and sweet as it is intimidating, with all the names marked with an abundance of foreign, squiggly accent marks we'd heretofore never seen. It would be nice if the menu items were numbered and accompanied with a phonetic spelling, so we ignorant folk don't have to struggle and squirm so much over the pronunciations.
I was fortunate in that I'd already come armed with some background knowledge of one of Pho Lang Thang's signature sandwiches, the Banh Mi. I'd first heard about it from Polly Campbell, when she reminded readers about a little downtown library hole-in-the-wall called Le's Cafe. Both the restaurant and the sandwich were new to me, and when I tried both, I was quite impressed.
Banh Mi sandwiches are a prime example of what melding cultures do to food. Its influences come from both Asia and Europe, in large part due to French colonization of Indochina, which really hit its stride more than 150 years ago under Napoleon III. Traditional cold-cut Banh Mi are served on a crusty French Baguette loaded with roast pork, liver pate or headcheese, cucumbers, carrots, cilantro, hot peppers and shavings of daikon radish.
We tentatively stepped into Pho Lang Thang's front door, a flurry of staff zooming about at warp speed, all trying to keep up with the never-ending rush of people. An employee eventually acknowledged us and approached with paper and clipboard in hand. He wrote down our name and would have taken our cell phone number, had we brought one. The wait would be about twenty minutes, which gave us an opportunity to explore the rest of Findlay Market.
After we'd returned and had been seated, we tried to order two of their three starters, but they were out of them. Since they first opened, Pho Lang Thang has had an ongoing issue keeping food in stock; I wish they'd address the problem through more strategic and thoughtful inventory management. By default, we opted for the one remaining available appetizer, the Cha Gio: two spring rolls filled with pork, mushrooms, carrots and glass noodles, served with a neon-yellow, sweet-and sour fish sauce.
My girlfriend and I split an order of the Banh Mi Thit Nuong, a variation of the Banh Mi that comes with lemongrass-marinated beef instead of the more traditional cold cuts. For drinks we ordered the Ca Phe Sua (I'll spare you the accent marks), a Vietnamese hot coffee served with condensed milk; and the Da Chanh, a Vietnamese limeade.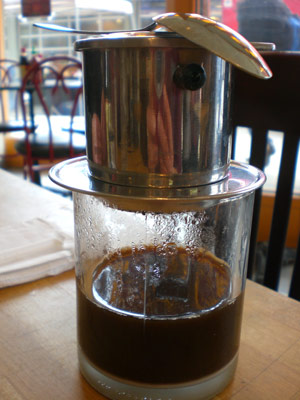 The Vietnamese coffee arrived first, dripping from a strange apparatus resting atop a marginally filled cup of condensed milk. This made for an interesting conversation piece, but by the time all the coffee had dripped into the cup, we were left with the quandary of what to do with the apparatus once we'd removed it. We ended up resting the messy gadget on the bare table, since no saucer had been supplied with the coffee. My Da Chanh tasted much like any other limeade, very similar to a lemon shake-up one would find at a street fair.
Our Cha Gio appetizer arrived soon thereafter, two tightly-wrapped, deep fried rolls with the vibrantly yellow dipping sauce. The minced pork was reminiscent of chicken to me, the meaty flavor paring well with the sweetness of the fish sauce. The oil they were fried in tasted fresh, making them seem lighter than they were.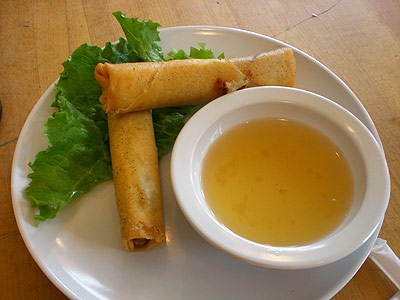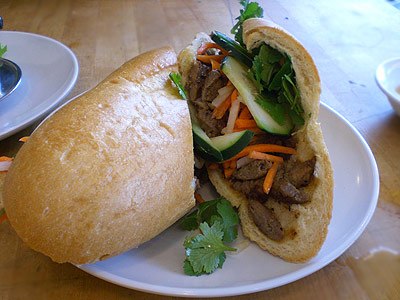 Like the appetizer, our Banh Mi sandwich was presented artfully on the plate, diagonally-sliced Baguette halves nestled together to expose the layers of meat and vegetables. The bread had a pleasing crunchy outer layer, which protected the doughy inside that had absorbed some of the marinated meat juices. The tender meat had good flavor, but the sandwich lacked the jalapeno kick I've come to expect from a Banh Mi.
Pho Lang Thang's food is good, but at this point I'm fairly loyal to Le's Cafe for my Banh Mi fix. Maybe it's the fact that, like a first kiss, my experience there will always be my favorite. It won't matter how much better subsequent sandwiches are: nothing will come close to that, "Holy shit, I'm eating a Banh Mi!" feeling one gets only once in life.
Pho Lang Thang
Price: Cheap (under $11 per person)
Service: Good
Rating: 3.0 out of 4

Cincinnati Bites