Posted Saturday, November 8, 2014
Finding a good breakfast in Cincinnati seems to be getting harder these days. The "giants" of the breakfast scene: Sugar 'N Spice, Taste of Belgium and Sleep Bee Cafe, are just a few of the popular breakfast/brunch haunts now perpetually overrun with caffeine-ticked masses yearning to break eggs.
To avoid the crowds and long waits and to keep our morning grumpiness in check, we sought out a breakfast joint that didn't wring our cash reserves dry and accommodated steady streams of customers with a smooth, stoic aplomb. Enter Parkside Cafe in Walnut Hills.
First opened in 2007, Parkside is housed in a former Frisch's Big Boy. An old Frisch's drive-thru menu still stands in mute, rusted testimony. Aside from some updated tile work and a few minor decorative touches, Parkside's cavernous interior is a virtual snapshot of any 1990s-era Frisch's or Shoney's, with skylights, laminate wood tabletops, an L-shaped counter for solo diners near the kitchen and a prominent salad and breakfast bar centerpiece.
Parkside's menu is extensive for a restaurant open only until 3pm. Nearly everything is under $10. Beyond the familiar breakfast fare of pancakes, omelets, french toast, waffles, biscuits & gravy and bacon & eggs is a lunch lineup filled with a variety of sandwiches, wraps, burgers, soups and salads.
We stopped in around 10:30 am one weekend morning, famished and still reeling from jet lag after a recent European trip. I'd found Parkside on UrbanSpoon and had been keeping it in the back of my mind as a back-up plan after our many failed attempts to secure a seat at Sugar 'N Spice.
As I sipped from a bottomless mug of coffee ($1.99), my girlfriend noted in amusement her last visit to this footprint. Still a college student at Ohio University, she'd been nursing a hangover after a raucous Saturday night of partying and drinking countless Little Kings Cream Ales. She and her mom had stopped at the Walnut Hills Frisch's for breakfast before hitting the road back to OU.
"As I sat there nursing a splitting headache, Mom began talking about a TV show she'd enjoyed the previous night," my girlfriend recounted grimly. "It was a show about how Scotch whisky was made. I immediately turned several shades of green, then dashed off to the bathroom, where I remained for the next twenty minutes."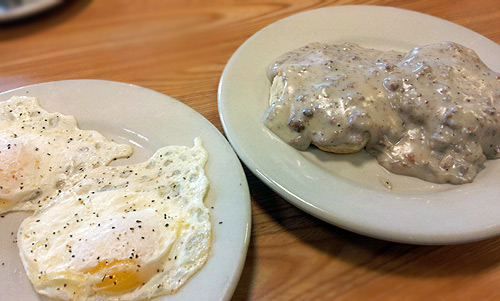 Over-easy eggs, Biscuits & Gravy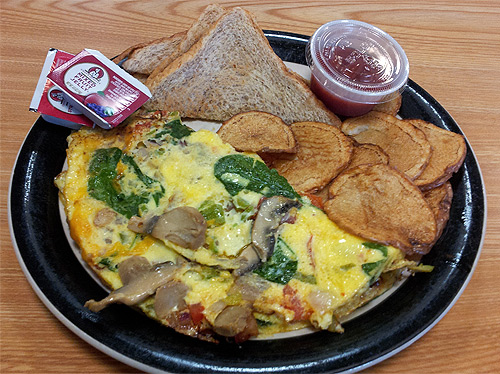 Veg Head Omelet
Resisting the temptation to discuss my own recent penchant for Scotch, I instead went straight to ordering the Veg Head Omelet ($6.99), filled with tomatoes, onions, mushrooms, peppers and cheddar cheese. The dish came with toast and a choice of either tater tots or the thinly-sliced, fried "Parkside Potatoes," so I chose the latter. Undeterred by her college story, my girlfriend opted for two over-easy eggs ($1.99) and a half-order of biscuits & gravy ($2.99).
While we waited, the adjacent breakfast bar was readied for the 11 o'clock buffet. Stacks of steaming sausage and eggs tickled our nostrils, and it was all I could do to keep from leaping up and diving head first into the hot bins.
Our food arrived soon enough to avert any buffet-crashing spectacle. It was hot, it was bountiful, it was beautiful. As we cut into our breakfast, the two of us slowly felt the broken bits of our weary cells reforming again into viable DNA, the last throes of our jet lag dissipating into the air.
A bite of my girlfriend's biscuits & gravy revealed inviting notes of rosemary-infused sausage. My omelet was fluffy and cheesy and chock-full of vegetables. The fried potatoes were good, a bit too thinly-sliced for my tastes, and came accompanied by only a small plastic cup of ketchup, which meant I needed to be strategic with its use. The coffee was spiked with little mini-tubs of real half-and-half, not the corn syrup creamer crap I usually see at more expensive restaurants. It was a great meal, and for 2014, a breakfast for two costing under $16 before tip is rare.
Parkside Cafe is now on our short list of treasured, locally-owned breakfast joints. If you're looking for a good meal at a cheap price, look no further.
Parkside Cafe
Price: Cheap (under $11 per person)
Service: Good
Rating: 3.0 out of 4

Cincinnati Bites