Posted Tuesday, January 26, 2010
Note: the following review is for a restaurant that has since closed.
Olives at the Ludlow Garage is an attractive "All-American" restaurant located in the heart of Clifton, near the Esquire theater and a number of other well-known Clifton eateries (Ambar India, Habanero and Amol India, to name a few).
While the menu sports some diverse items, both the name of the restaurant and a majority of its food selections suggest a theme firmly rooted in Italy. Manicottis, zitis, fettucines, pennes, piccatas and parmigianas share space with pad thai, pot stickers and Black Angus meatloaf.
We'd never been to Olives before, so when we first stepped inside one Sunday evening, we were immediately confused about how to get seated. There was a reception desk on the right but no one manned it. An entrance to a bar led to the left. We entered there through another set of doors, thinking there was a way to get to the restaurant area from there, but were foiled. We eventually spotted a small sign indicating that the restaurant was downstairs, so we headed down, only to find yet another unmanned desk and a sign that read, "Wait to be seated."
The place was empty except for one glass-enclosed room containing a party of about 15 people who'd obviously reserved the area for a birthday celebration. A waiter eventually emerged from a corner and escorted us to our seats.
After he took our drink orders, the server warned that if we didn't get our orders in very soon, we'd have to wait behind the party of 15. While he left us to at least provide a few minutes to look over the menu, we felt pressured to quickly scan over our choices.
The ambience was very open with tasteful, modern decor, lots of dark wood beams, exposed brick and a couple custom wall paintings depicting the stores and restaurants of Ludlow as though they had existed on a quiet, European side street.
"You only live once," my inner voice was telling me as I eyed a certain $12.95 appetizer. The description sounded devine: "Blue fin crab cake with red wine braised cabbage, caramalized sweet onion and a creamy Dijon sauce."
But reality soon set in: I'm interminably frugal. Why spend thirteen bucks on a single crab cake when I could get five pot stickers for half the price? And so I did.
Being a big fan of all things puttanesca, I choose the Vegan Puttanesca as my entree. Typically the sauce is a little spicy with generous amounts of capers, anchovies and olives (ho ho!), so I'd hoped I was in for a treat, despite the fact that I am not remotely vegetarian, let alone vegan.
My girlfriend (also not a vegetarian) chose the veggie burger, a mixture of tofu and spices on a Kaiser bun and served with a side of fresh vegetables.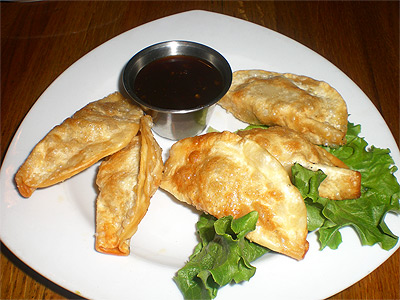 The pot stickers arrived fairly quickly in spite of the "mad rush" of 15 people in a restaurant that could easily hold 50. They were crispy, yet light, with a flavorful meat filling. Unfortunately, the pot stickers were accompanied by an overpowering side of thick, syrupy dipping sauce. The overly strong, soy-sauce-like flavor of the sauce masked the otherwise tasty dumplings, so we ended up avoiding it altogether.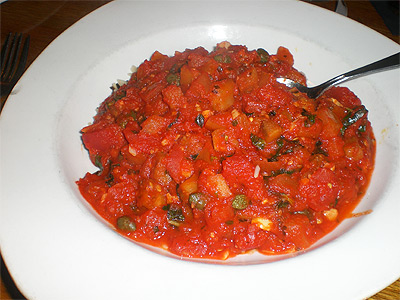 When the vegan puttanesca arrived, I thought there'd been a mistake. At first glance, it appeared as though it was simply a bowl of sauce, sans pasta. As I dug deeper with a fork, I realized that the sauce rested on a bed of wild rice. This seemed very unusual to me. Why forgo a more traditional pasta in favor of rice? Then it hit me: "Duh, I ordered a vegan dish." But aren't there plenty of pasta recipes that don't require eggs? While the wild rice added an interesting nuttiness to the dish, I found myself as disappointed in the lack of pasta as I was in the lack of olives and anchovies.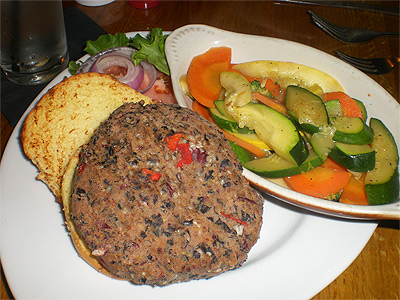 My girlfriend's veggie burger was allegedly made from tofu despite its black-bean and rice-flecked appearance. The patty was very soft and had the consistency and appearance of thick, refried beans mashed to form a burger. Not very flavorful, but not too bad, especially when slathered with lots of condiments, lettuce, tomato, onion and imagination.
Overall, the food was nothing special and our experience was just off-putting enough to earn Olives at the Ludlow Garage a "fair" rating and two stars.
Olives at the Ludlow Garage
Price: Moderately Expensive ($11 - $16 per person)
Service: Fair
Rating: 2.0 out of 4

Cincinnati Bites