Posted Tuesday, November 2, 2010
Note: the following review is for a restaurant that has since closed.
Oleg's Tavern is a German restaurant located at 11929 Montgomery Rd., less than a mile from the Fields Ertel Rd. intersection. The place is a little hard to find, especially at night: it's tucked away in a strip mall whose access is made more challenging thanks to all the road construction currently going on there.
Every other business in the strip mall had closed by the time we arrived Friday evening, yet the parking lot seemed packed. Turns out this is mostly thanks to a Hertz Rent-a-Car a few doors down, so don't feel intimidated.
We'd brought with us one of those Restaurant.com coupon deals for $25 off, but when we arrived, a prominent, hand-written sign on the window greeted us, indicating Oleg's Tavern no longer honored it. Having already endured the traffic and road construction, and slightly salivating over the sudden rush of hearty food aromas, we shrugged off the disappointment and allowed ourselves to be led to one of the few remaining tables.
The feel of the place, for me, was a lot like my old neighbor's 70s-style basement: wood paneling, dark wood tables and chairs, large rectangle drop-ceilings mitigated by a suspended wood grid hanging over the prominent, open kitchen. A television lightly droned under the din of conversation flecked with East European accents. There was a thick, almost smoky air to the place --not from cigarettes, but from poor kitchen ventilation. Your clothes will absolutely stink of food when you leave here.
A petite young woman provided us with two-sided, laminated menus; one side showcased a variety of weekend brunch items while the other side listed the lunch and dinner menu.
Many of the old German stand-bys are here: Weiner, Jaeger or Pork Schnitzel; sauerkraut; homemade bratwurst, mettwurst and beerwurst; beef stroganoff; goulash; potato pancakes and hot German potato salad. Surprising menu options included the so-called "Austrian Meatloaf"; blackened salmon, orange roughy and crab cakes; an incredible-looking, ten-dollar tuna salad sandwich; and Italian-influenced dishes. I read somewhere that Oleg's food is organic, but I could neither confirm nor deny it. If it is, it's not advertised on the menu.
My eyes immediately fixated on the Goulash, a meaty stew of beef, carrots and potatoes, topped with Spätzle. It comes with either a side of sauerkraut or a small side-salad, so I chose the sauerkraut. I was excited to hear my girlfriend order the Beef Stroganoff and a small bowl of the tomato-based "Hunter's Soup," brimming with bits of sausage and oblong hunks of potatoes.
The small dining room soon reached full capacity, and a gathering of people had begun to form near the front door, waiting to be seated. The family-run restaurant seemed to have a scurrying staff of three that evening: Oleg, the Ukrainian-born chef; his wife, Olena, whom we'd surmised was our waitress; and another woman busily waiting and bussing tables. All three were young and exceptionally fit, something we thought rather unusual for people who run a German restaurant and presumably partake in the heavy, East European diet.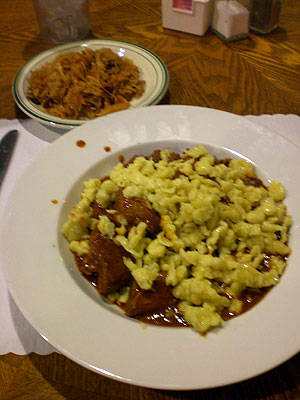 The food arrived very quickly --inside of two minutes. It's probably the quickest we've ever been served in any non-fast food restaurant. The entrees, salads and soups all arrived simultaneously, even beating the arrival of our drinks.
The eggy aroma of the spätzle was the first thing I noticed as the plates were set before us. The beef in both the goulash and the stroganoff came in large, tender chunks. I did not mind the little bits of fat around some of the pieces --I typically cut most off but this time I found it complimented the meat very well.
The flavor of the goulash was subtle, a smoky, almost musky hint of paprika evident in the sauce. I thought it was ok, but perhaps a little lackluster. On the other hand, I loved my girlfriend's beef stroganoff. Its moist, flavorful meat evoked childhood memories of slow-cooked roasts surrounded by potatoes, onions and carrots simmered in a meat juice reduction. My girlfriend kept asking me if I'd like to try more bites of her stroganoff in exchange for tastes of my goulash. I finally took the hint: we'd liked each other's choices so much better than our own, that we inevitably switched plates.
The side of sauerkraut was very good, the anticipated sharp bite nowhere to be found. Instead, the kraut was mild and slightly sweet, intermingled with cranberries.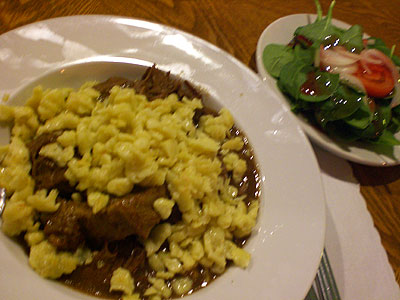 My girlfriend didn't care for her side salad; the leafy greens had been overly saturated in a syrupy, raspberry vinaigrette. She also wasn't fond of her cup of Hunter's soup, whose broth was surprisingly quite sweet, like a barbecue sauce. I ate most of it: the tangy, vinegary bite of the broth seemed pleasingly familiar; soon I realized it had vaguely reminded me of the sauce found in cans of barbecue-flavored Vienna sausages. Apropo!
We witnessed impressive slices of German chocolate cake being served around us, but our meat-heavy meal precluded any chance for dessert. Besides, by that time, service had started to take a hit as the two waitresses frantically dashed about, barely keeping pace with the rapidly-filling room.
Oleg's Tavern offers satisfying, stick-to-your-ribs German fare that will linger with you well after you've left the restaurant. Embrace the meatiness.
Oleg\'s Tavern
Price: Moderately Expensive ($11 - $16 per person)
Service: Good
Rating: 2.5 out of 4

Cincinnati Bites