Posted Thursday, April 29, 2010
I'm not exactly sure what had prompted us to visit Oakley Pub & Grill for lunch so many years ago, but we're glad it happened. We're not quite regulars, but have enjoyed a number of meals there. What draws me back again and again? It's the fish, man, the fish.
The unassuming corner bar enjoys a great view of one of the most confusing set of crisscrossed streets in Cincinnati: Oakley Square. If you haven't seen at least one person driving the wrong way as they try to traverse around the 20th Century Theater and Habits Cafe, then you haven't lived life to the fullest.
Frustrating construction has begun to address the confounding street configuration while simultaneously forcing everyone to use only one lane up and down Madison Rd. There's also a minor controversy brewing about turning Allston into a one-way street, which would essentially prevent residents from easily(?) entering the square. To be sure, Oakley's traffic woes will get worse before they get better, sometime around 2012, just in time for the earth to blow up.
Oakley Pub & Grill is large enough to accommodate about four booths and four tables, as well as outdoor seating and bar seating. Several plasma screens hang along the walls to catch the latest sports games. A jukebox ensures your favorite Poison song is never more than a grimace away.
My girlfriend used to adore Oakley Pub & Grill because they once offered a wonderful portabella mushroom sandwich. Alas, it only took them a year to replace the full portabella mushroom cap with cheaper chopped up mushrooms. Then they replaced that with a mushroom wrap. It takes me considerable effort to convince her that the comparatively sub-par mushroom wrap is still worth eating; sometimes she relents, if only to watch me enjoy my consistently delicious blackened grouper sandwich.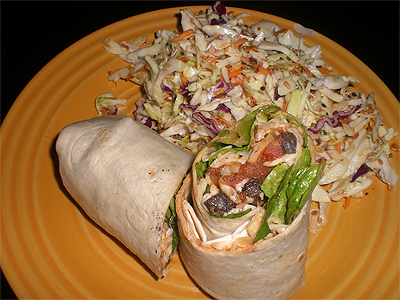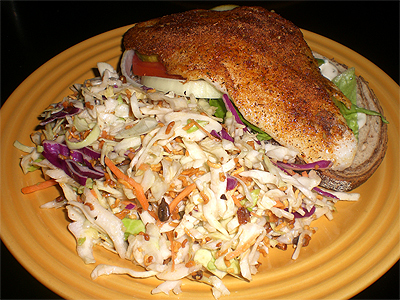 The blackened grouper is amazing: a large, heavily seasoned filet that is so moist it nearly falls apart, hanging out both sides of the swirl-rye bread. The thought of that luscious fish, coupled with the crunch of the crisp slice of tomato, lettuce and onion, is nothing short of drool-inducing.
The ramen Asian slaw is good, but its quality waxes and wanes: on any given visit, the slaw could suffer from a heavy-handed sesame oil flavor, or too many bits of ramen, or too little. None of this stops me from gorging myself on the stuff because, like pizza, even when it's bad, it's still pretty good.
Service can also be hit or miss: we typically visit the place on weekend afternoons, when business is relatively light. You'd think that would improve our chances of getting served promptly, but you'd be wrong. The time we've waited on our food has ranged from a mere 10 minutes to a stomach-rumbling 20 minutes.
Still, it's hard to quibble about such things as service and sesame oil when a place offers consistently good food. Their fries are also quite tasty: they're crunchy on the outside and fluffy on the inside, with a good salty flavor.
They've also won awards for their burgers, but I've never tried one. Maybe someday. It's just hard for me to resist the grouper.
Oakley Pub & Grill
Price: Cheap (under $11 per person)
Service: Fair
Rating: 3.0 out of 4

Cincinnati Bites