Posted Wednesday, December 2, 2009
Noce's Pizzeria is a New York-style pizza parlor that offers two locations in the Cincinnati area: the first opened a couple years ago on the west side of town at 4105B North Bend Rd. The second location opened on the east side just last month at 9797 Montgomery Rd, one driveway past Carlo & Johnny's and a half-mile north of the original Montgomery Inn.
We visited the newest location, which has seen its fair share of business in just a few short weeks. We know this because our first attempt to try their pizza had ended in failure: the small, seven or eight-tabled restaurant was packed and there was a line of people forming at the entrance, precluding a timely meal.
Our second attempt came a couple weekends later and despite arriving a little earlier than usual for dinner, Noce's was still bustling as we managed to secure the last remaining booth. There was definitely a high-octane feel to the place: a virtual assembly line of dine-in patrons, outgoing deliveries and carry-out orders all appeared to dance an arranged, slightly precarious choreography that felt like it might unravel at any moment.
Pizzas were on display behind glass-enclosed counters, waiting to fulfill any by-the-slice orders. Spiraling saucers of dough were intermittently tossed into the air. The glow of a football game on a plasma screen reflected off the black lacquered tables. A number of local sports jerseys and paraphernalia adorned the walls. Along one wall was a large painting depicting a skyline atop which stood cartoonish caricatures of Italian crooners past, including Frank Sinatra and Dean Martin.
Noce's menu is well rounded in Italian fare, including a multitude of standard and specialty pizzas; chicken wings, hot and cold subs; salads; calzones and strombolis; pastas and desserts (leave the gun, take the cannoli).
We're not pizza purists by any stretch. I grew up with mostly cheap, frozen pizza abominations whose toppings were so tasteless that our family would dress them up with --get this-- thinly sliced hot dogs on top (hey, don't knock it: it tastes better than you think).
Like many Americans, I've experienced a myriad of pizza styles, including New York style pizza, with its thin crust and foldability. It reminds us of that which originated in and we'd enjoyed in Italy. We aren't fans of the thick crust, doughy pizzas and if I had to pick a favorite among the many variations, I'd choose a salty thin-crust pizza with edge-to-edge toppings and cut into squares, a la Cassano's or Donato's. New York style, for me, is a close second.
My girlfriend ordered a side salad and a slice of Noce's "White Dream," a sauce-less pizza that comes with garlic and oil, mozzarella, tomatoes, basil and broccoli. I ordered a slice of "Noce's Pizza," what my keen analytical mind deduced to be their signature pizza, with sausage, onions and banana peppers; a slice of their "Chicken Parmagianna Pizza," with chunks of breaded chicken, ricotta cheese, mozzarella and tomato sauce; and a basket of their "Garlic Knots," buttery roll-like knuckles of bread served with a side of pizza sauce for dipping.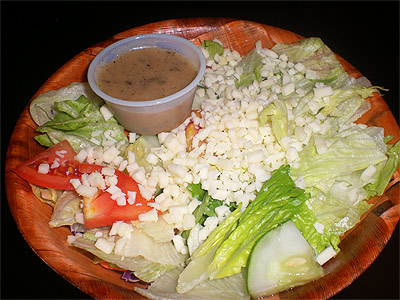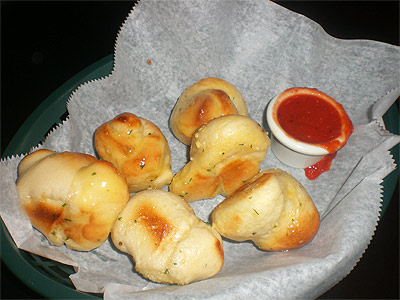 The salad looked like a meal in itself; while the wooden bowl was brimming with standard iceberg lettuce, it yielded a number of redeemable qualities, including a heaping of tomatoes, cucumbers, shredded red cabbage and a generous mound of mozzarella cheese.
The Garlic Knots were a fun take on the common breadstick; they arrived golden brown and glistening with butter. We enjoyed pulling the knots apart and dipping them in the warm tomato sauce. My girlfriend thought they were a bit too doughy in the center for her tastes, but I welcomed the lip-smacking, glutinous diversion.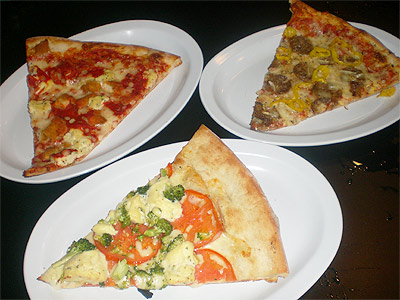 Our three slices of pizza soon arrived --generous slices that could each be a meal in itself. The slice of "Noce's Pizza" was easily my favorite: there was something magical about that combination of sausage, onions and peppers with a slightly sweet tomato sauce that reminded me of great deluxe pizzas past. The "White Dream" was definitely the perfect pick for my girlfriend, who found its rich ricotta flavor to be her favorite. The "Chicken Parmagianna Pizza" also scored bonus points for accurately recreating a semi-classic Italian dish: if you closed your eyes, you could easily imagine you were eating a forkful of Grandma Corleone's Chicken Parmesan.
Despite the crowded room, our waitress did a fair job of keeping our glasses filled, although by the time we were ready for our third refills, my girlfriend's water glass had remained empty a bit too long and she resorted to filling her own cup with a bottled water reserve from her purse. But our waitress redeemed herself by presenting us with our to-go box of two cannoli, which we'd decided to order and take home with us, as we were too full to eat them until later. The cannoli were among the better tasting in the city, chock full of chocolate chips, creamy ricotta and drizzled chocolate syrup.
With hearty, original signature pizzas and a variety of other Italian favorites on its menu, Noce's Pizzeria is sure to become a Montgomery-area favorite. A clue: after only a month, it already is.
Noce\'s Pizzeria
Price: Cheap (under $11 per person)
Service: Good
Rating: 3.0 out of 4

Cincinnati Bites