Posted Saturday, September 19, 2009
Mirage Mediterranean Restaurant, 11379 Montgomery Rd., is tucked away in a strip mall area known as Harper's Station, across the street from the likes of deSha's American Tavern and Dewey's Pizza.
When we first visited Mirage in 2004, it had a completely different type of ambiance. Back then, the place lacked much decor besides a few plastic plants; patrons ordered their food at the counter; and they retrieved them on Styrofoam plates.
A lot has changed in the ensuing years. The owners have spent a bit of time to give Mirage a more professional feel, a soft, comfortable vibe that stops short of upscale. The eye strain-inducing florescent lights and white walls of 2004 have been replaced with soft lighting and dark brown walls. The tables are draped with deep burgundy cloth; the attentive waitress serves food on actual plates; and, to our surprise, they now accept reservations.
Mirage's website indicates that the menu "boasts Russian, Armenian, Lebanese and Greek influences." It clearly shows. Where else can you order falafel along side a steaming bowl of Borscht?
Our waitress set before us a basket of warm pita bread and our appetizer of Baba Ganoush, a hummus-like concoction made with roasted eggplant, tahini, garlic, lemon juice and drizzled with olive oil. The roasted flavor was superb --I couldn't stop dipping piece after piece of pita into it.
For our entrees we ordered the Chicken Lula kabobs, minced chicken and spices grilled on a skewer; and the chicken and lamb kabob combo. Each entree included two kabobs and a choice of salad or soup, plus a choice of rice pilaf, Russian potatoes or french fries. My girlfriend chose the salad and rice, while I chose the lentil soup and Russian potatoes.
The soup was a delicious blend of spices and lentils in a very flavorful broth. It was in stark contrast to the truly awful, bland version of the soup we'd ordered at Mirage's competitor, Andy's Mediterranean Grill.
The entrees soon arrived in all their glistening, meaty wonder. I was taken aback by the vast amount of food we got for the price, a far cry from the small portions and mighty prices endured at Andy's.
My chicken and lamb were perfectly cooked, juicy and tasty. The Russian potatoes were reminiscent of those once served at a now defunct Russian restaurant in Blue Ash, topped with dill. Two sauces, a tomatoey/salsa-like mixture and a tangy mayonnaise sauce helped to accentuate the flavor of the steaming meat.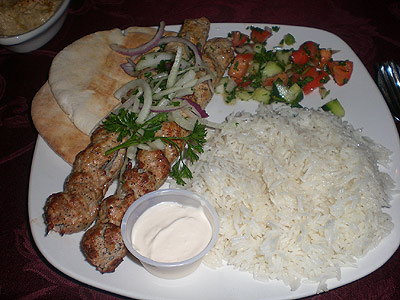 The Chicken Lula was particularly memorable: intense, mouth-watering flavor balanced by the neutral starch of the rice pilaf.
There are several popular Mediterranean restaurants in the Cincinnati area, including Mirage, Cafe Mediterranean, Cafe Istanbul and Andy's Mediterranean Grill. We're of the opinion that Mirage is among Cincinnati's best. It's our clear favorite.
Mirage Mediterranean Restaurant
Price: Moderately Expensive ($11 - $16 per person)
Service: Excellent
Rating: 4.0 out of 4

Cincinnati Bites