Posted Monday, August 31, 2009
There's seemingly not a whole lot going on in the Village of Newtown. It's as though an entire faux town were built around a speed trap. Yet if you look more closely, you'll find plenty of good fare for the common foodie. There are no less than four places to get ice cream; there's a Village Tavern and Pizza place; a popular farmer's market; and a cafe serving traditional American favorites along with Cincinnati mainstays like 5-ways and cheese coneys.
Main Street Cafe has been a Newtown favorite since 1994. The circa-1900 building sits on a corner across the street from the town's UDF and a little shack of an ice cream joint known as the "Dairy Corner," which has been serving cones since 1955. Ample parking is available in the rear.
We entered the restaurant near the bar and was quickly escorted to our seats. There are two main dining areas separated by a single archway and at 5 pm on a Sunday, the place was bustling with regulars.
I was pleased to learn that they served sweet tea, something that's becoming increasingly more common north of the Mason-Dixon line, so I enthusiastically ordered a glass. We quickly perused Main Street Cafe's two-sided, laminated menu, which highlights primarily sandwiches, soups and chili. There were also a variety of pies, cobblers and cakes available.
The burgers seemed to be my best bet, so I ordered the mushroom and swiss, minus any mayo or condiments, save a slice of tomato, pickle, onion and lettuce. It surprised me that none of their sandwiches came with sides --not even chips-- for a price that seemed a bit high. I found it unusual that they'd charge $6.75 just for a burger. Recovering from the sticker shock, I scanned the available sides and chose the mini potato pancakes for an additional $3.25.
My girlfriend chose a grilled buffalo chicken sandwich for $7.25 (again, that price reflects just the sandwich) and a side of sweet potato fries with "Calypso sauce" for another $4.25.
While we briefly grumbled about the prices, we were very pleased with the fast service. The food was delivered to us in less than 10 minutes, and it looked devine. I eagerly dipped a crispy potato pancake medallion into a small side of applesauce, then alternated between the applesauce and ketchup. They were well seasoned, fluffy on the inside and perfectly hot.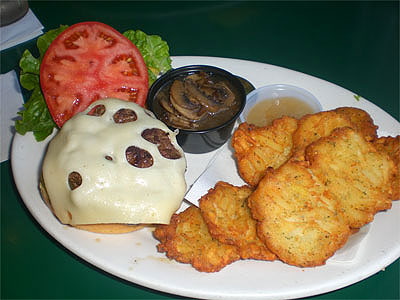 The burger was juicy, cooked through medium well and held its own despite my desire to forgo the mayo, mustard and ketchup. The buffalo chicken was moist with a nice, mellow heat. The sweet potato fries were great by themselves, but the Calypso sauce added a unique sweetness. My girlfriend didn't care for it, saying it was too sweet for the fries, but I enjoyed the unique mixture of coconut, crushed pineapple, cinnamon and other spices.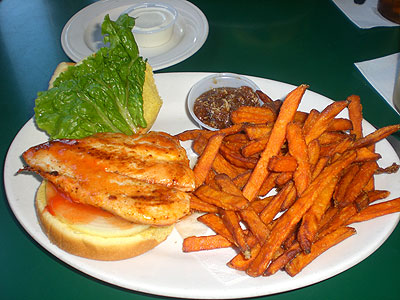 The most notable downside to this particular restaurant outing was enduring some of the loud patrons. We suffered through the boistrous conversation of two nearby families, with one father proudly proclaiming that he'd taught his children to avoid derogatory references to one's penis by instead referring to it as a "unit." Behold, dear father, my unit! Rejoice in all my unit has to offer!
The father then proceeded to loudly work out his decision to order both a 5-way and a burger because he'd felt as though ordering merely one item for himself was "just not enough." "That's it, Bubba! I'm going to do it! I'm going to order both!" he announced triumphantly to the other father. Hallelujah, my carnivorous, cacophonous friend, and Amen.
Main Street Cafe offers good food with excellent service. While we felt our 25-dollar meal should have cost more like 17 dollars, we enjoyed the food and most of the ambiance. Newtown has a hidden gem it can be proud of.
Just be sure to leave your unit at the door.
Main Street Cafe
Price: Cheap (under $11 per person)
Service: Excellent
Rating: 3.0 out of 4

Cincinnati Bites