Posted Sunday, June 20, 2010
UPDATE: Le's has moved to 3 E. Court St. and is now called Le's Pho and Sandwiches.
Very recently I was introduced to a culinary secret most public library regulars have enjoyed for years. I'd read about Banh Mi (I pronounce it "BUN me"), a Vietnamese sandwich being served in a little place inside the Main Library downtown. It's called, Le's Cafe, where in addition to some standard Americanized options, you can also enjoy Asian menu items like potstickers; spring rolls; egg rolls; spicy chicken with rice; Teriyaki chicken with rice; and lo mein, all at insanely cheap prices.
Banh Mi is a unique baguette sandwich that has its origins steeped in both Vietnamese and French culture, thanks to French colonization of Indochina. The sandwiches are typically filled with roast pork, liver pate, cucumbers, carrots, fresh cilantro sprigs, hot peppers and daikon radish shavings. It's an excitingly fresh-tasting sandwich that, at first glance, may look similar to something you'd get at Subway, but is far better.
Alas, my first visit to Le's was a Banh Mi bust. When it was finally my turn in line, I asked Le Ha's husband, Hai Bai, if the Banh Mi was still available, but he shook his head. "We're out of bread," he shrugged, absently glancing over at the empty shelf. I frowned, quickly regrouped, and instead ordered the spicy chicken and rice and a side of potstickers.
No joke: I got the small order of spicy chicken and rice and five potstickers for $4.50. The "small" order was quite generous; I mean, look at this photo! I'd initially thought there was a mistake and he'd served me up the large portion. But no: it was $2.50 for the chicken and rice; $2.00 for five potstickers. Where has this place been all my downtown life?
My ignorance of Le's Cafe simply underscores the severity of my book drought these last several eons. I enjoy a good read, but most of it comes off the web these days. I'm simply not a library regular. Maybe that should change.
A couple days later, my second Banh Mi attempt went much better. Upon request of the sandwich (using the proper pronunciation this time), Hai Bui smiled and was a bit taken aback. "How do you know about Banh Mi?" he asked the curious Caucasian before him. I explained that I'd read a story about it online. He nodded in recognition, telling me they'd only recently started offering them again for the first time in three years. He asked if I'd like a 6-inch Banh Mi for $3 or a footlong Banh Mi for five!...FIVE!...FIVE DOLLAR FOOTLooooooongs! (Sorry, that Subway jingle left a bad taste in my mouth). So, yeah, I chose the footlong.
His wife, Le Ha, smiled and proceeded to upsell me on other offerings. "I just made these fresh spring rolls today! And it comes with our homemade peanut dipping sauce. Only $3.50!" I stared at the rolls behind the glass counter, bundled and paired snugly together on small paper plates. They were wrapped in semi-transparent rice paper, each roll allowing the three plump, bright orange shrimp to peek through. How could I say no?
Several minutes and $8.50 later, I carried away what would become both my lunch and dinner that day. It was a lot of food.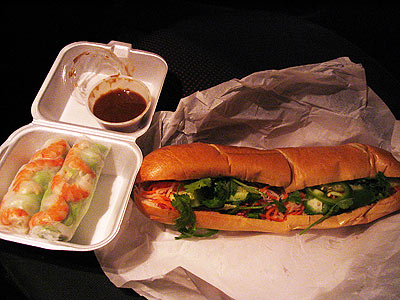 Banh Mi sandwiches have a rather ineffable quality about them: the fresh taste of cilantro combined with the savory roast pork, the slight iron bite of the pate and the heat of the fresh jalapenos is a taste experience like no other. I'm not sure if they make their own bread, but it tasted very fresh, light and airy, with a slightly chewy crust.
The spring rolls were characteristically large, chock full of shrimp, rice vermicelli, carrots, and cilantro. The shrimp tasted fresh and the peanut dipping sauce lent a surprising bit of pleasant heat to the back of my throat.
In subsequent visits, I've had more Americanized fare at Le's Cafe, including the fried fish sandwich. It was tasty, and for $2.50, it's hard to beat. In fact, most of the items on the menu seem to have been designed for the price-conscious. You'll get an excellent deal here.
Le\'s Cafe
Price: Cheap (under $11 per person)
Service: Good
Rating: 3.0 out of 4

Cincinnati Bites