Posted Sunday, May 22, 2016
The Carolinas are home to many unique culinary rules and traditions. First, there's no "pop" down there, fellow Yanks. Only soda. In South Carolina, liquor stores are identified by at least one prominent red dot on the front of the building and often serve up boiled peanuts sold in small paper bags. Waffle Houses and Huddle Houses abound. Frogmore Stew is neither a stew nor does it contain frogs. And She-crab soup, a bisque-like concoction of heavy cream, Atlantic blue crab and fish stock, can be found in many restaurants showcasing the region.
Ladles, a new soup and sandwich shop located in front of the giant Oakley Kroger Marketplace near Crossroads Church and Cinemark, is such a restaurant. Founded in Charleston, South Carolina, the small regional chain operates all its franchises in the Carolinas, except for the one peculiar standout in Oakley. This gives Northerners a rare opportunity to try a bowl of the restaurant's signature dish: She-crab soup.
Ladles offers ten soups, including a "soup of the day." There are a dozen sandwich varieties as well as several salad and burger options.
As someone who spent most of his summers in Beaufort, South Carolina, I had low expectations. But damn if I wasn't pleasantly surprised.
On our first visit, my girlfriend and I stepped up to the counter and placed our order after absorbing the menu. She chose a cup of the watermelon gazpacho soup of the day and half a Ladles Club sandwich ($8). I chose a combo that included a sizeable bowl of She-crab soup, half a Turkey Bacon Griller sandwich and a small roll infused with rosemary ($9.70). Sourdough, pumpernickel, honey wheat and other roll varieties are also available.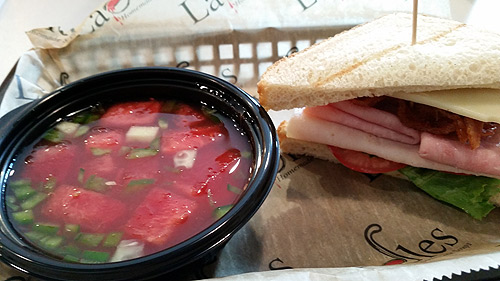 Half a Ladles club with cup of watermelon gazpacho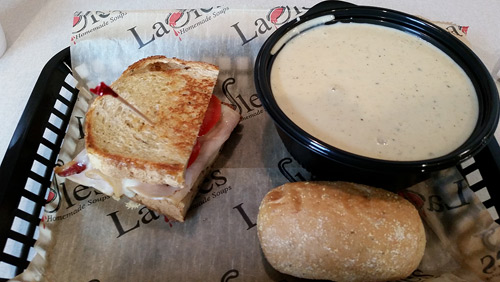 Half a Turkey Bacon Griller, a bowl of She-crab soup and roll
My half sandwich was served on grilled rye bread with turkey, bacon, Swiss, tomato and mayo. The Southern-style She-crab soup, made from real lump crab meat, was equal parts spicy and hearty and creamy and delicious. The sandwich was toasty and satisfying, and the rosemary roll made a great dipping vehicle for the She-crab soup.
My girlfriend particularly enjoyed her gazpacho, a traditionally cold dish that was light and refreshing, with a spicy finish. With summer fast on the horizon, cold soups like this one will prove essential to their business.
Prices are reasonable and portions are fair, particularly the large bowls of soup. Ladles also offers those dining in an "endless bowl of soup" option for $8.95 and a soup sampler consisting of three soups and a roll for $7.95.
Ladles quickly turned two skeptical patrons into fans.
Ladles
Price: Cheap (under $11 per person)
Service: Good
Rating: 3.0 out of 4

Cincinnati Bites