Posted Sunday, November 8, 2009
Note: the following review is for a restaurant that has since closed.
Kar-Ma Asian Bistro is located at Anderson Towne Center in Beechmont, which is also home to a variety of other eateries, both generic (Carrabba's) and locally-owned (Cafe Mediterranean).
We'd first visited Kar-Ma nearly a year ago; that visit was admittedly our fall-back option on a night in which we'd planned on Italian but couldn't get a table. Kar-Ma was a pleasant surprise, making us quickly forget about the pasta that never was.
The restaurant is a small nook of a place, its large windows, high ceilings and minimalistic decor belying it's size. The walls are soft gray with burgundy accents and black lacquered tables. Music that I would describe as an Asian Lite Mix filled the L-shaped room.
The host offered us a table right by the entrance. Immediately my girlfriend asked if we could have another table that wasn't so close to the door (she was cold). She thinks he flashed her a dirty look as he lead us instead to the very last table in the back of the room.
After a few moments chuckling about the host's reaction, we realized he was also serving as our waiter when he returned with menus and water. That may have been why he was annoyed; he'd planned to assign us to the other waitress' section but, thanks to my girlfriend, was foiled. The waiter, seemingly armed with newfound cheeriness, revealed to us that we'd be served free Tom Yum soup in celebration of Kar-Ma's first anniversary in business.
Giddy at the prospect of free food, we perused the menu. I was pleased to see that a particular item was still there. What I'd enjoyed ordering the most during our first visit was the "golden bags" appetizer. "Hello, may I fluff your Golden Bags? Your Golden Bags feel so soft and light in my mouth." The name evokes so many juvenile thoughts that I couldn't help but giggle periodically as we'd eaten them.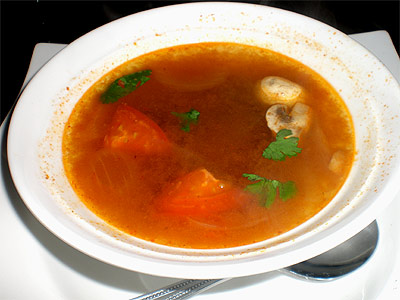 Steaming bowls soon arrived at our table. The free Tom Yum soup was an unexpected treat and saved us some money, as I had fully intended to order a couple summer rolls. Fearing we'd be too full for our entrees, we decided to stick with the soup. It included a small amount of tomatoes, mushrooms, onions and slices of galangal, a very tough, hard, citrusy plant that, when sliced thinly, resembles that of a potato. But the star was clearly the broth, which had a pleasingly sweet, sour and mildly spicy flavor with a hint of fish.
Going for a double-soup-whammy, my girlfriend ordered the Pho Noodle Soup, a popular Asian dish served in a large bowl of broth packed with long, thin rice noodles and beef. She was also presented with a small plate of sliced jalapeno peppers, bean sprouts, basil leaves and hot bean paste that she could add to the soup in increments she saw fit.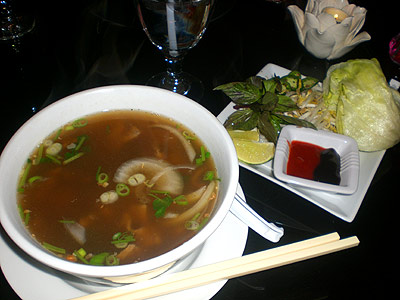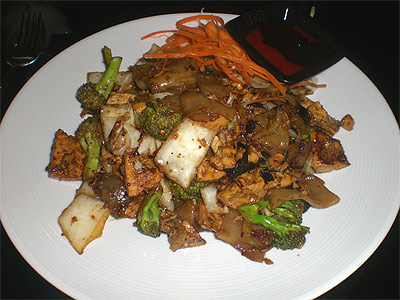 I ordered the Pad Kee Mao (aka Drunken Noodles) with steamed tofu, a popular Thai dish mixed with broccoli, thick rice noodles, cabbage, eggs and a dark, smoky sauce. The name seemed to have been purposely misspelled on the menu to emphasize the pronunciation, a la Chef Boyardee. I chose a level three spice level on their 1-3 scale, which added a pleasant, lip-tingling kick.
The waiter was accommodating when we asked for leftover boxes and even announced that he would separate my girlfriend's soup into two containers: one for the noodles and veggies, the other for the broth so that the "noodles wouldn't get soggy." I thought it was a little unusual, but my girlfriend regarded it as a thoughtful gesture. However, we both agreed there was something slightly "off" about our server. We couldn't quite put our finger on what it was, but given we're a bit "off" at times, it was easy for us to recognize.
The dinner cost $23.43, so I was surprised and confused when the waiter returned with $18.57 in change after I'd given him two twenties. Perhaps the waiter had been a bit distracted --he had, after all, taken quite a while to return my change. I left a $4.57 tip and returned the extra $2. Perhaps I'll enjoy good Karma (ho ho!) for having done so.
Kar-Ma Asian Bistro serves up tasty Thai and Loatian dishes at fair prices. All change-confusion aside, we hope the restaurant enjoys many more anniversaries in business.
Kar-Ma Asian Bistro
Price: Moderately Expensive ($11 - $16 per person)
Service: Good
Rating: 3.0 out of 4

Cincinnati Bites