Posted Tuesday, January 30, 2018
There are some restaurants that become so much a part of your life, so naturally folded into your day-to-day existence that it proves difficult to pay much attention to them except when you're there, in the moment, chowing down on all they have to offer. Italianette Pizza, located in Silverton, is such a place.
This unassuming neighborhood pizza parlor has apparently been around since the late 1950s, when it was originally called, "Silverton Pizza" and resided in a smaller building on Montgomery Road. They've been in their "newer" Plainfield Road location since 1962. They've since opened a second location in North College Hill, near Swad Indian.
We've frequented Italianette for more than a decade, and in that span, I've probably only had their pizza a couple of times. Indeed, their style of pizza is simply not to my liking. It sports a thick crust and is usually topped with heaping mounds of melted cheese. I grew up near Dayton, so when I think of pizza, I think thin crust, cut into squares, a la Cassano's or Marion's.
No. For me, the magic at Italianette is in the hoagie. All hail their hoagies, praise the sandwich god, blessed be thy name, amen. An entire menu page is devoted to them, with 20 hoagie varieties listed. Roast beef, steak, Italian sausage, pork rib, fish, meatball, veggie --there's a hoagie for nearly every taste.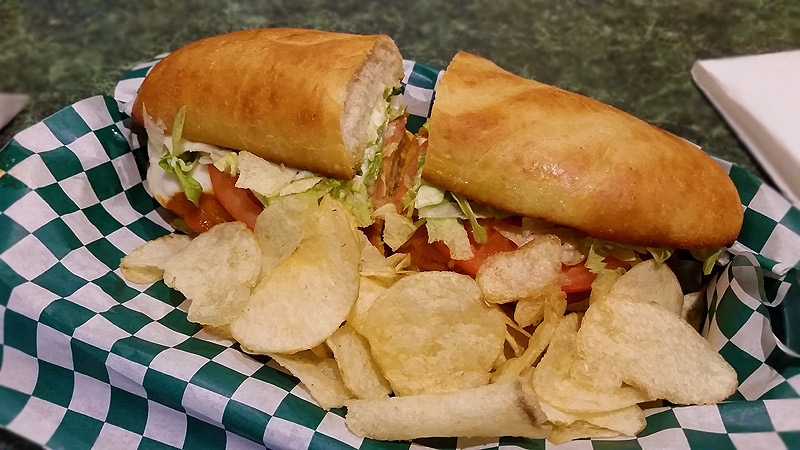 Buffalo Chicken Hoagie
Italianette's menu is otherwise focused on pizza, salads, a few pasta dinners like lasagna and spaghetti, chicken wings and their wonderful baked wedge fries.
But my girlfriend and I hit up Italianette for one reason and one reason alone: they make a mean Buffalo Chicken hoagie ($5.99 for a small, $6.99 for a large). This sandwich is simple, but perfect in every way: it's got a satisfying, piping hot breaded chicken patty smothered in a mildly spicy buffalo sauce, topped with melted mozzarella cheese, mayo, lettuce and tomato, all on a toasted, buttery hoagie bun and served with potato chips. It's cheap, it's unpretentious, it's satisfying.
My girlfriend is also dazzled by their ridiculously simple, but incredibly delicious tossed side salad ($4.95), which contains only fresh iceburg lettuce, mounds of mozzarella cheese, generous pieces of crumbled, crisp bacon and slices of tomato.
Italianette Pizza hasn't changed at all in the years we've stepped through their doors. Aside from the TVs and a recent paint job to hide an old mural in the back, it still looks and feels like a comfortable hole-in-the-wall from the 80s.
And we want it to stay that way.
Italianette Pizza
Price: Cheap (under $11 per person)
Service: Good
Rating: 3.5 out of 4
Cincinnati Bites