Posted Monday, February 1, 2010
Gordo's Pub & Grill is located in Norwood at 4328 Montgomery Road. If you've never been there before and manage to find the place at night without GPS or a Google Maps print-out, you get the "Gold Star." The dimly lit sign seemed made to ward off strangers, letting the regulars greedily keep the place for themselves.
Next to the bar is a medium-sized parking lot able to accommodate about 20 vehicles. It was full save for one parking space when we arrived. How fortuitous was that! We stepped out into the darkness, letting the dim, red glow of neon cascade onto our faces as I sneaked a peek in the small portal of a window. The place was packed.
When we entered, it was loud and bustling and near capacity. Every seat along the long, highly-lacquered bar was filled. Small tables with patrons lined one wall perpendicular to the bar. In the back, the room offered larger tables and more seating, most of which was filled, save one table that a waitress had just cleaned off. Fortune had once again favored the foolish, as we immediately snagged it for ourselves.
The patrons were of a diverse mix of ages who, unlike the waitresses, were mostly over 25. The close quarters of the tables meant multiple neighboring conversations echoed within earshot. The decibel level itself was not unlike that of an old town hall meeting shortly before the gavel is slammed for order.
Despite the crowd, the waitress was quick to hand us our menus and serve our water glasses. Burgers, sandwiches and appetizers dominated the menu, with a few more expensive entrees available in the $14 range.
My girlfriend ordered the portabella mushroom sandwich, a marinated portabella with roasted vegetables and what Gordo's refers to as a "mushroom dust aioli." She "upgraded" her side from the standard steak fries to a slice of polenta.
I chose the bar's namesake, Gordo's Burger, cooked to order and topped with roasted poblano peppers, onions, mushrooms, bacon and a dollop of Boursin cheese.
There were several interesting appetizer choices on the menu, including smoked salmon, barbecue pork wantons and the Nanay Egg Roll, described as a "family recipe." We picked the "Baked Mix Mushrooms," made up (allegedly) of several kinds of mushrooms, herbs and cheese served with small, thin slices of baguette bread.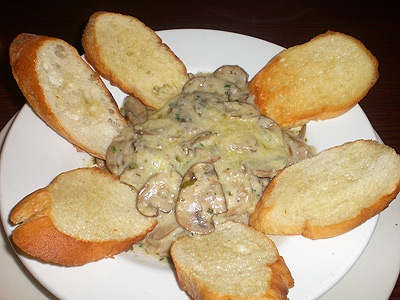 The appetizer arrived fairly promptly and we eagerly delved into the gooey, cheesy concoction. It smelled and tasted heavily of garlic, and my girlfriend was quick to liken it to a thick mushroom soup with melted cheese on top. I thought it was more complex in flavors than that, though I was most disappointed in the bread. Two of my pieces were soft and tasted a little stale, while the third piece was crispy and seemed fine. The chef's heavy hand with the garlic left our breath reeling for hours afterward, even after brushing.
Our dinners arrived somewhat later; more people had packed into the bar as the night wore on and I got the sense that the servers were working hard to keep pace.
I've seen professional photos of the Gordo Burger highlighed in Cincinnati Magazine and on the bar's own website, each depicting a towering burger chock full of toppings. My burger didn't quite match the ones presented for the photo ops. There were two slices of bacon, which was fine, but only a comparatively tiny amount of poblano pepper, mushrooms and cheese. Still, the burger was cooked medium-well as requested, and there was nothing particularly wrong with it or the steak fries. If I had to rate the restaurant on my burger dish alone, Gordo's would easily earn three stars.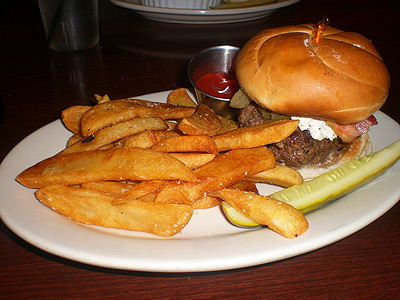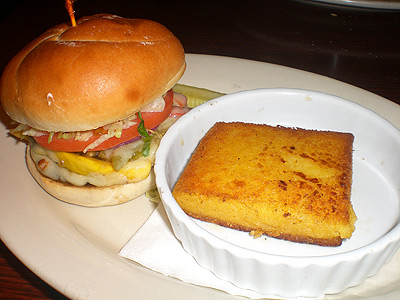 My girlfriend's dinner didn't fare as well. She described her slab of polenta as tasting like "old grill" but otherwise devoid of flavor. She took only a few bites of it before giving up; this comes from a woman who loves polenta. She thought her sandwich seemed "chintzy," with a very small portabella, hardly worth the $8.00 price tag. There was something unpleasantly tangy about the sandwich that overpowered the mushroom flavor.
Despite my burger not exactly matching those pictured in the ads and magazines, it still seemed like a lot of food, so much so that I took the last quarter of it and a few fries home with me. While Gordo's didn't exactly knock our socks off, everything we ate photographed very well. That's saying something, right?
Gordo's Pub & Grill serves fairly decent food and above average burgers, but some of the sandwiches, sides and appetizers are likely to be hit-or-miss. If you enjoy the busy bar atmosphere, pub food and a geographical challenge, Gordo's is worth a try.
Gordo\'s Pub & Grill
Price: Moderately Expensive ($11 - $16 per person)
Service: Good
Rating: 2.5 out of 4

Cincinnati Bites