Posted Sunday, July 12, 2009
Note: the following review is for a restaurant that has since closed.
Gilpin's Bagel and Deli is a new eatery on E. 7th St. in downtown Cincinnati. It's nestled between Lucy Blue Pizza and The Lodge Bar.
Steamed bagel sandwiches are the norm at Gilpin's, where the owners hope you'll embrace the phrase, "Making it HOT & Steamy," and dump the traditional crunchy, chewy bagel.
There's a special place in my heart for steamed sandwiches. One of my childhood favorites, Mike & Rosy's Deli in Springfield, quickly put itself on the Dayton-area map with its steaming technique. The folks at Gilpin's just might be on to something.
Owner Brad Gilpin and his employees are all slightly post-college age which, not unlike Mike & Rosy's, helps lend the place its college campus vibe. The guys and gals working there sport bright orange Gilpin's T-shirts (available for sale) and chat at one another with exchanges like:
"Is (so-and-so) 21 yet?"
"Well, dude, he's actually more like 26."
"Wow, he doesn't look that old!"
Of course, this kind of conversation makes patrons in their mid-to-late thirties really start to feel their age. But, hey, we're not here to talk about fledgling midlife crises.
The restaurant can accommodate about five people seated in stools along an L-shaped counter near the window. Additional tables are sometimes made available outside, along the sidewalk. There is a stairway leading to a loft above but, as of this writing, it appears to be used for storage. It would make a great dining area if they ever decide to finish it.
There are a number of signature bagel sandwiches available on the menu for breakfast, lunch and dessert. There's the "Promiscuous," a bagel with veggie cream cheese, colby and provolone cheeses, cucumbers, bean sprouts and tomatoes with a dash of mustard; the "Morning Breath," a bagel with scrambled eggs, ham, provolone cheese, onions and green peppers; and the "Banana Loco," peanut butter and banana on a banana nut bagel.
Patrons are also encouraged to build their own sandwiches with the help of laminated menu cards and markers. They can then circle the components of their bagel, wrap or sub sandwich in seven easy steps. Just select a bagel/wrap/bread type; one meat or protein; a cheese; one spread; vegetable toppings; and any condiments; and whether or not the bread should be steamed or served cold.
You can even "brand" your own signature sandwich, which gets posted on the "Marketing Board." The bulletin board displays a number of custom bagel sandwiches created by patrons and businesses. My personal favorite is the "Little Italy," a sun-dried tomato bagel with pizza sauce, provolone cheese, salami, pepperoni, ham, onion and banana peppers.
The steaming aspect of the bagels has been a bit controversial with some of my friends. A couple have shown a general distate for a steamed bagel, because their perception is that it makes the bread soggy. I happen to disagree. While they're certainly not the crunchy, toasted bagels most people are used to, steamed bagels still hold up very well after the steaming process and maintain a little bit of their original chewiness.
The bagels are served tightly wrapped in aluminum foil and very hot to the touch. Depending on the sandwich, they can be messy, but the steam press contributes to a special melding of flavors one just doesn't get through conventional toasting processes.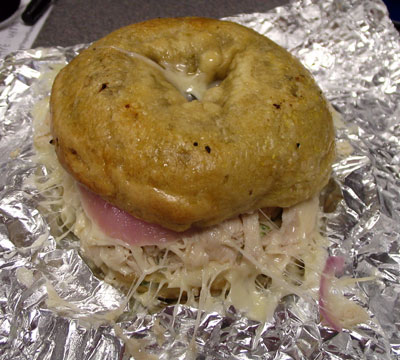 Bagel sandwiches range in price from $3.50 to $5.75, while wraps and subs can put you back $6 to $7. But these sandwiches are typically more substantial and filling than other similarly priced sandwiches.
Gilpin's hasn't re-invented the wheel, but they offer a tasty alternative to the more traditional bagel sandwiches served downtown. We hope they stick around for years to come, even when the owner eventually turns 30.
Gilpin\'s Bagel and Deli
Price: Cheap (under $11 per person)
Service: Fair
Rating: 3.0 out of 4

Cincinnati Bites