Posted Monday, August 15, 2016
If you've got los cojones más grandes to open another taqueria in Cincinnati, then you had better plan a unique angle. Thankfully, the owners of Otto's in Mainstrasse boast a prominent pair (with eyebrows to spare).
Opened in 2015, their newest restaurant, Frida 602, resides on a coveted corner in the Mainstrasse Village. It's named for Mexican painter Frida Kahlo, the famous unibrow artist who put the "selfie" in self-branding more than a half century before social media-flecked narcissism was in vogue.
Like its namesake, Frida 602 sports bright bursts of color throughout its several interconnecting dining rooms --the place holds more seating than it appears from the outside. There are, of course, Frida paintings, as well as Day of the Dead paraphernalia, Our Lady of Guadalupe candles and mismatched salt and pepper shakers for a discordant yet upbeat vibe.
The abbreviated menu features a variety of inventive street tacos, empanadas, Cuban and Oaxacan-style sandwiches, pazole, fresh guacamole and three kinds of salsa. Key lime pie, tres leches cake and a chocolate torte dessert round out the menu.
Featured drinks are all about strong margaritas and mezcal, the agave-derived spirit made popular in the States by such famous gringos as Sammy Hagar and country singer Toby Keith.
Chips and Guacamole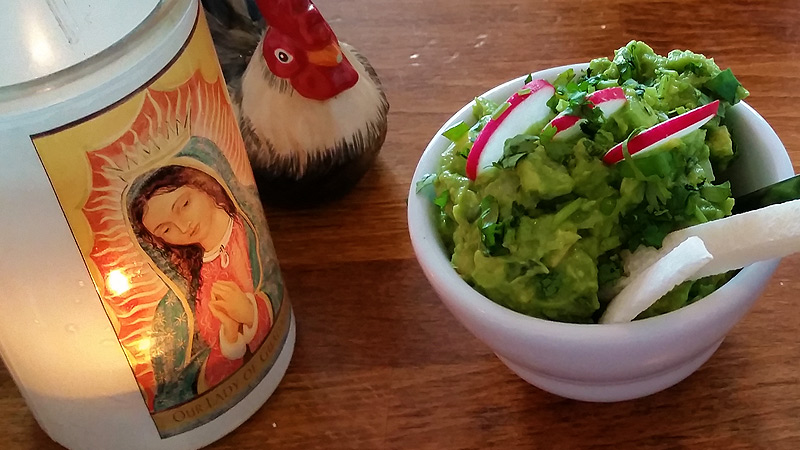 Our Lady of Guadalupe...and Guacamole
We started off with some chips and guacamole ($7). The tortilla chips came served in a large bucket, many more chips than we could have ever used with the modestly sized cup of guac. The piping-hot chips were pleasantly salty and unusually sturdy, with a thickness that reminded me a lot of chips served at Habanero in Clifton. The guacamole offered a bright lime finish with fresh cilantro and peppery radish as garnish.
My girlfriend and I each ordered two tacos ($4 to $5 each). She chose the vegetarian-friendly Brussels sprout taco topped with a smoked peanut salsa and chopped peanuts, as well as the "gobernador," a seared chile shrimp taco with crumbled bacon, shaved lettuce, "blistered" tomato and aioli.
We both enjoyed their unique flavors, but lamented that the Brussels sprouts were served whole, which had a tendency to roll out of the taco every time we attempted to take a bite. Cutting them in half before serving would quickly solve that issue. The shrimp's acidic chili edginess nicely balanced the aioli.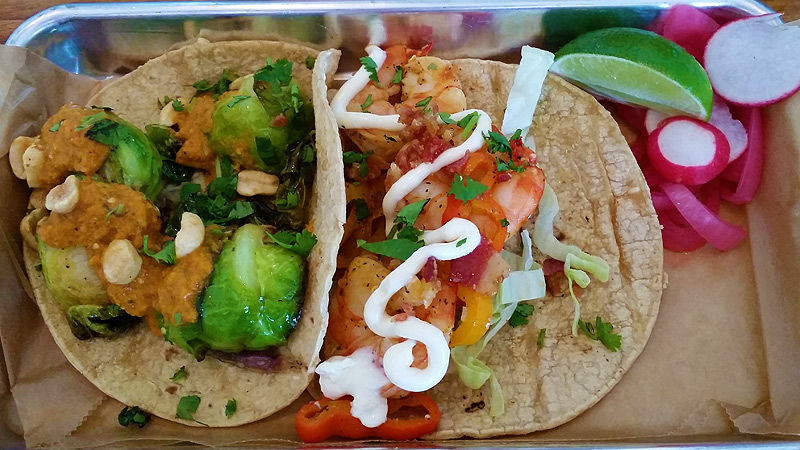 Brussels sprouts taco and Gobernador taco
I chose the grilled fish taco with pineapple slaw and aioli (can also come tempura-fried), as well as the masa-battered fried chicken taco topped with honey poblano slaw and a mango salsa. The chicken was easily the superior of the two, with a sweet-and-savory poblano slaw that married surprisingly well with the crispy fried chicken.
Our chief complaint with the tacos was that they were each served with only a single corn tortilla, making them break apart fairly easily once the toppings had soaked through. Most taquerias in town routinely double-up their tortillas for maximum sturdiness.
We arrived hungry at Frida 602 and, thankfully, the restaurant didn't leave us hanging. The food was satisfying and offered just enough inventive twists on the common street taco.
Frida 602
Price: Moderately Expensive ($11 - $16 per person)
Service: Good
Rating: 3.0 out of 4

Cincinnati Bites