Posted Saturday, June 10, 2017
A strange phenomenon most of us experience manifests shortly after we learn a new word or phrase: we soon thereafter see that word everywhere: on TV, in books, on the web --it's as though it'd been planted in our everyday routine to reinforce what we'd never before heard or seen.
Jianbing, the name for a popular crepe-like Chinese street food, was our latest new word.
Fortune Noodle House, located in Clifton on the corner of Calhoun and Clifton, served as the vehicle for our word reinforcement. The restaurant opened early last year in the space formerly known as Papa Dino's, Curries and Raj India.
Fortune specializes in La Mian, a Chinese noodle prepared by a chef who dramatically stretches, folds and pulls dough into strands of noodly goodness. According to the menu, La Mian is a five-century-old technique dating back to the Song Dynasty.
We stopped in one weekend afternoon to witness this technique for ourselves. Seated diners can gaze through a prominent window into the kitchen, watching the chief noodle maker on display, setting a notably authentic ambiance. You're in good hands here, and they're pulling the hell out of your noodles.
Fortune's menu offers three primary varieties of pulled noodle dishes: as a soup, pan fried or mixed with sauce. There are also stir fry bowls mixed with a minimum of five veggies, meats or seafood, as well as a host of both authentic and Americanized items most of us Gweilos are familiar with, like fried rice, rice bowls and General Tso's Chicken.
My girlfriend and I both chose from the pulled noodle soup selection. She chose the sliced beef noodle ($9.49) while I opted for the veggie noodle soup ($7.99).
On the chalkboard near the kitchen entrance was a small list of daily specials. One of these was a Chinese crepe-like concoction with egg, crunchy fried wonton, sauce and beef that I would not have known much about had we not recently learned the word, "jianbing." We eagerly ordered one to share ($6.95).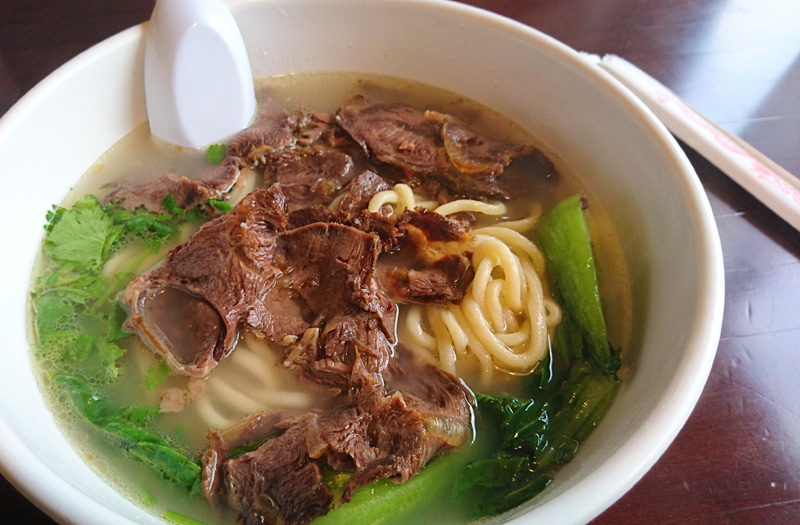 Sliced beef noodle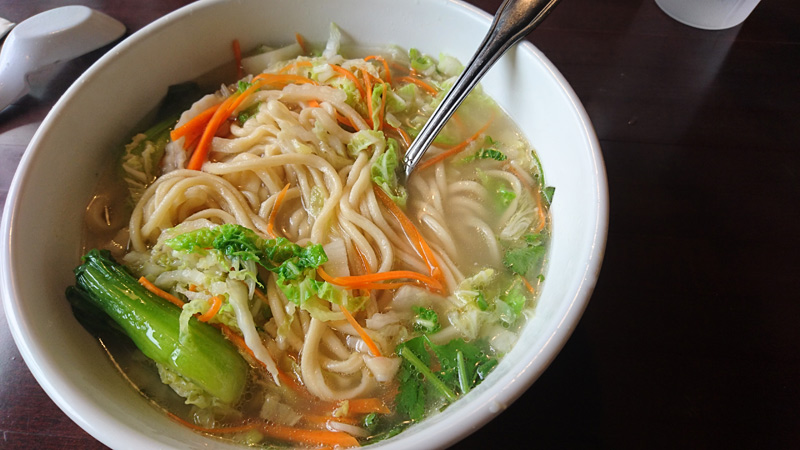 Veggie noodle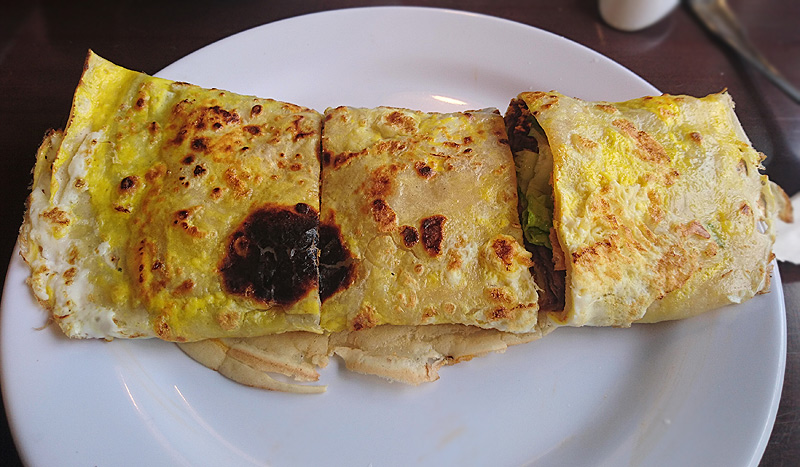 Beef jianbing (crepe)
The bowls arrived quickly and the fresh noodles were indeed impressive. Large hunks of beef and bok choy rested on a heaping mound of them, partially submerged in a very rich, silken broth. My veggie soup featured bok choy, cabbage, carrots and the coveted noodles in an equally full-bodied, hearty chicken broth.
The jianbing came neatly folded and cut into three pieces. This was a very spicy variant; the bean paste sauce was a fine match for the shredded beef and eggy wrapping, and there was a wonderful, satisfying textural crunchiness thanks to the prodigious square of fried wonton. We could have devoured two of these.
Fortune Noodle House offers great, hand-made noodles with a visually engaging kitchen sideshow and daily specials I hope will eventually find their way onto their regular menu.
Fortune Noodle House
Price: Moderately Expensive ($11 - $16 per person)
Service: Good
Rating: 3.0 out of 4

Cincinnati Bites