Posted Tuesday, April 3, 2018
There are some places you know will be special as soon as you step through the door. The vibe is just a tad different: a little friendlier and maybe a wee bit eccentric. The patrons are mostly regulars who are "in the know," jealously holding onto a secret that seemingly remains hidden to the oblivious passersby.
Sorry, Fond, but your cover's blown.
Fond: Lunch & Deli is tucked away in the far corner of a strip mall behind the McDonald's off Montgomery Road, near Eddie Merlot's and I-275. It is owned by Ethan Snider, who had started his career developing and peddling artisanal hummus at a variety of area farmers' markets. While developing his first business, Summuh, Snider was able to build a rapport with the local farmer community, incorporating their fresh produce into his products. He continues that relationship with Fond, as his menu strongly emphasizes fresh, organic, locally-sourced ingredients that entice vegetarians, omnivores and vegans alike.
Fond's interior is quite small --there are a few tables inside and a couple on the patio. The restaurant enjoys a healthy, steady stream of takeout orders. The menu is almost entirely made up of sandwiches, with the exception of a couple taco, pita and salad entrees. A few of their offerings can be ordered as a soup, salad and drink combo and there is usually a sandwich or "burger of the month" special. Sandwiches come standard with ridged, kettle-style chips.
We stopped by one recent afternoon after stumbling upon Fond's menu in Google's "restaurants near me" search. A woman greeted us behind a counter and, seeing that we were newbies, explained the ordering process by pointing to a series of chalkboards behind her. She asked for our names, which she promptly jotted onto a folded paper sack along with our orders before we secured one of the remaining tables.
My initial thought was to adventurously order from "The Guts" section of the menu, which includes two sandwiches stuffed with beef tongue, lamb goetta or pork jowl. But I chickened out (literally) and ordered the "Ya Mon!," a house-made pita filled with smoked jerk chicken, melted Havarti cheese and a coconut-apple slaw ($13). I also chose a small side of potato salad ($4). My girlfriend selected the "Spring Roller," with warmed chickpeas, local veggies, feta cheese, pickled red onions folded into a house-made pesto and stuffed into a flat-sided hot dog roll. ($12). It's the same kind of bread made famous in Boston's lobster rolls.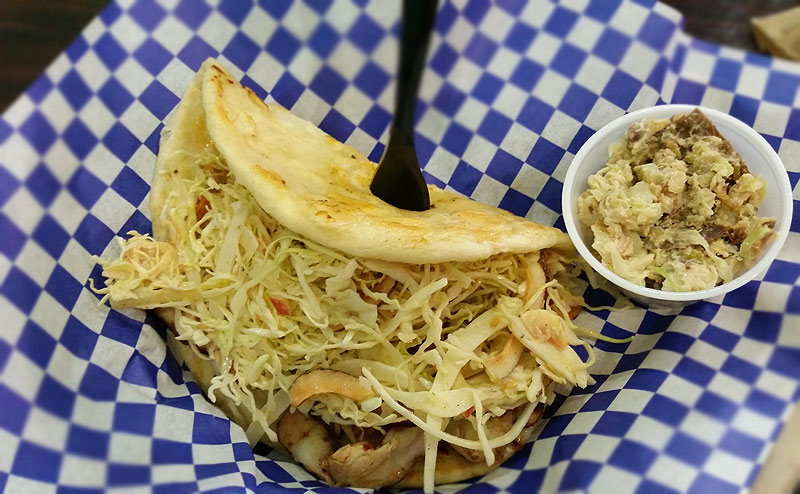 The "Ya Mon!" pita w/potato salad
Despite a growing line of hungry lunch-goers crowding into the space, our food arrived in only a few minutes. My pita bread was piping hot and pleasingly toasty, bursting with a refreshing slaw and hunks of tender, spiced chicken. I couldn't pick up the coconut flavor in my slaw, but its vinegary bite paired well with the smoky jerk seasoning. The potato salad was quite unlike anything I'd ever tasted: it was not a German variety, nor a mustardy variety, nor even a standard mayonaissey type. It was chock full of meaty and savory elements that were both pleasing and a tad overpowering, all but masking the potatoes themselves. Yet I couldn't stop eating it.
My girlfriend's sandwich featured an extraordinarily satisfying, buttery and toasty roll, with a slight sweetness that helped to, in some small way, pacify the bold, salty flavors of the pesto. Fresh veggies included shredded romaine, carrots, pickled red onions, chickpeas and a sliced, crunchy root vegetable that may have been daikon radish. The chips were crunchy, salty and delicious.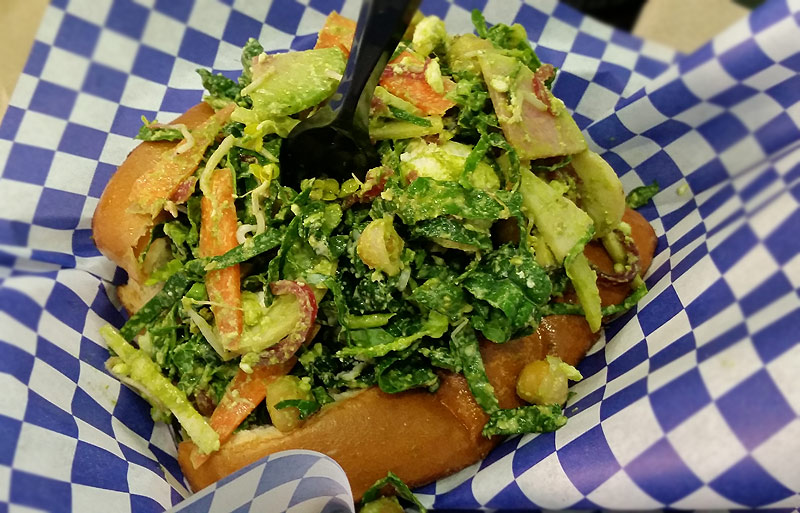 The "Spring Roller" sandwich
Both sandwiches boasted incredibly assertive flavors, so powerful were they that we longed for something mild to calm our hyperactive taste buds. Alas, we found no relief. Still, the sandwiches were impressive. And with organic, locally-sourced ingredients comes a higher price point than one might expect to pay for lunch: our two sandwiches, with one side and a drink cost more than $30.
Fond: Lunch & Deli is a local diamond in the rough, showcasing well-prepared, farm-to-table ingredients that will electrify the palette and linger on the tongue for hours to come.
Fond Lunch & Deli
Price: Moderately Expensive ($11 - $16 per person)
Service: Good
Rating: 3.0 out of 4

Cincinnati Bites