Posted Monday, December 31, 2012
As 2012 comes to a close and doomsday preppers mope about in their makeshift shelters, discouraged that misinterpreted Mayan prophecies failed to reduce the Earth to Alderaan-sized chunks of rock, we reflect upon our favorite new restaurant visits of the year, confident we'll be alive to savor further (in)digestion well into 2013.
Here are five of our most treasured new dining experiences of 2012:
Burnell's
915 Vine St.
Cincinnati, OH 45202

Easily our most memorable dinner this year unfolded in a tiny, unassuming restaurant on Vine St. called, Burnell's, the former address of Mayberry. A few months ago, Burnell's owner pleaded with fans to help him save his fledgling dream, as the financials had showed he was on borrowed time. The response was overwhelming and Chef Nathan Jolley now enjoys Cincinnati Magazine's "Best of the City" award honor. But still I fear for the future of this lovely little restaurant. If it eventually goes the way of the Dodo, Burnell's will surely live on in our hearts.
I don't usually like small-plates menus because, all too often, prices are high and portions are comparatively tiny. But Burnell's quality ingredients are obviously commensurate with its price points --you won't leave feeling you were cheated. For two people, order at least three small plates and a side dish or two for maximum satiation.
The menu changes frequently, but over several lunch and dinner visits, we've enjoyed everything from the garlic-tastic Challah Toast Points, with its fresh, baby arugula salad and meaty, roasted wild mushrooms, to the several different varieties of homemade grits, some infused with bacon fat or sriracha sauce, to the Churrasco Flatbread of beautifully braised, Brazilian beef with pickled onions, tomatoes and chimichurri. Top everything off with a delicious dessert of Chef Jolley's warm, homemade cookies.
If you'd like to experience truly stellar cuisine made by a young man full of passion for his craft, visit Burnell's now...before it's gone forever.
UPDATE: You're too late. Burnell's closed. :(
Silver Ladle
580 Walnut Street
Cincinnati, OH 45202

I was admittedly dubious that the area needed yet another Cincinnati chili parlor, but as a frequently lunching downtowner, I'm thankful for Silver Ladle's arrival. It's not the cheapest of downtown lunches (I typically pay an average of $8.50 with a drink), yet I find myself repeatedly returning for their generous plate of chicken chili served over a rib-sticking, glutenous mound of al dente spaghetti.
If the flavors seem familiar, it's because the owner's DNA matches those who'd founded the Skyline Chili chain. Owner Tim Lambrinides expands upon his father's West Side restaurant, Nick & Tom's, taking a family chili recipe and using it as the cornerstone for Silver Ladle, which also specializes in signature, homemade soups and sandwiches. I'm particularly addicted to both their meaty Italian Wedding and spicy Buffalo Chicken Wing soups, whose bowls I often liberally fill with fresh oyster crackers, available in plastic carafes on every table.
Moerlein Lager House
115 Joe Nuxhall Way
Cincinnati, OH 45202

The sweeping river views afforded at this new microbrewery and eatery are worth the price of admission alone. The angled, glass design of Moerlein Lager House lends it an almost nautical feel, as though the entire building were the pilothouse of a massive ship aching to tear from its moorings and steam into the Ohio River.
The premier venue for selling Christian Moerlein beer and touting the history behind one of Cincinnati's most treasured brewers, Moerlein Lager House complements its long-armed line of craft beer with an equally diverse and ample menu of mostly meaty, often German-inspired delights.
Favorites include the Hops Smoked Pork Belly, with marinated mushrooms and demi-glace over spaetzle and served with a side of creamy Brussels sprouts. The fattiness of the pork belly was melt-in-your mouth wonderful and the spaetzle was the perfect vehicle for sopping up the rich, brown demi-glace.
I also enjoyed the Smoked Stack BBQ, a wondrously messy sandwich of pulled pork topped with smoked sausage, chipotle BBQ sauce and fried onions on a meat-soaked Brioche bun. The accompanying side of sweet potato chips are thin, salty and addictive.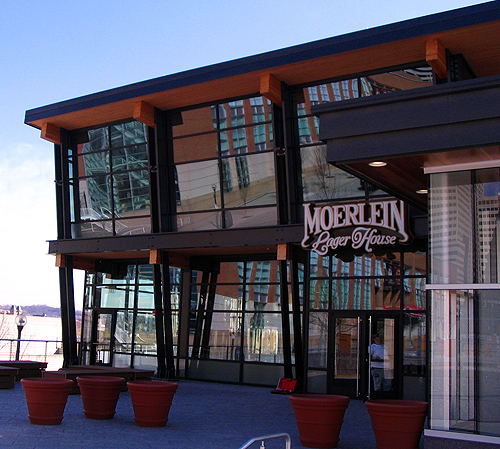 Ali Baba Mediterranean Grill
4793 Red Bank Rd.
Cincinnati, OH 45227

Some of the best places we'd discovered exploring Istanbul, Turkey were little hole-in-the-walls and street vendors doling out simple, inexpensive fare, like the wonderful "low-brow," pizza-like dish called, "lahmajun," or the fresh fish sandwiches sold near the Galata Bridge, called, "Balik Ekmek."
Ali Baba offers the same down-to-earth feel and wholesome, delicious, authentic Mediterranean cuisine we'd explored overseas. It's appropriately simplistic, divey, yet clean, offering ample portions of some of the best falafel, gyro and shawrma platters in the city.
My typical pick is the Veneatian Platter: moist, chicken shawrma with a side of roasted eggplant baba ghannoush, hummus, couscous and a fresh salad with a choice of many different exotic spices, sauces and vegetables chosen from behind their enticing glass display case.
Bayou Fish House
527 York St
Newport, KY 41071

This fish joint was one of the year's most pleasant surprises. Based in Newport, Kentucky, Bayou's interior looks the part of a creaky, Louisiana shack serving fried cod, catfish, shrimp, haddock, fish tacos, gumbo, etoufee and a rotating "catch of the day."
Portions are bountiful, with heaping mounds of french fries and fried fish stacked atop the obligatory, grease-soaked slice of white bread serving as the foundation.
The fish tacos are particularly delicious, topped with shredded cabbage and a unique and delightfully light-tasting lime-cilantro dressing.
UPDATE: You're too late. Bayou closed. :(