Posted Sunday, October 23, 2011
Note: the following review is for a restaurant that has since closed.
Fave is the new self-serve frozen yogurt shop that opened in Hyde Park Square next to the owner's restaurant, Poco a Poco. Interestingly, it shares the same block with a very popular Graeter's location just a few doors down.
There has been a recent glut of new frozen yogurt and "tangy" frozen yogurt joints popping up all around the area, including several Yagoot and Orange Leaf Yogurt franchises. Even Servatii's is cashing in on the yogurt craze, with a new location downtown. The resurging entrepreneurial interest in frozen yogurt is not unlike a similar phenomenon in the 1980s led by TCBY and others.
The new fad emphasizes tangy frozen yogurt versus the traditional variety and several businesses got the bright idea that we'd all find it uber-cool to serve ourselves. These companies hope to foster our irresistible penchant for gluttony and lack of self-restraint, banking on the belief that we'll all go ga-ga for self-serve, blissfully enduring the sticker shock at the cash register once they weigh the ridiculously oversized cups. Given that the frozen yogurt costs an average of 45-55 cents an ounce, serving yourself big tubs of it should get old really fast.
We visited Yagoot in Rookwood; Orange Leaf Yogurt in Kenwood; and now the new Fave. They are all very similar --in fact, Fave virtually copies the Orange Leaf business model, right down to the pastel colored walls and awfully uncomfortable plastic green chairs.
Two of the three businesses offer self-serve, which left us with a general perception of uncleanliness their complimentary bottles of hand sanitizer just couldn't shake. No, there's no overt dirt anywhere and nothing's particularly unkempt. It's just that when you consider how many people --particularly children-- who are serving themselves yogurt, placing their grubby, snot-encrusted little hands on the handles and nozzles...just the sheer volume of foreign, fecal-laden fingers touching those objects is enough to bring out anyone's inner OCD.
The tart frozen yogurt flavors, while initially compelling, simply don't taste very good. Like Yagoot and Orange Leaf, Fave offers a rotating variety of flavors. The most successful of the eight available were the "Original" and Acai berry, which feature a slightly-tart, mildly pleasing berry tang. Other flavors, like "Red Velvet Cake" and "Green Tea," left an almost medicinal aftertaste. More traditional flavors, like chocolate and vanilla, typically aren't available at any of these tangy yogurt locations.
If expensive tangy yogurt is your bag, you might like this. But I'm more of a "purist." When it comes to frozen yogurt in Cincinnati, nothing compares to the late Carl Lindner Jr.'s ubiquitous UDF franchises. The frozen yogurt there is creamy, smooth and fresh; it's far more affordable than any self-serve yogurt shop will ever be; and their yogurt machines are touched by only a few people who are bound by food handling laws.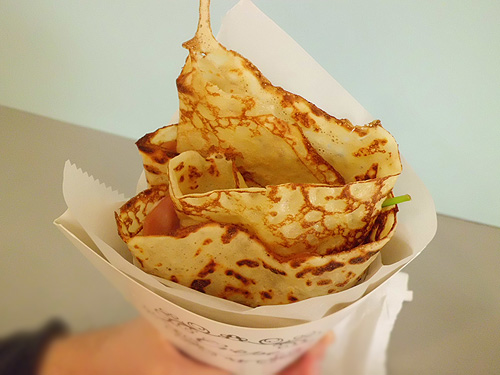 The one redeeming note about Fave, which sets it apart from it competitors, is its small selection of crepes. They sadly only offered one sweet and one savory version available on their menu when we visited. We tried one with ham, spinach, goat cheese and apricot jam that was one of the better tasting crepes I've ever had. The perfectly-cooked pancake and its sweet-and-salty interplay of ham and apricot, coupled with the soft, subtle-flavored cheese, awakened the senses and altered our moods for the better.
I'm not knocking Fave per se. I've simply concluded I don't like this new tangy, self-serve yogurt phenomenon sweeping the region. The Fave owners run some of the best restaurants in the Cincinnati area (Riverside Korean being my favorite of their ventures). Riding on the coattails of this passing frozen yogurt trend I believe to be beneath them. If only they'd dump the self-serve yogurt idea and just stick with making exotic, affordable crepes in Hyde Park Square, they might be onto something.
Fave
Price: Cheap (under $11 per person)
Service: Good
Rating: 2.0 out of 4

Cincinnati Bites