Posted Wednesday, August 25, 2010
Note: the following review is for a restaurant that has since closed.
Fatty Patty's is a new pizza parlor and ice cream shop located at 644 Main Street in MainStrasse Village, Covington, Kentucky.
MainStrasse is a restaurant gold mine: I've eaten at a half dozen places there over the years and at least a dozen more are waiting to be tried. The most recent "discoveries" have been Europa and now Fatty Patty's, which I've visited a couple times.
Fatty Patty's is the name of the owner's dog; there's a story behind it, so be sure to ask him (the owner, not the dog). The puppy is prominently displayed on the sign and painted on a wall in the dining room.
At the front of the business is a glass case filled with various flavors of Hershey-brand ice cream. I don't know much about the brand, other than the fact that it's not the same Hershey's that brings us the chocolate bars and chocolate syrup. As one might expect, there is a long history of trademark disputes between the two companies dating back to the early 1900's. Somehow, Hershey Creamery Company has managed to stay afloat (in Root beer, no doubt). Fatty Patty's serves it up in cones, shakes, sundaes and other typical ice cream shop favorites.
Past the ice cream case and down a short flight of steps is a small dining room heavily themed in various comic strips. It resonates with a fun, playful vibe. Each tabletop highlights a particular comic: among my favorites are The Far Side, Calvin and Hobbes and the Peanuts table, where we sat.
The room also showcases some local artists and one in particular, Mike Maydak, has a very appealing, striking style that matches well with the restaurant's theme. I've seen his work before hanging in places like Keystone Bar & Grill. Maydak's depictions of iconic Cincinnati landmarks are very unique: all of the structures he paints are dramatically bowed in the middle, as though the house or church or bridge or skyscraper were taking a very deep breath.
The owner waited our table and as he handed out the menus, he apologized for several items being sold out due to a sudden surge in business generated by the world's longest yard sale event (aka "127 Corridor"), which had taken place in Covington that afternoon.
Fatty Patty's menu includes an array of double-decker sandwiches; specialty pizzas; hoagies; salads; and pasta dishes served in bread bowls (talk about carb-o-rama!).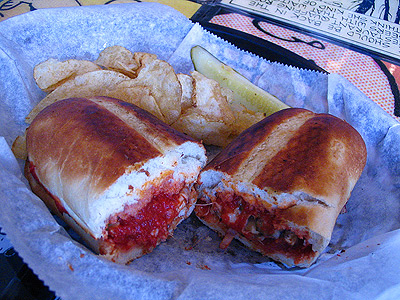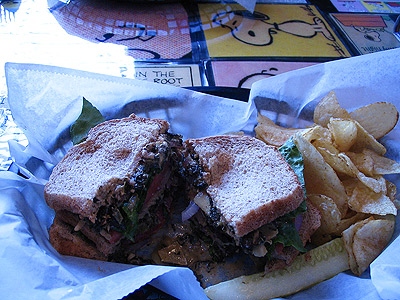 I ordered a very tasty spinach and artichoke double-decker sandwich that came with hearty, crunchy kettle-style potato chips and the obligatory, under-appreciated dill spear. The sandwich, while messy, was packed with what appeared to be freshly marinated, sliced artichoke hearts, not the jarred, overly-pickled variety you get at the grocery. The girlfriend ordered a grilled chicken hoagy topped with pizza sauce, mushrooms, green peppers, onions and mozzarella cheese. Both of our sandwiches were generously sized and delicious.
The ice cream is probably the weakest link for me: if I want some sort of ice cream-like substance in Covington, I'll opt for gelato served at Europa, located a few doors down the street.
Fatty Patty's is a welcome addition to the Covington restaurant scene, offering up delectable sandwiches and solid desserts in a funky, playful setting.
Fatty Patty's
Price: Cheap (under $11 per person)
Service: Good
Rating: 3.0 out of 4

Cincinnati Bites