Posted Wednesday, May 15, 2013
Note: the following review is for a restaurant that has since closed.
There are several flavors of self-proclaimed "authentic" Mexican restaurants floating around Cincinnati, and if there existed a Geiger counter measuring the accuracy of such labels, El Trio Mexican Grill would likely fall squarely between fully Americanized and "Mucho Authentico" extremes.
El Trio, located near Mariemont on Wooster Pike, rests in a strip mall that has been for years the site of a number of struggling restaurants. But the little area seems to be making a comeback, now boasting three solid eateries, including Mango Tree Thai and Magic Wok.
Superficially, El Trio seems like any other Tex-Mex restaurant in town. You're greeted at the door with the obligatory "Welcome, Amigos," then escorted down a short flight of stairs to the main, recessed dining area of tables and booths.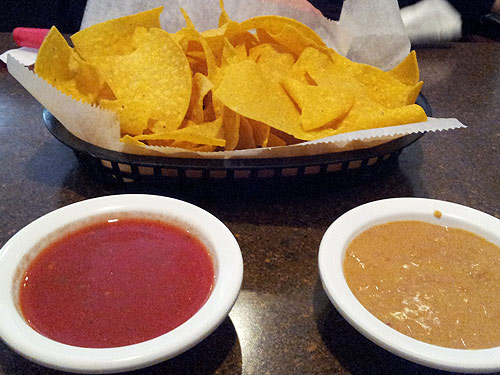 At about the moment the server places the complimentary chips and salsa in front of you is when you'll start to notice some key differences. In addition to the salsa, a complimentary dish of bean dip is provided. You'll then be informed that a self-serve salsa bar is available near the front register, boasting about a dozen homemade salsas, ranging from the familiar verdes, tomatillos and habaneros, to the more exotic peanut, pumpkin and Guajillo chili salsas.
El Trio's menu is a laundry list of mostly familiar Tex-Mex favorites, as well as a couple items that gringos will find adventurous. Familiar fare such as fajitas, chimichangas, enchiladas, tacos and burritos brush up against poblanos, tortas and the shrimpy Sopa de Camaron.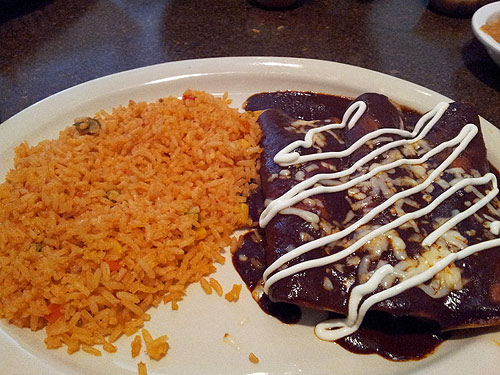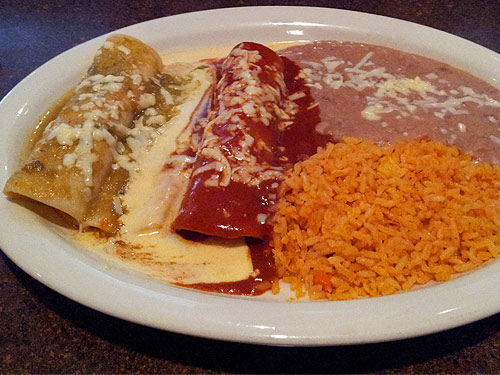 On our last couple of visits, I was impressed with their Enchiladas Con Mole, three corn tortillas packed with shredded chicken and topped with a dark, rich mole sauce. The mole hit all the right notes of complexity, with chocolatey, spicy underpinnings. The accompanying Mexican rice was no surprise, but it was competently prepared and helped to balance the bold mole.
My girlfriend enjoyed the spinachy Enchiladas Suizas, served with both rice and beans, while my sister --an El Trio regular-- is quite fond of the tri-colored Enchiladas Bandera: a chicken, spinach and beef enchilada, topped respectively with verde, cheese and red sauces, served with rice and beans.
El Trio's peanut salsa from the salsa bar is a new favorite of mine: the peanut flavor shines through but is not overwhelming, coupled with a palate-tickling heat that slowly builds, chip after chip. The pumpkin salsa made me realize I have no idea what pumpkin really tastes like; rather, I'm really only familiar with its accompanying spices, such as cinnamon, clove, etc. None of those are evident in this salsa, so expect to be surprised.
El Trio offers solid, reliable Tex-Mex whose salsa bar, timely service and extra attention to detail make it a cut above its cookie-cutter competitors.
El Trio Mexican Grill
Price: Moderately Expensive ($11 - $16 per person)
Service: Excellent
Rating: 3.0 out of 4

Cincinnati Bites